One of the easiest ways to reduce stress throughout the kitchen design process is to create a realistic budget from the very beginning. Debbie Auer from Auer Design shared her top tips during an informative presentation on January 24 at 10 a.m. in MDC's Mid-America Room, Suite 86. Watch the video below to learn ways to create and stay on budget:
---
Considering a kitchen renovation?
Debbie put together the following guideline to consider when preparing for a renovation:

Pack Your Current Kitchen
Before your current cabinets are torn out, you'll first need to pack up your kitchen supplies. This also serves as a good time to throw out or donate any old kitchen materials you no longer need or use. Be sure to label boxes as you're packing up materials to simplify the unpacking process.

Protect Your Valuables
During the demolition and installation process, there will be workers making their way throughout your house with heavy equipment. If there are any valuables in exposed locations that could easily become damaged during the process, they should be secured or relocated for safekeeping.

Free Up Space For The Delivery
The workers will need space to store equipment throughout the course of the project. You should free up room in an area like a garage for them to do this so they can be stored safely as they await installation.

Make A Plan For Your Old Cabinets
Finding a way to reuse your old cabinetry after it's torn out is a great idea — whether that's relocating them to a different place in the house or donating them to a foundation like Habitat for Humanity. You can also ask your contractor or remodel professional if they have or know of any local organizations accepting donations. Any way they can be repurposed rather than disposed of is a smart choice.

Set Up A Temporary Kitchen
You'll need a temporary kitchen to use while your real kitchen is under construction. There are many things to think about in setting up a temporary kitchen, including:
Location – Another room with a sink or water access is a good choice, such as a laundry room or utility room.
Meals – Meal planning is critical, as well as budgeting for dining out and finding ways to save by using coupons or gift cards.
Dishes – Paper plates and disposable dishware can be a small addition to your budget but can also be a lifesaver in terms of convenience. If you elect to use your everyday dishes, you'll need to have a nearby washing station and space for them.
Appliances – Small appliances like a microwave, crockpot, toaster, or electric griddle can help prepare quick meals in your temporary space.
Consider Outdoor Cooking – An outdoor grill, smoker, or camp stove can be a fantastic alternative cooking option when you're without a stove-top or oven.
Coordinate With The Crew
Coordination with the team of workers who will be performing your remodel is important to ensure you coexist well with them for the duration of the project. Things To Be Considered Include:
Working Hours
Parking
Access to the home (key, keypad, lockbox)
Restroom Usage
Safety for kids and pets
Protection of flooring (usually the contractor will do this)
Turn Off Your Furnace And A/C (If You Can)
If climate and budget allow, it can be helpful to turn off your furnace or air conditioning during the remodel. Otherwise, dust can sometimes be circulated throughout the house. And it would be suggested to have the ducts cleaned.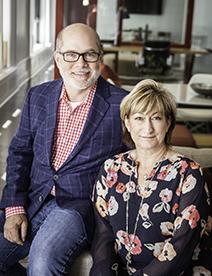 Auer Design
Debbie Auer & David Carr
ph: 312.307.7759