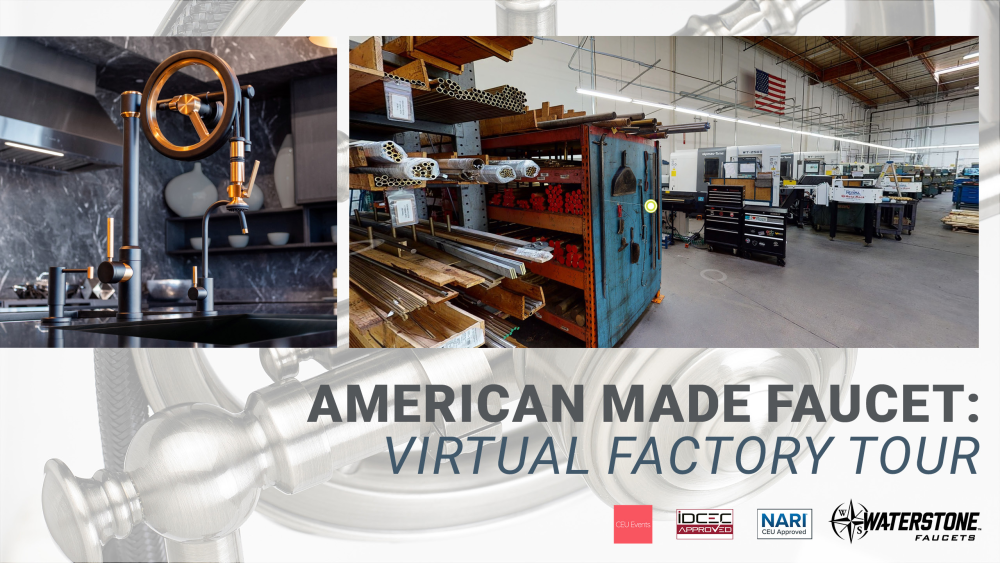 THURSDAY, APRIL 13 | 11 A.M. – 1 P.M. | MID-AMERICA ROOM | TRADE ONLY
Have you ever wondered what it takes to manufacture a high-end faucet or why a similar looking faucet costs $100 or $2,000? Join Waterstone Faucets' National Sales Manager Jodi Vallejos for a true virtual CEU experience and learn what it takes to make a faucet in the USA. Course participants will virtually walk through the Waterstone Faucets plant to understand the stages of manufacturing from selecting the raw materials, CNC machining, polishing, plating, assembly, water testing, quality control all the way to packaging and shipping. Jodi will also cover the idea of an original design and what this important factor will contribute to its overall outcome and future product development.
Learning Objectives
Participants will learn about original design and its contribution to manufacturing.
Participants will virtually tour all the manufacturing stages and understand what it takes to create an American made product.
Finishes can often make the product and participants will review the current trends and learn the differences which will better help with specifications.
Quality Control is an important part of manufacturing and participants will review the many practices that make American design and manufacturing important.
Check in begins at 11:00 a.m. with lunch and presentation at 11:30 a.m. You will earn one CEU credit for attending this program. Please RSVP to patty@michigandesign.com by Friday, April 7 to register for this free event.