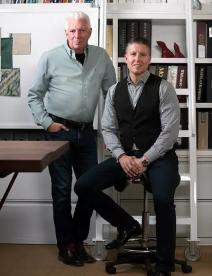 Art I Harrison Interiors
Arturo Sanchez & Barry Harrison
4339 Delemere Blvd

Royal Oak, MI 48073
ph: 248.549.1003
Philosophy
Art | Harrison Interiors is a design team with over 25 years of experience specializing in residential design. While our work has been described in many ways - from timeless, to contemporary, to classic - our intent is to create rooms that are a reflection of our client. To meet this goal, our studio focuses first on listening and learning from our clients; second, exploring and expanding on their vision; and third, surpassing their expectations.
Specialties
Our studio is a full-service firm able to bring a room from renovation through to completion and anywhere in between. One of our strengths is in construction from the ground up. We are able to provide and prepare all the necessary construction documents for the interior architecture, tile layouts and cabinetry, as well as develop lighting schedules. We will do sketches as well as CAD drawings so that the trades, architect, or builder fully understand our client's wishes.
Complimentary evaluation
Yes
Fee methods
Hourly and/or cost plus depending on the services needed and the scale of the project. Retainer required.
Additional information
We are very proud of the recognition received from both local and national publications such as Hour Detroit, Detroit Home, Beautiful Homes, Veranda and Southern Accents. But it is the praise and support from the design community for our line of handmade furniture that we are most proud. The Art | Harrison Collection currently has over 55 pieces available.