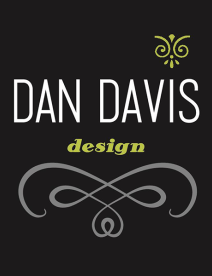 Dan Davis Design
707 E Lewiston Ste 102

Ferndale, MI 48220
ph: 248.224.9169
Philosophy
Dan Davis Design believes that great design should be interesting, eclectic, beautiful, functional, and above all else, personal. It's never been our goal to make a "Dan Davis Design" home, but rather the best home based on our clients' distinct personalities, tastes, and needs. Our emphasis is to ensure we understand our clients' needs before starting the design process. With this focus, we consistently achieve a very high degree of client satisfaction.
Specialties
Dan Davis Design is a full-service interior design firm. Adept at residential and commercial projects, we are known for our unique, creative spaces and unusual problem solving. We work on both large and small scale projects, involving everything from space planning, kitchen layouts, construction plans, window treatments, furniture selections, lighting, on down to small decorative details including how to re-imagine cherished items. We pride ourselves on a high level of service and design.
Complimentary evaluation
Yes
Fee methods
Hourly design fees. Retainer required.
Additional information
Dan Davis Design has been featured in The Detroit News & Free Press, Hour Detroit and Detroit Design, as well as top design blogs like Design Sponge and Desire to Inspire. Spearheaded by Dan Davis and Jennifer Baross, Dan's multiple degrees in art and design, many design awards, and extensive world travels pair nicely with Jennifer's BFA in interior design, commercial work experience, and expertise in tile and historic architecture. Together they bring a complementary skill set to each project.