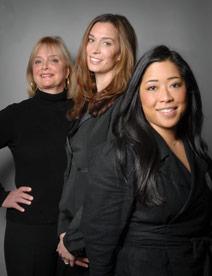 Rariden Schumacher Mio & Co.
Rosemary Cotter, Jill Schumacher, and Michelle Mio
35980 Woodward Ave #150

Bloomfield Hills, MI 48304
ph: 248.723.9160
Philosophy
Rariden Schumacher Mio & Company seeks to Discover, Define and Develop the unique qualities of each client. Our role is to guide clients toward a thorough understanding of their own style. We want to open possibilities, create options, trigger ideas and inspire individual choice.
Specialties
The process of creating a successful interior environment is complex. It involves respecting clients' views while honing a vision. One must have an in-depth understanding and a working knowledge of how all the disciplines of the process evolve. It is the combination of two - Aesthetics and Function - that provide the building blocks for the design firm of Rariden Schumacher Mio & Company.
Complimentary evaluation
Yes
Additional information
Rariden Schumacher Mio & Company has been featured in Décor, Lucky, Detroit Home magazine, Hour magazine, Ambassador, 6 Degrees, Signature, Styleline, Homestyle, The Detroit Free Press and The Detroit News. Charitable involvement includes The Children's Center, Karmanos Cancer Institute, The Restore Foundation, Suite Dreams, Child Abuse and Neglect, Detroit Symphony Orchestra, Detroit Junior League and Variety A Children's Charity.