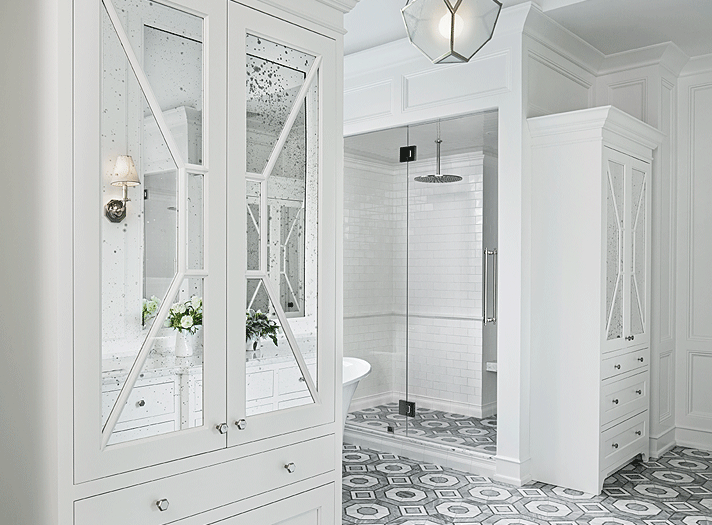 Renovating a bath is an investment that can make daily life more enjoyable while adding value to your home. Three top designers show how to create a show-stopping space by mixing quality basics with splurge-worthy accents that will look amazing and keep your budget on track. Design by Marianne Jones; Photo by Beth Singer.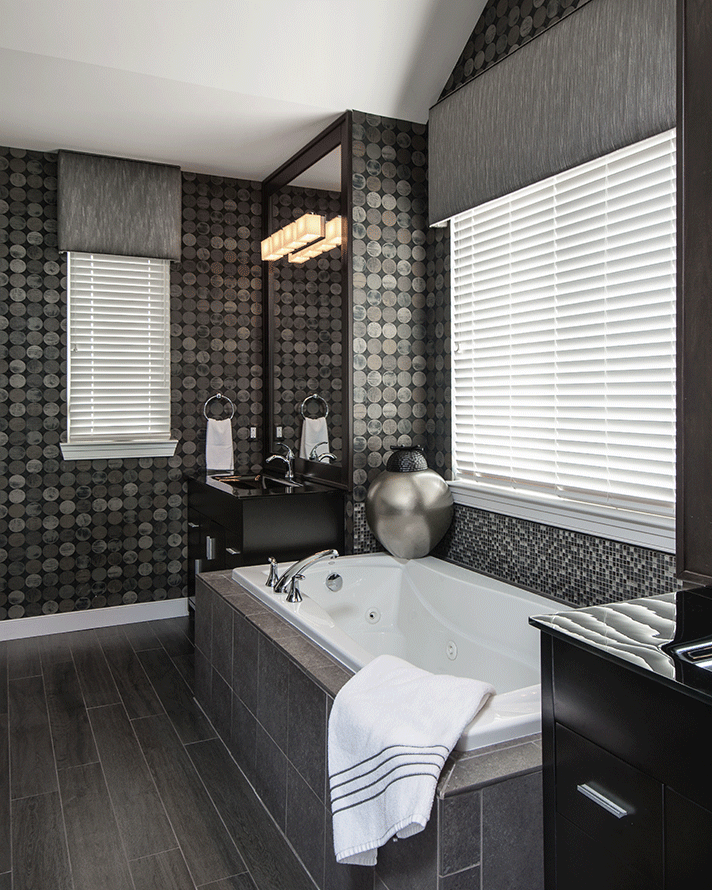 TERRY ELLIS, PRINCIPAL OF ROOM SERIVCE INTERIOR DESIGN, located at Michigan Design Center in Troy, breaks down in simple terms when it's smart to spend and where you can make cost-effective choices to stay on budget without sacrificing style.
SAVE
Check your granite/quartz supplier for countertop remnants, which are often less costly than buying the whole slab.
White plumbing fixtures are less expensive and more readily available than colors.
If your vision includes silver tones instead of gold, black, or bronze, keep in mind that chrome is less expensive than polished nickel.
Using basic field tile can actually be quite beautiful as well as cost-efficient. Splurge on a fabulous accent tile to be used inside a niche in the shower, for example, which is typically a small amount of square footage.
SPLURGE
Steer clear of buying faucets and toilets from the big-box stores. The professional plumbing suppliers carry the higher level of quality, even within the same brands. They will be marginally more expensive.
Cabinetry, featuring quality construction, will hold up much better in the long run. The painted or stained finishes that are part of a higher-cost cabinet are more beautiful and durable. Invest in drawer glides and hinges, and the box itself will have a noticeable difference.
"In the above bathroom photo, we used a pre-made cabinet of nice quality with the countertop and faucet included in the package, which is significantly less expensive than selecting each item a la carte," Terry says. "The bold, graphic wallpaper then became the worthy splurge in this room."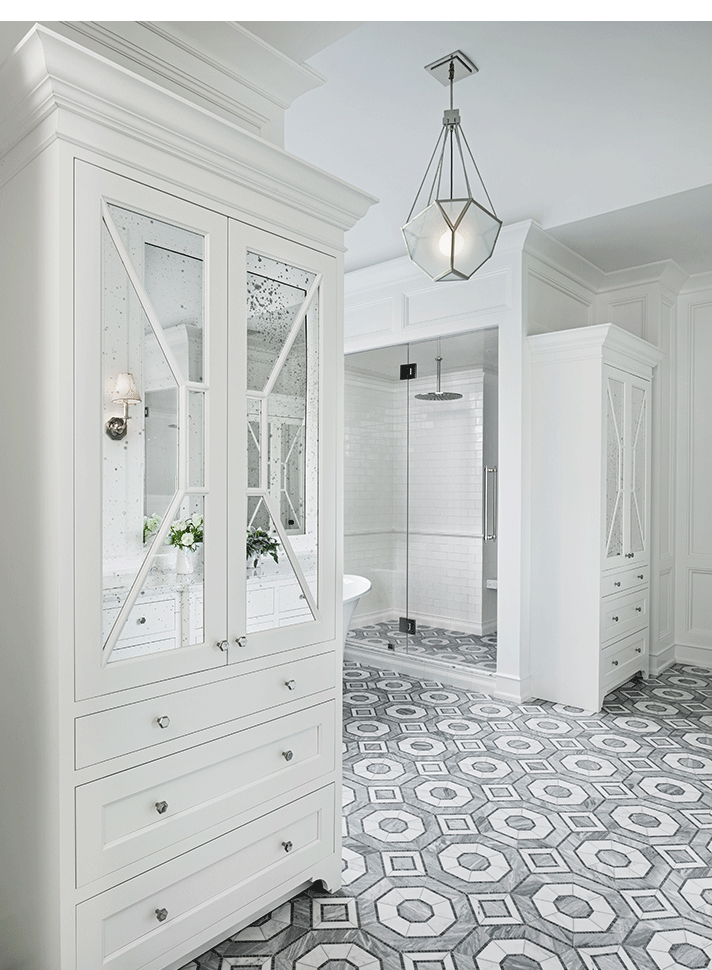 MARIANNE JONES, PRINCIPAL OF MARIANNE JONES LLC IN BIRMINGHAM, suggests concentrating on subtle details that will make a bathroom exceptional. "The nuances are really going to make the look. Pattern, not material, is the direction you want to go," she says. "Change patterns, such as herringbone or vertical subway tiles, to create visual interest and mimic the pattern in the floor."
Marianne says the floor should be the "wow factor," so don't take the economical route here. "The floor in the photos below is from Virginia Tile. It wasn't inexpensive, but look how dramatic it is."
If a project is going over budget, there are areas in which you can save, but it's always a compromise, Marianne contends.
"Doors are cheaper than drawers, but drawers typically provide more storage and look cleaner," she says. "People sometimes go with quartz or porcelain to save money, or because of durability. But there are some drawbacks, because porcelain chips more easily."
One can also save on less-expensive faucet materials, but again, there are concessions. "Polished chrome is a more economical choice than cast brass or brushed nickel, for example, but if you want a warmer feeling, chrome isn't going to do it."
Sometimes, it simply pays off to pay more, she says. "I just completed a project and used a walnut cabinet rather than a standard white one, which would have been cheaper, but the walnut creates more visual interest."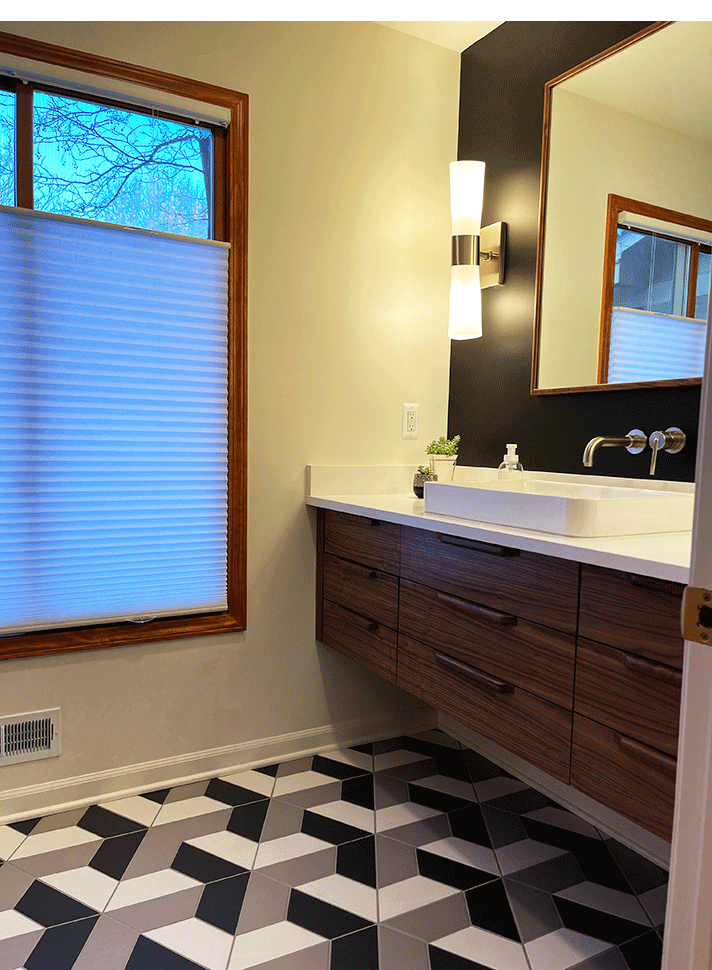 FOR PAMELA LIVINGSTON-HARDY, PRINCIPAL OF CREATIVE RENOVATIONS LLC IN BIRMINGHAM, the above image was a "Splurge!" project. As she explains:
"In this midcentury powder room, we decided to have a custom vanity made. Check out the special detail one piece of wood used to make the drawer and door. The handles were made out of the same piece as well. A beautiful custom vanity really makes this powder room special!"
But Pamela has a few tips on how to be more budget conscious when designing bathrooms:
For a small to medium bathroom, it's cost-effective to purchase a package vanity, which includes countertops, sink, faucet, and mirror.
Another place to save is to use a simple tile for the shower/tub area, but splurge for the niche area.
Hardware has become expensive, so exploring online will help find the best deals.