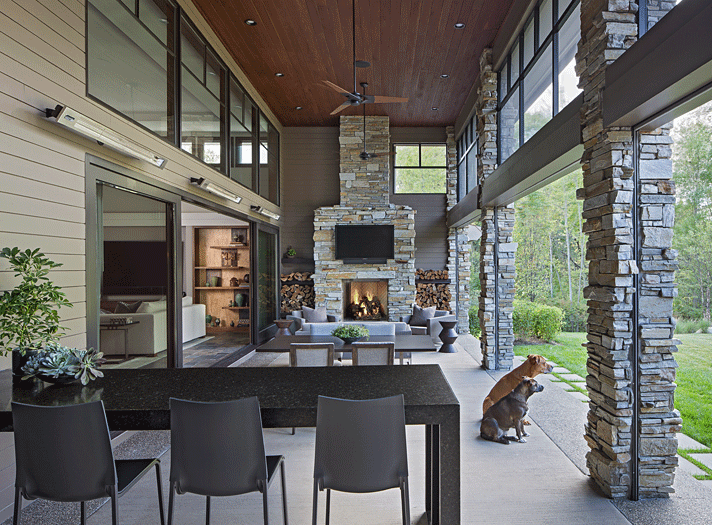 After a chilly, rainy spring and being cooped up indoors, most of us are eager to enjoy outdoor spaces. But designing these areas takes as much planning and aesthetic sensibility as creating an interior room. This space designed by Amanda Sinistaj is a prime example. We asked a trio of expert designers how they designed these outdoor spaces in Grosse Pointe, Novi, and Bloomfield Hills, and for advice in how best to take advantage of the natural environment.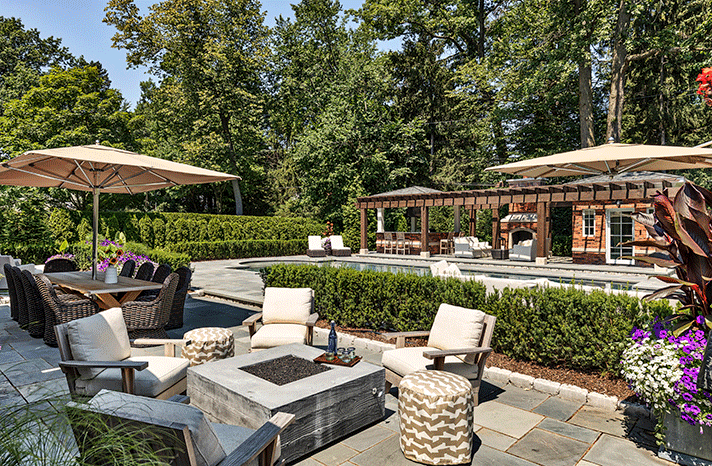 For Lisa Petrella, principal of Troy's Petrella Designs, an outdoor space can be broken down into three important ingredients: placement, cooking & dining, and ambiance, all of which were carefully considered when designing this outdoor area in Bloomfield Hills. Lisa supplies these tips:
PLACEMENT:
To maximize use of your outdoor living space, place your essential outdoor pieces as close as possible to the doorway of your home. Many beautiful indoor living spaces directly connect to outdoor space and truly extend your living space inside and out.
Consider traffic patterns and intimate seating areas; this can be achieved by separate seating and dining areas, or TV viewing areas. You can accomplish this by furniture arrangement or creating multiple patio areas around the pool or yard.
COOKING & DINING:
For those clients who have a great love of cooking and entertaining, an outdoor kitchen may be a great option – or even a pizza oven. If these options are too far of a reach for my client, I recommend a fire pit for roasting marshmallows and making s'mores.
AMBIANCE:
I start by selecting elements from the inside of the client's home that they enjoy. Then I adapt them to the outdoors by incorporating an outdoor fireplace, fire pit, or installing TVs or sound systems. We also look at outdoor lighting or tranquil water features to add to a peaceful environment.
Dining table is custom; lounge & dining chairs – Lane Venture Outdoor (RJ Thomas)
Landscape Design & Pool: Mosher & Associates Landscaping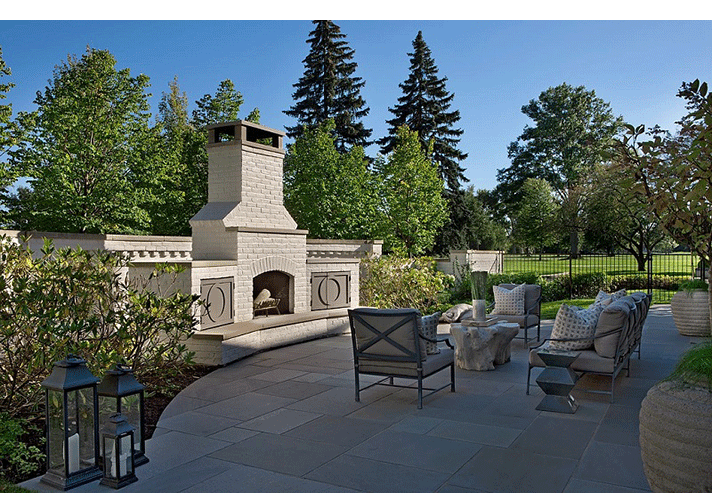 For this space in Grosse Pointe, Ian Hartwell, of Birmingham design firm Oliver Max Inc., listened closely to his client, who wanted a clean, streamlined look. Ian kept the look lean and elegant, avoiding too much foliage and excessive accessories, all the while instilling warmth and comfort to the area. Ian advises the outdoor space should echo the look and character of the house itself. As he explains it:
"The space was developed specifically to extend the sunroom living space of the house. My client wanted a fireplace and sitting area for relaxation and entertaining. Rather than just having a fireplace I wanted to create a feature as you would have in a family room. We wanted to incorporate storage for wood, games, etc., but I wanted the doors to have more of an interior finish to them. We created something that had very classical details that would be in an interior space. The house has a white painted brick and the fireplace was created with some of the details of the house in mind and painted to match. The raised clean-lined limestone hearth for sitting by the fire and acting as a buffet also ;provides protection for the covered storage. The flooring is a crisp-cut bluestone in a random pattern."
But the design coup de grâce is actually hidden from view.
"What you do not see in the photo is the spa that was created to look more like a water feature more than a spa. It's recessed in the ground and the bottom is a deep charcoal; we didn't want this to look like a pool but more of a pond or water feature," Ian says.
The flora is also critical in an outdoor spot, but don't overdo it, he says.
"The fireplace is surrounded by mature rhododendron and azaleas. The rest of the grounds have structured boxwood hedges and trimmed columns of hornbeam.
"The client has a very clean aesthetic, so we didn't overdo the accessories. Classic furniture silhouettes for seating are paired with a rustic driftwood cocktail table and modern garden seats. In the background are antique stone planters with petite fruit trees with simple baby tears falling around its base."
To complete the look, Ian added overscale candle lanterns, which provide "an intimate setting in front of a nighttime fire."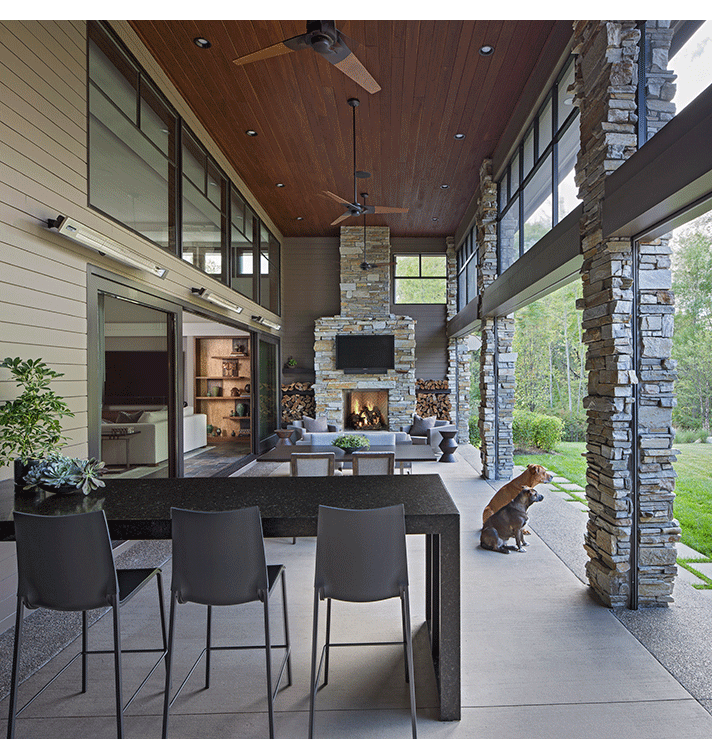 When designing an outdoor area, Amanda Sinistaj, principal of Birmingham-based Ellwood Interiors, suggests letting nature take its course, while making allowances for the big swings of weather in Michigan — which includes heaters and a fireplace. Most of all, Amanda says to listen to clients and their needs. "My best advice is to figure out who is using the space and dive into the personal comforts they desire. Keep it simple and let nature be the thing to experience." She elaborates on this homey space in Novi she designed:
"This attached screened-in porch is really more of family room that opens up to a beautifully landscaped respite. I think there is something to be said about releasing stress when you are surrounded by nature. A 16' sliding door wall allows access to this room. Infratech heaters and a cozy masonry fireplace and low-lit lighting allow for maximum comfort during colder seasons. A large-screen TV and outdoor sofas are great for an afternoon nap or catching a game.
"This room has an outdoor kitchen equipped with professional grill, beverage coolers, and plenty of seating. All of the materials are outdoor-rated so they can handle the freeze and thaw periods we Michiganders experience. And for the party people, we've used durable fabrics and finishes that are meant to withstand all types of situations."
And people intent on relaxing don't have to rush indoors on humid, mosquito-ridden evenings. With a flip of a switch, Phantom open-weave screens hidden within the walls can be lowered, providing a shield from bugs without distracting from the view.