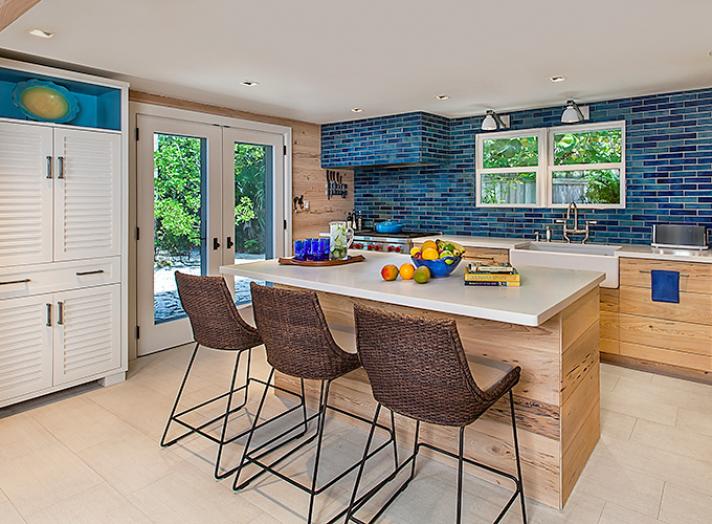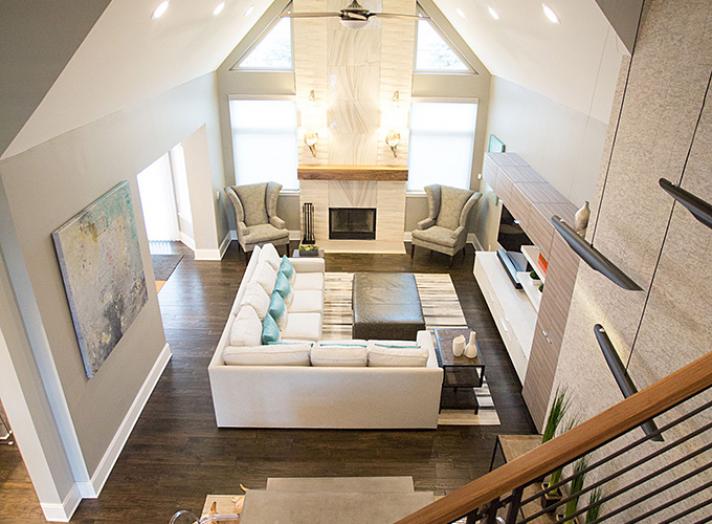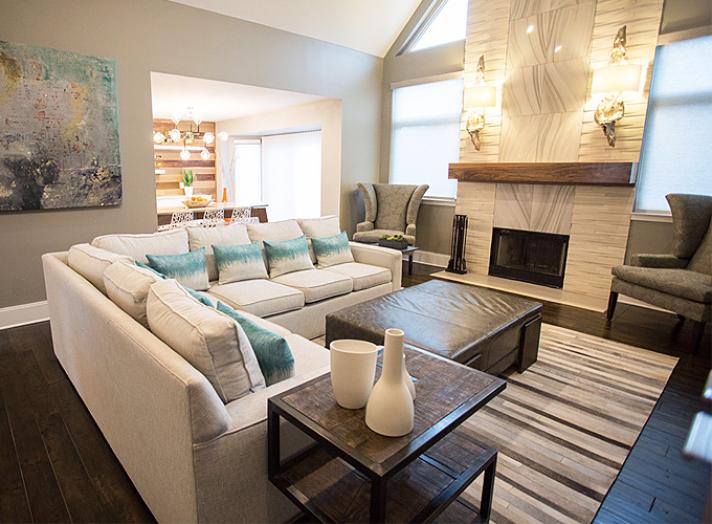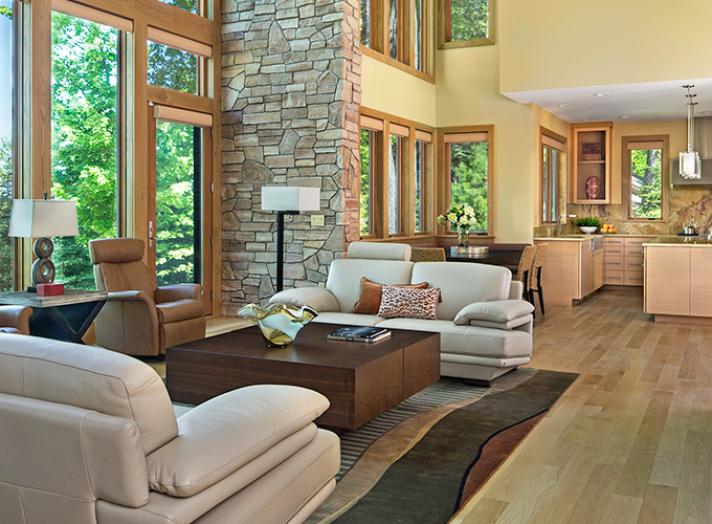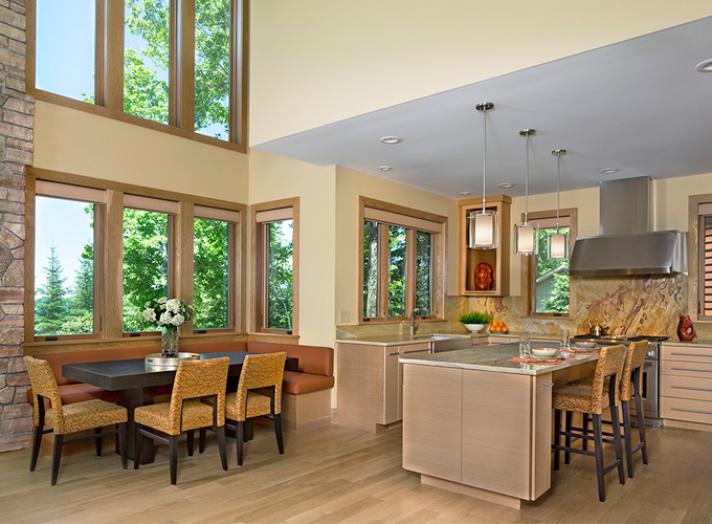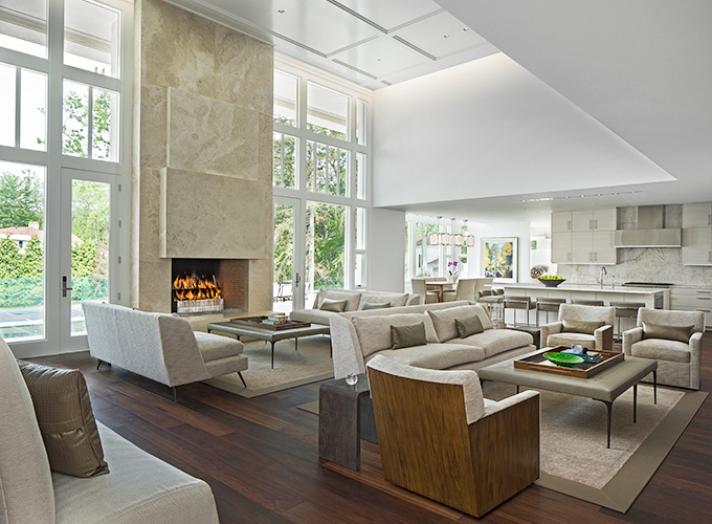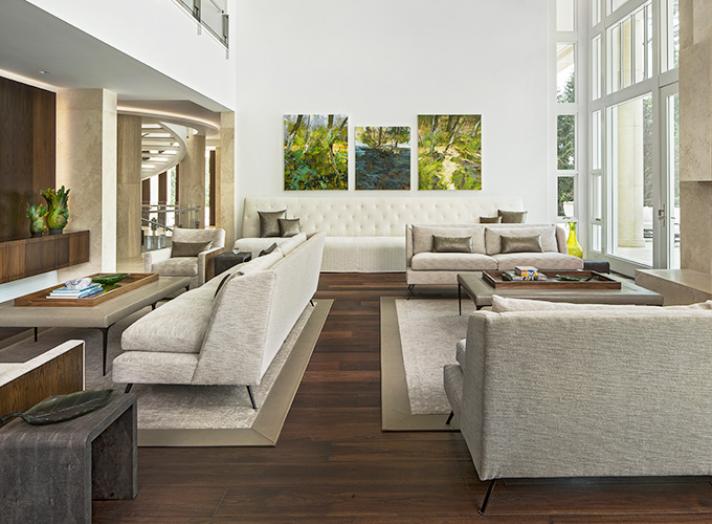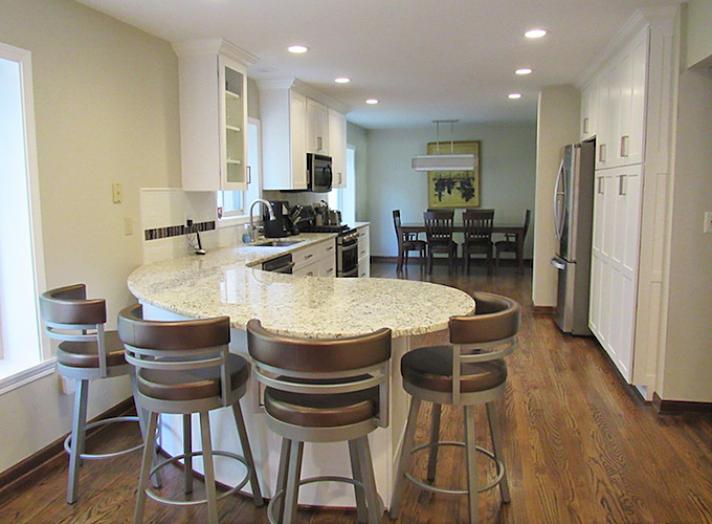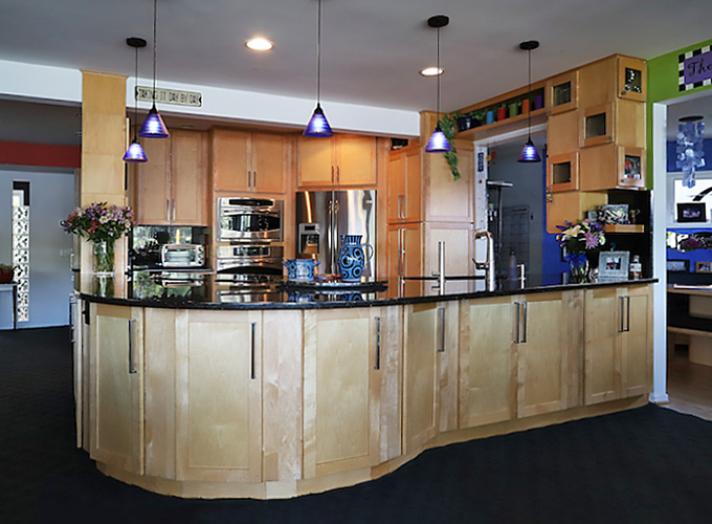 While prior to World War II, most homes had a central hallway that provided access to separate rooms with specific functions, innovations in construction materials and a more casual lifestyle have given way to homes with more open concepts. Several of the area's top interior designers share their tips for creating functional open floor plans for their clients' homes.
"We recently completed a vacation home in Casey Key, Florida. Off the kitchen we were able to create multiple seating areas that allowed a view of the ocean from every angle. Managing the flow of the continuing space is very important when designing and furnishing an open floor plan. The consistent use of color and material allows the eye to move easily from one space to another. Not only did we continue the use of color in the chosen fabrics but also in the pecky cypress used to cover the walls." – Kathleen McGovern, Kathleen McGovern Studio of Interior Design
"It is important to work off the architectural features when creating a floor plan. For example, this large fireplace and pitched ceiling called for a large sectional and entertainment center that complemented the grand scale. Directly behind the sectional is a small game table centered on a narrow two-story wall. We used a textural wallcovering and three pendant lights to accentuate the wall and centered the game table on it. By working with the architecture, we were able to successfully create two distinct areas while maintaining an open floor plan. To successfully create an open floor plan you need to find ways to delineate space. Two ways to do this is through thoughtful consideration of furniture placement and rugs. By using an 'L' shaped sectional and facing it toward the fireplace, we created a natural barrier to the game table area. We then placed large complementary area rugs to 'ground' each furniture arrangement, making each space feel warm and inviting yet open." – Rachel Nelson and Lauren DeLaurentiis, RL Concetti LLC
"My client's home on Lake Michigan illustrates two major challenges of open floor plans – color flow and furniture placement. The same background wall color (Sherwin Williams #6128 Blonde) travels from the dining room through the great room and into the kitchen. Because of the change in ceiling height in the kitchen, we could have transitioned from the lighter blonde shade to a darker tone but chose not to at my client's request. For the furnishings, we used an analogous color scheme of related earth tones and color mapped/repeated those colors across the entire space to create flow and unity. With an open floor plan, conversational spaces are created by floating the furniture in groupings. The sitting area in the great room illustrates this point, grounded by an area rug that defines the space and highlights our color palette." – Linda Shears, Linda Shears Designs
The key to managing an open floor plan, per Jones-Keena & Co. principal Lucy Earl, is appropriate furniture placement to define the space. In this large open room of a new-build home, Lucy incorporated six distinct living areas using furniture alone. The modern room includes a kitchen, breakfast bar, dining area, fireside seating, entertainment/TV area and a wall-length banquette – which allows for extra dining space. The clients enjoy this room being the central hub of their beautiful new home. – Lucy Earl, Jones Keena & Co.
"It is important in open space planning that the rooms flow together by using the same flooring throughout. Don't have wood in one place and tile or carpet in another. This new kitchen (pictured above) had the wall removed between kitchen and the dining room for an open look. All of the flooring in the dining room, living room, kitchen, and foyer were replaced with wood flooring for a continuous look. More cabinets were added along the back wall to the dining room window. Moving and not centering the dining table and chandelier made the dining room very workable with the extension table and freed up floor space. In the other kitchen pictured above a wall was removed where the kitchen separates the lounge area. A support beam column was added on the countertop, opening up the whole kitchen/entertaining area. The column is not just a column in that it has very narrow cabinets on three sides for spice storage." – Lois Haron, Designs in Decorator Wood & Laminates Ltd.