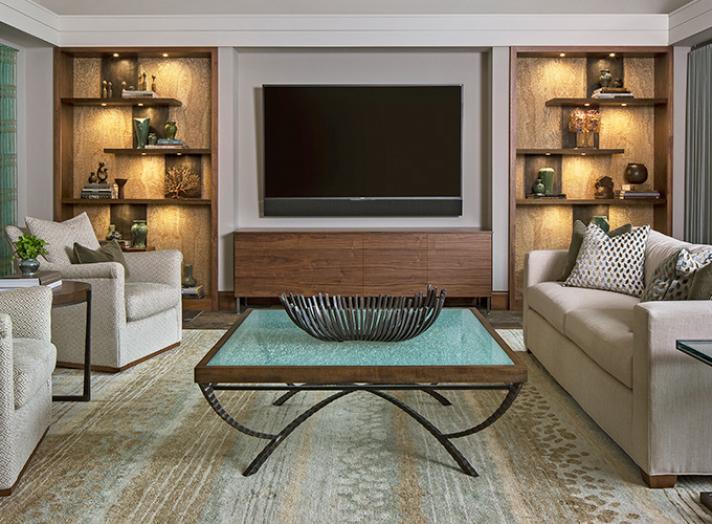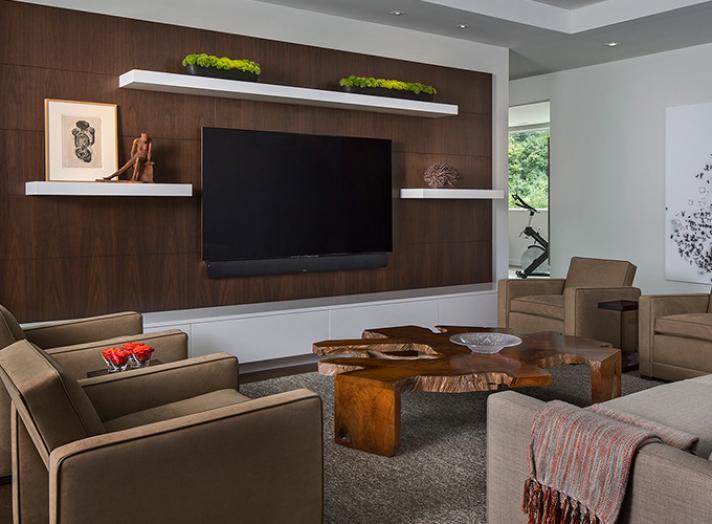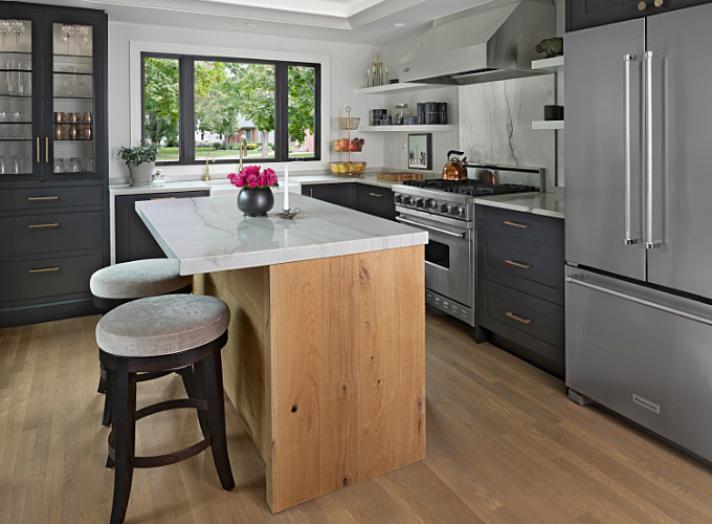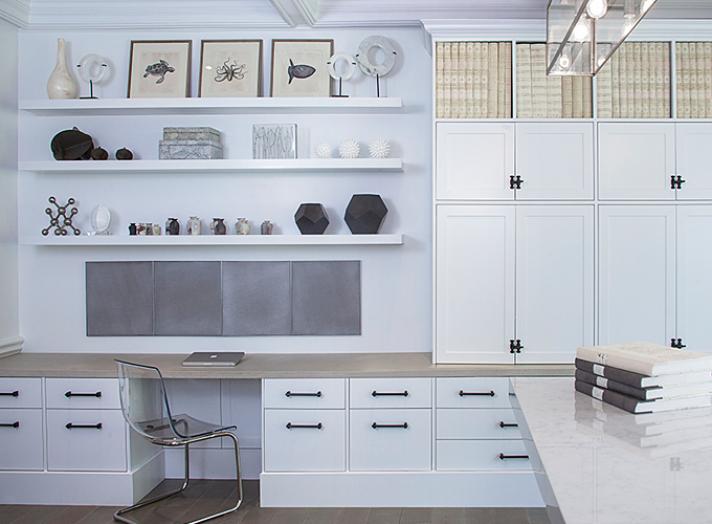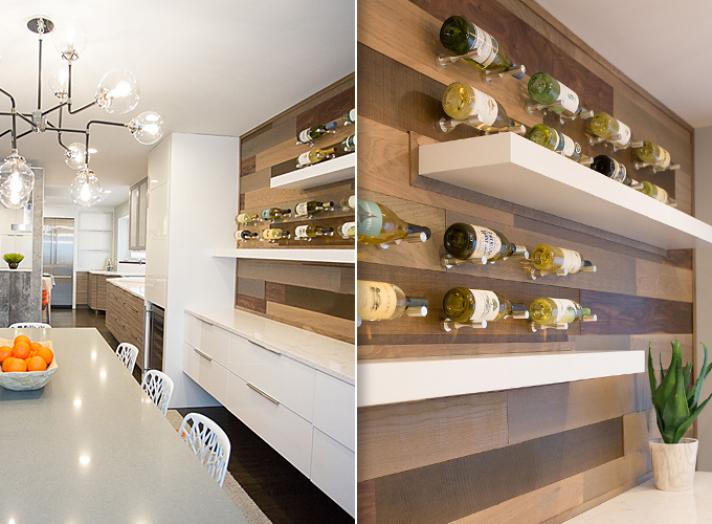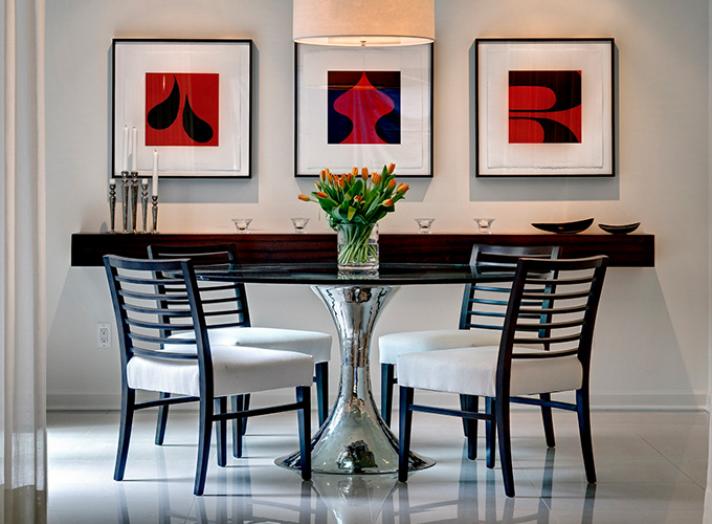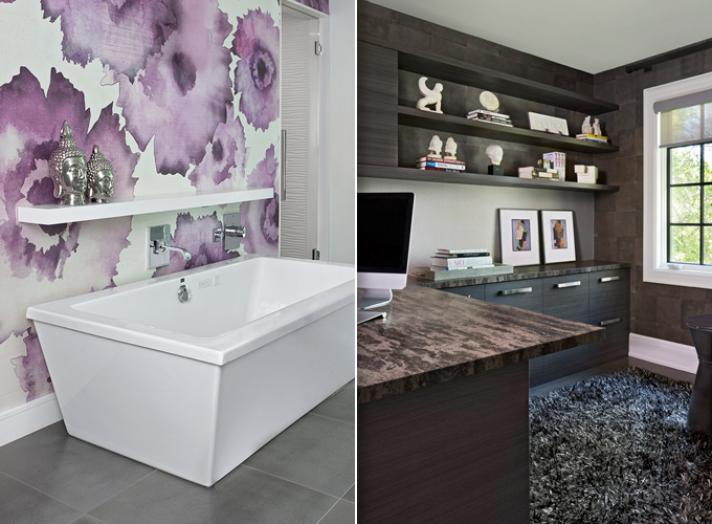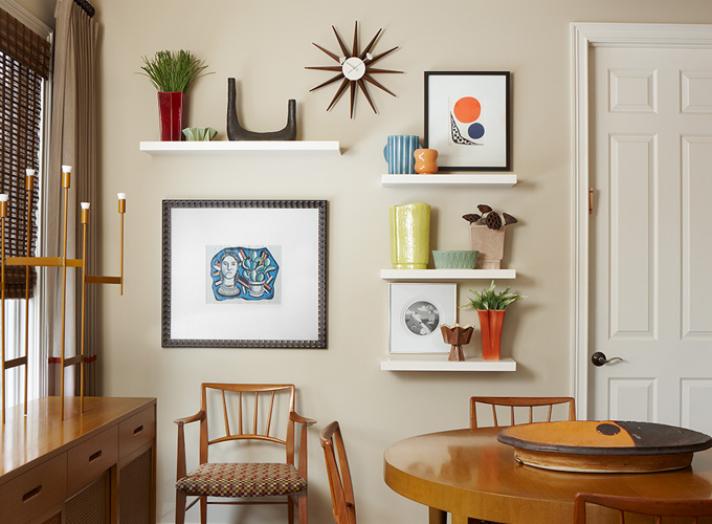 Open shelves can instantly update any space. Seven top designers share their styling tips for creating well-edited shelves.
"The bookcases in this living room were custom-made from walnut frames with contrasting natural Tamo ash panels. The floating shelves were designed to create an interesting but clean entertainment unit highlighting collected pieces of art. There is a steel plate on each shelf that can slide on a hidden track, allowing for a backdrop for the art pieces that can be rearranged if any items are replaced. The art ranges from a piece made of metal from space, a collection of Pewabic Pottery, to found objects."
– Amanda Sinistaj, Ellwood Interiors
"I consulted with a custom woodworker to create these white laminated shelves that give symmetry and balance to this wood wall. They also fill the space and give some relief to the otherwise dark background of the wood.  Keeping the art pieces simple added some interest but maintained the clean, contemporary look of the space."
– Ann-Marie Anton, It's Personal Design
"I used floating shelves in my personal kitchen since I love the casual sophistication of a more European look that portrays real life and how you live as staged perfection. The open floating shelves, combined with ample cabinet drawers, provide plenty of flexible storage while allowing me to showcase my eclectic aesthetic. I chose to style my shelves with my everyday dishes, candlesticks, glass coffee jar, wine, and art."
– Carrie Long, Carrie Long Interiors
"It was important to our client to have the memories of mementos that she had collected over the years. Floating shelves seemed like the perfect solution to capture our client's keepsakes in this popular gathering spot."
– Michelle Mio, Rariden Schumacher Mio & Co.
"Floating shelves can be used beyond the obvious storage or decoration. Here you can see we used floating shelves from Extraordinary Works to create architectural interest. The thick white shelf strikes a beautiful contrast against the wood, creating frame and dimensionality for the wine storage feature."
– Rachel Nelson and Lauren DeLaurentiis, RL Concetti LLC
"In this contemporary dining room, I opted for a floating shelf rather than a console table or credenza in order to maintain a lighter, more open feel within the space. With no need for additional storage, the shelf provides a surface for serving during dinner parties, while the dramatic grain of the zebrawood veneer offers visual interest without overpowering the dynamic Isabel Bigelow lithographs above."
– Kevin Serba, Serba Interiors
"Floating shelves are a favorite of mine because they provide a strong linear statement that gives order to a collection of items, or emphasis on a single, minimal object. I feel floating shelves must hold a well-curated collection of objects that have a strong point of view, or common thread, such as theme, color, or material."
– Amy Weinstein, AMW Design Studio