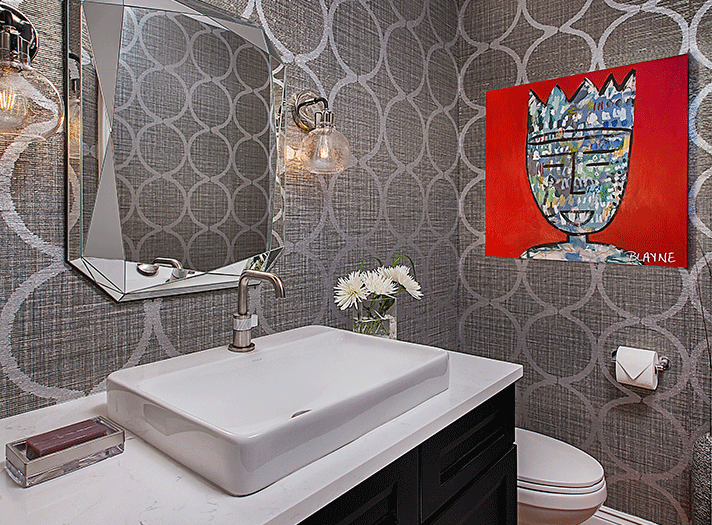 Getting a fresh start in the new year starts in our own homes. Rooms can be revitalized with a minimum of time and, in many cases, improvements don't have to cost a great deal. This powder room designed by Margaret Skinner is  proof that a few small changes can transform a space. Four top design pros offer some great advice on how to quickly perk up a tired space.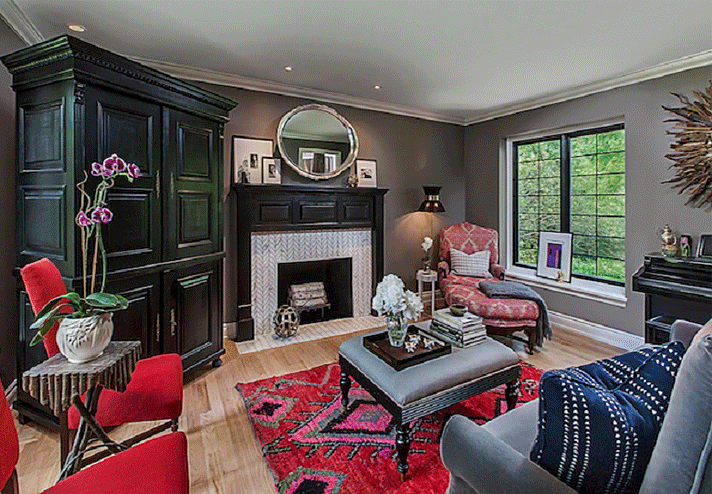 MARGARET SKINNER, OWNER OF BIRMINGHAM-BASED MARGEAUX INTERIORS, says there are several ways to refresh a space, and they don't have to be time consuming. Here are her suggestions:
Quality, classic furniture may be comfortable, but the fabrics can wear and become dated. Reupholstery and painting/staining can be a quick fix.
Powder rooms are one of the easiest spaces to transform by adding wallpaper, changing lighting, faucets, and mirrors. A simple weekend project.
Painting the interior of window frames, doors, railings or trim black adds a fresh architectural element.
Accessorize, accessorize, yet declutter, declutter. Less is more; group complementary items together, leaving space to breathe.
A simple transformation can be as easy as moving accessories, lamps, rugs, even a furniture piece from one room to the other.
Go shopping in your own closet and storage cabinets for those forgotten accessories that may now add interest and revive a space.
Get on that wall! Artwork always adds that last layer of depth to finish a room.
Margaret tells the steps she took to transform a living room in the above photo. "The fine-quality furniture pieces were revitalized by reupholstering with fresh fabrics and stains, as well as repurposing a vintage rug. A new water-jet marble mosaic tile revitalizes the fireplace. Fresh paint and black accents anchor the comfortable and cozy living room."
In the photo of a powder room below, Margaret explains how she freshened up the space. "Wallpaper added interest to the existing powder room, along with painting the vanity black, jewelry pulls, new quartz countertops, faucet, sink, sconces, and mirror, which instantly updated the space."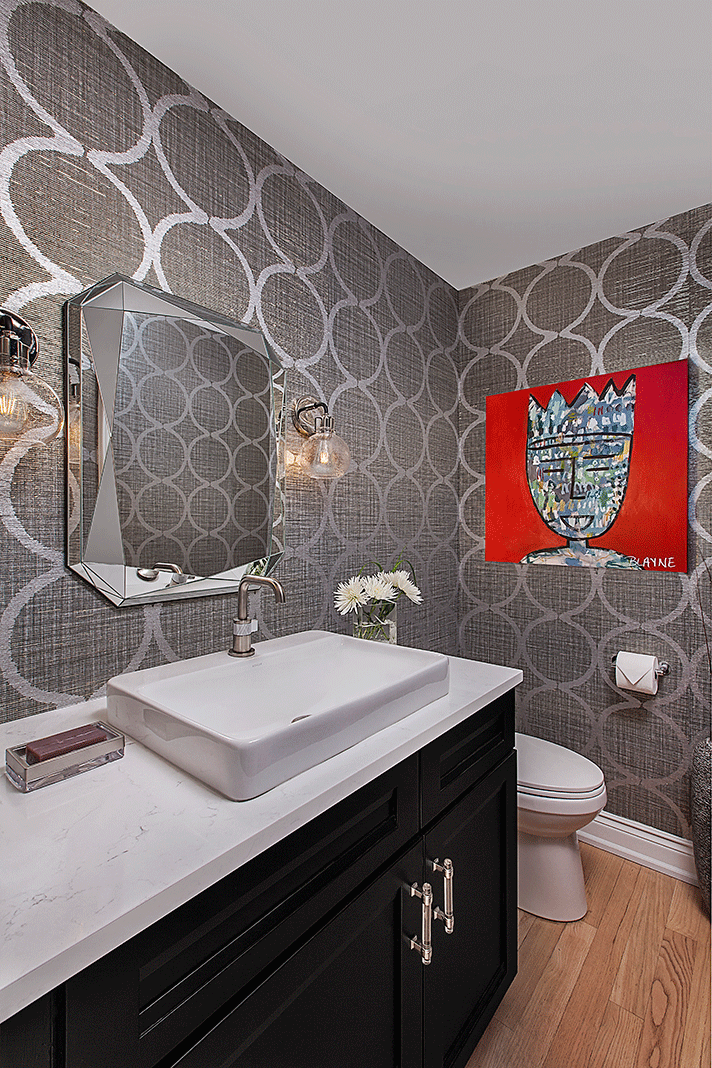 ANN-MARIE ANTON, PRINCIPAL OF IT'S PERSONAL DESIGN IN GROSSE POINTE WOODS, advises painting, wallcoverings, and fresh fabric for a new look that takes minimal time.
"If you're looking to transform a small area, don't be afraid to be bold, especially when it comes to paint," she says. "It's an inexpensive and very effective way to add drama to a room. You can also consider a removable wallpaper that can add color, texture, and personality to any space.
"In the photo below, which is actually a large showroom, designer Margaret Skinner and I did a vignette where we had a blank canvas to start with.
"The black wall, wallpaper mural, wood panels, fabric on the ceiling, and the chandelier were very inexpensive details that created a mood and defined an intimate space that was previously a large open commercial area."
Ann-Marie has some additional tips on how to make a big impact with relatively small changes:
For a quick and inexpensive change to your room, consider changing throw pillows, bring in fresh flowers, or rearrange your bookshelves with a few new items and change around your existing ones to create a refreshed look.
You can move items from one room to another; when they find a new home the effect feels brand-new.
Don't shy away from dark colors. They add drama, depth, and a moodiness that make you want to snuggle into the space.
Take advantage of all aspects of your room, meaning the floors, walls, and the ceiling. Change the paint, add a rug, hang a chandelier, or consider adding molding to your ceiling.
There are so many ways to add texture, interest, and create a fresh look to your tired space. Be bold!
TO JILL SCHUMACHER, A DESIGNER WITH BIRMINGHAM'S RARIDEN SCHUMACHER MIO & CO., decluttering and organizing go a long way in revitalizing a room, as does a fresh coat of paint. She knows this from first-hand experience, because she's been busy sprucing up her own home:
I think we should all strive to create an organized and peaceful office space in our homes, as we all have been spending a lot more time at home.
Make sure to create separate spaces for work, play, and rest so you have a sense of leaving work at a certain point. Otherwise, time and life get very muddy!
I am painting all my darker rooms light again...I need the pick-me-up to get through the gray winter season while working from home. My olive drab office is becoming a sheep's wool tint of white!
I am having built-ins added with file space to organize my work and home papers separately.
Dedicating a drawer in your mudroom or a tray near the back door for your pandemic supplies (sanitizer, masks, sprays and wipes) is also a nice way to feel organized!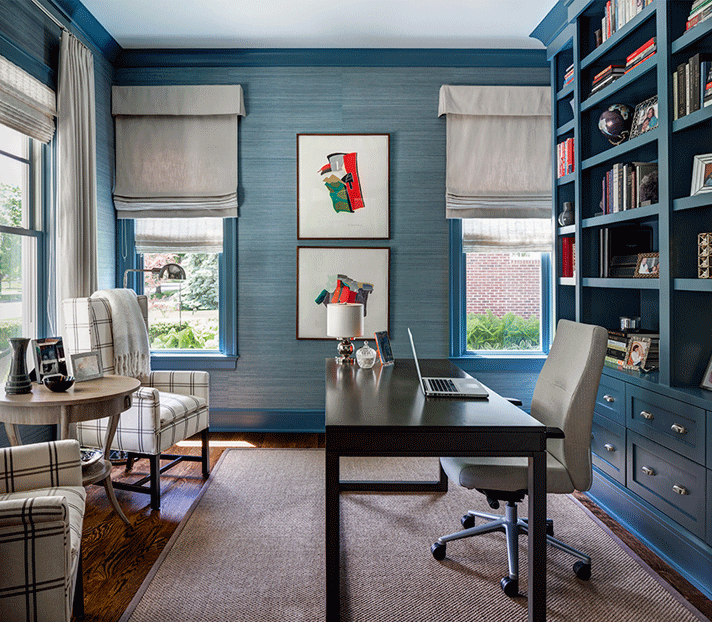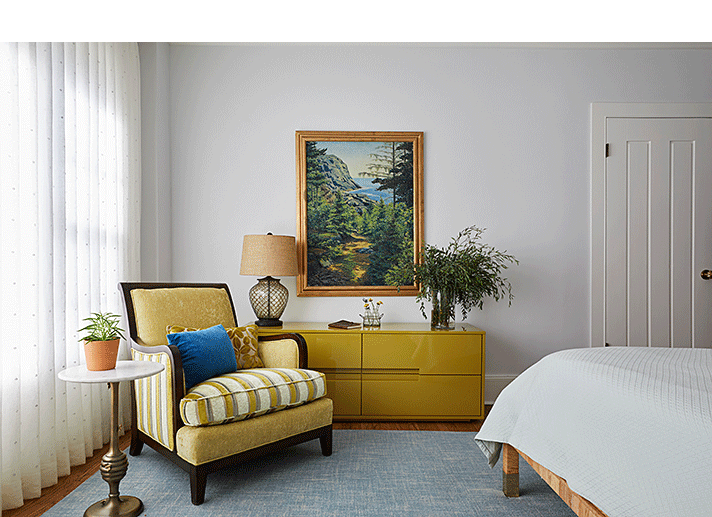 LAURA ZENDER, PRINCIPAL OF ANN ARBOR-BASED LAURA ZENDER DESIGN, offers a simple and direct tip to enliven a space: Change the fabric – and don't be afraid to mix patterns and colors.
"One of my favorite ways to spruce up a space is to reupholster interesting furniture pieces that are still in good shape from a construction standpoint but perhaps dated in their existing fabrics. We like to mix it up with fresh patterns and colors to really make the piece shine, sometimes using more than one fabric to really make an impact. Here are two examples we have reupholstered for clients in the past year:
"In the above photo, we reupholstered the existing club chair recently as a part of a whole home renovation. The two chartreuse fabrics from Rozmallin really make it pop against our client's new soft blue bedroom walls.
"In the photo below, this chaise belonged to our client's mother, and she likes the smaller size that fits perfectly in her bedroom window. The traditional lines are beautiful, but we chose a modern dotted fabric with contrasting welt from Tennent & Associates to jazz it up a bit."