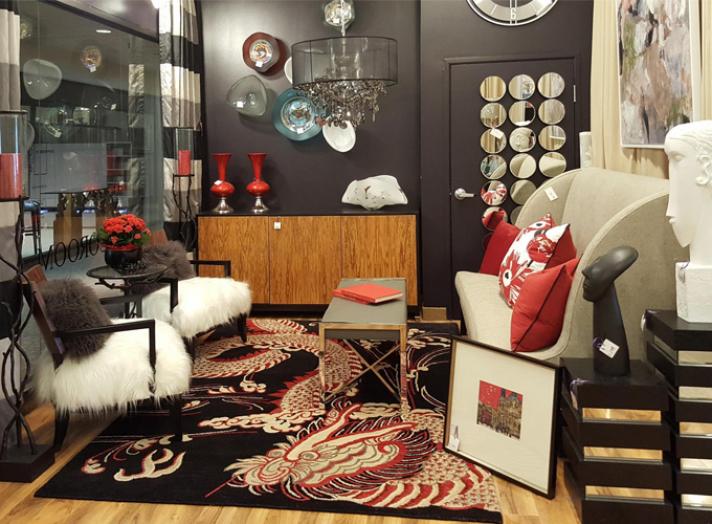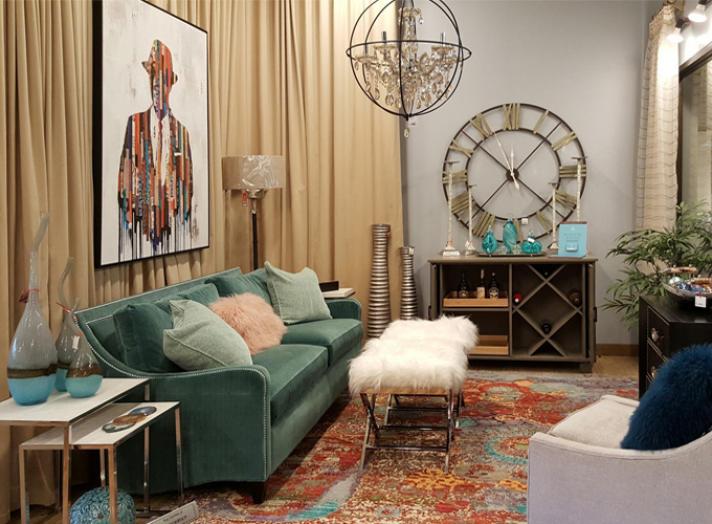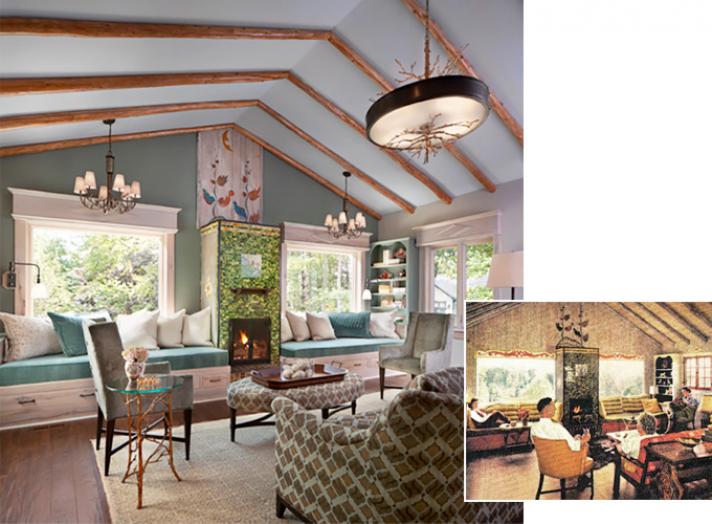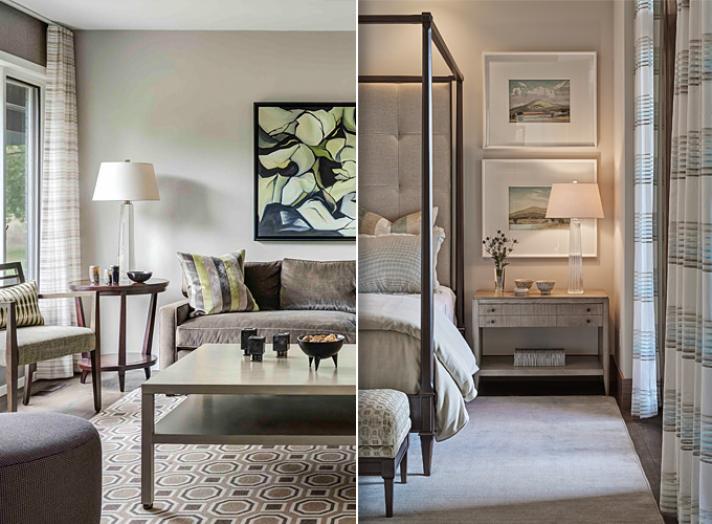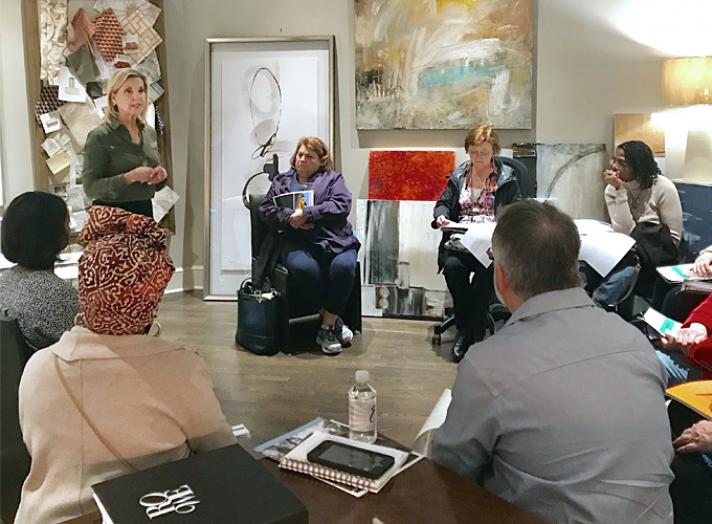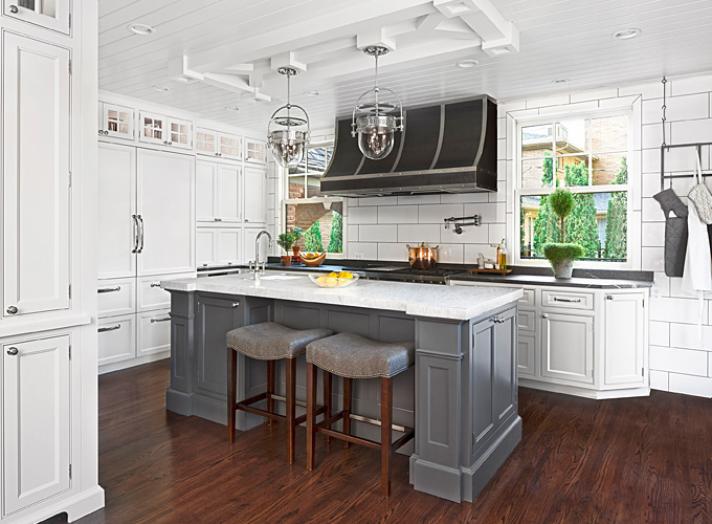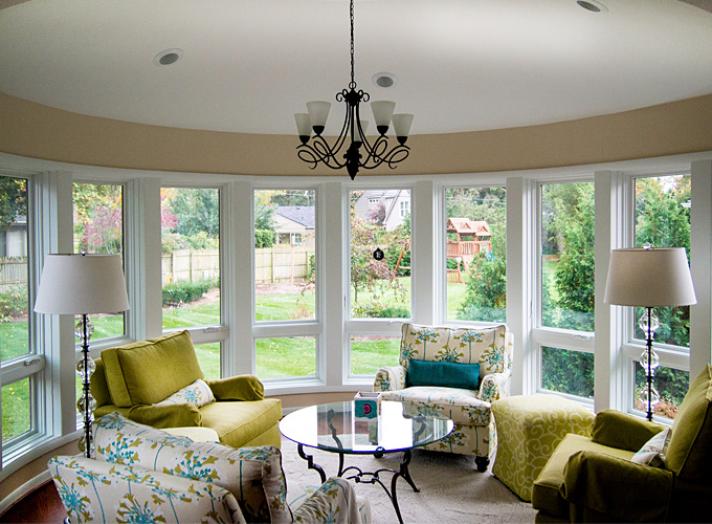 Recently, MDC hosted our "Renovations Done Right" event featuring multiple presentations covering a variety of renovation-themed topics from kitchens and baths to space planning, color, and more. Several of the day's presenters revisited their topics and provided a recap with their top renovation tips.
COLOR PLAY – Linda Shears, Linda Shears Designs
The interaction of color palette, fabrics, and artwork can transform a room, but where do you start? Which of these three elements is the impetus in defining the color scheme for your space? I designed two vignettes in the Decoroom showroom to illustrate different starting points.
In the black and red room, the dragon area rug from The Ghiordes Knot was the inspiration. It allowed me to highlight how painting an accent wall in black does not have to be forbidding. Keeping the furnishings light and adding a pop of red enlivens the space. Is black the 2018 new gray? It works the same as gray by allowing accent colors to thrive and not be absorbed by it. I also showed consumers how to use several different fabrics and artwork with the rug.
The turquoise/coral vignette illustrates two very important aspects of creating the perfect color scheme:
Complementary colors sit opposite each other on the color wheel. For this vignette, we highlighted turquoise and its opposite, coral.
The selection of colors in this space demonstrates the 60/30/10 rule in design – for the best balanced and appealing look use 60% of the room in a dominant color (in our space that was turquoise), 30% of a secondary color (here it was the coral) and 10% as an accent color (the melon color in the area rug and an accent pillow).
 
YOUR HOME – HAVE IT YOUR WAY – Jane Synnestvedt, Jane S Synnestvedt Interior Design Consultant, Inc.
There are always surprises and new discoveries when renovating older homes, some that can lead to higher costs. Therefore, you should consider the following steps when developing a renovation or a new build plan:
Before hiring a designer, you should set some goals. What is the desired aesthetic? Provide pictures and lists to describe your priorities for using the space. Are there any special needs for you, family members, pets, or aging parents?
How much are you willing to spend? You need to understand the reality of your budget and should allow 20% more, as there will always be unforeseen adjustments.
Communication between all team members involved in your project is key to the execution of the project. You should select a team that is composed of professionals, such as an architect, interior designer, landscape designer, general contractor. This team should have the skills and hands-on working experience to help you make the smart decisions that differentiate a well-executed plan from a disorganized disaster.
Materials for each job need to be selected based on the way the renovated / new space will function, and the overall desired maintenance you wish to take on.
You should consider what role technology will play in your home.
The above images support some of these points on the importance of the planning steps. The original house was built as a weekend retreat in horse country in the late 1800s, and the history of the home was very important to my clients. Out of respect for that history, the new home was updated and spaces were enlarged for today's living. Attention to detail becomes critical when repurposing architectural features from an old structure. In this case, the painted panels on the wall and the stones on the fireplace were numbered, and the beams in the ceiling from the original farm house were repurposed in this new build. An outside wall was brought inside for historical recognition.
 
DESIGNING WITH COLOR – Kevin Serba and John Rattray, Serba Interiors
Color not only creates visual interest in an otherwise neutral space; it can also add warmth and energy to a room.
Neutral backgrounds allow you to layer color into your space through the use of colorful upholstery, interesting area rugs, and vibrant accent fabrics and accessories.
When creating a color scheme for a space, it's often helpful to start with a single item that will set the tone for your room. A colorful woven area rug, favorite accent fabric, or cherished artwork are all good starting points to work from.
 
FIVE WAYS TO KNOW TO EITHER REMODEL OR MOVE – Rita O'Brien, Rita O'Brien Design Group
Do you love your home? Consider your neighbors, location, and surrounding areas. If you like these elements, renovating might be the answer. A designer may see new possibilities to get you maximum functionality.
Be sure to budget realistically. Budgeting accurately is essential if you decide to renovate. Meeting and planning with experts is critical. Be aware of how time constraints can impact budget.
More room or more rooms. You can add more room without adding more square footage. For example, consult a designer to see if a three-bedroom home can be re-configured to four bedrooms.
How long will a renovation take? Be prepared for a serious, long-term commitment of time and energy. A total kitchen re-model. ideally will take 10-12 weeks, depending on products and methods.
Earning back your investment in remodeling. What's the average return on investment for the renovation you are considering? Not all upgrades give you a full 100% return on the money invested, but give your total home a better profile.
 
CREATING THE KITCHEN OF YOUR DREAMS – Arturo Sanchez and Barry Harrison, Art | Harrison Interiors
Don't forget to design the ceiling for more interest and texture.
Create cozy nooks in the kitchen using banquettes.
Bring clerestory windows in kitchens as opposed to soffits. This adds heaps of light while giving privacy.
 
SPACE PLANNING – Pamela Livingston Hardy, Creative Renovations, Inc.
Pamela Livingston Hardy suggests rearranging existing furniture to make a more usable space.
If removing walls to open up a space, it is always wise to get recommendations from an architect to ensure that additional support is not required to brace the upper levels or the roof.
Rearranging the furniture in a room can sometimes open space and provide a better and more usable space.
When planning out a new kitchen, leaving the major appliances where they currently are placed, when possible, will avoid additional cost for plumbing and electrical service.
Think outside the box when considering renovations to the home. For example, moving walls, doorways, and/or windows can maximize the space and functionality in a room.