In September, as vacations wind down and our work and school schedules become more structured, getting a restful eight hours of sleep is important. But a good night's slumber isn't only about a comfortable mattress and high-thread-count sheets. The whole ambiance of a well-designed room is crucial, as this room by Kathleen McGovern shows. She and two other respected designers offer their advice on how to dream big and catch your Z's with ease.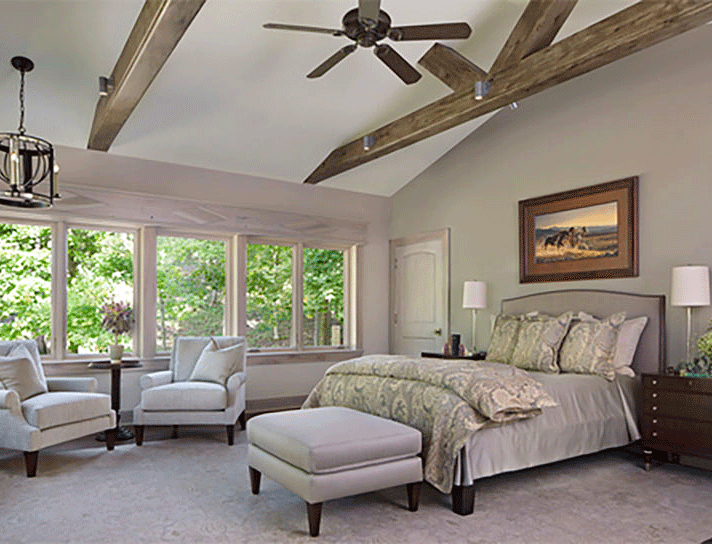 TO JANE SYNNESTVEDT, PRINCIPAL OF JANE SYNNESTVEDT INTERIOR DESIGN in Birmingham, designing a bedroom is conducted with each particular client in mind, but she does offer a few guidelines that hold true for all spaces where we sleep: "Bedside tables are a must," she says, which provide convenience and function. In addition, "There should also be a seating area for reading," because reading often helps us to nod off. Finally, she advises that bedroom lighting should be on dimmers, which can provide atmosphere as well as function.
The above photo is of a master bedroom in an original farmhouse in the countryside, and the copious windows provide a lovely view of nature. "I designed wooden valances that worked well with the home and can house the motorized privacy and darkening that the roll-down shades provide," Jane says. She chose a soft color palette that reflects the hues of Michigan's changing seasons, and the wood grain adds extra warmth to the setting.
Both the fabrics and the artwork were chosen with the clients in mind. "The fabrics are friendly to family pets and the clients' active outdoor lifestyle," she explains, while "the artwork expresses the clients' love of travel in the American West."
What isn't seen in the photo also is an extension of the design aesthetic. As Jane explains:
"I incorporated a laundry area into their master bath and a beautiful screened-in porch with privacy, once again to underscore the homeowners' love of nature."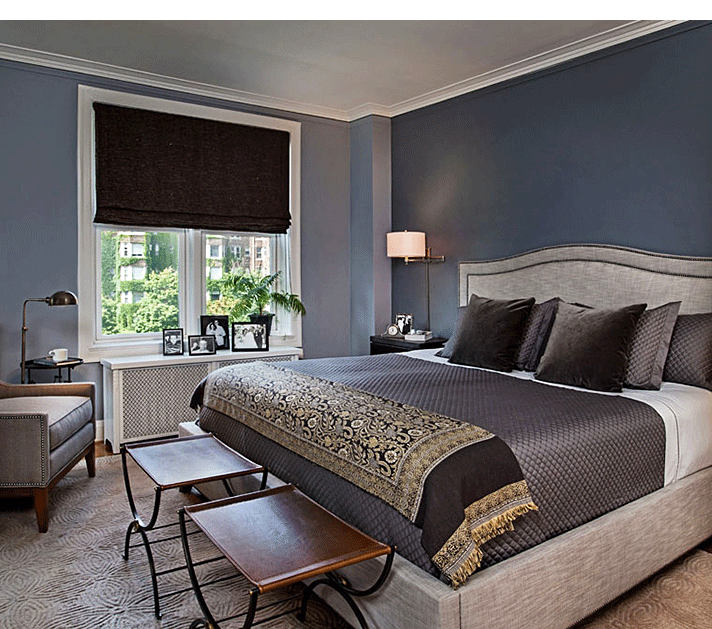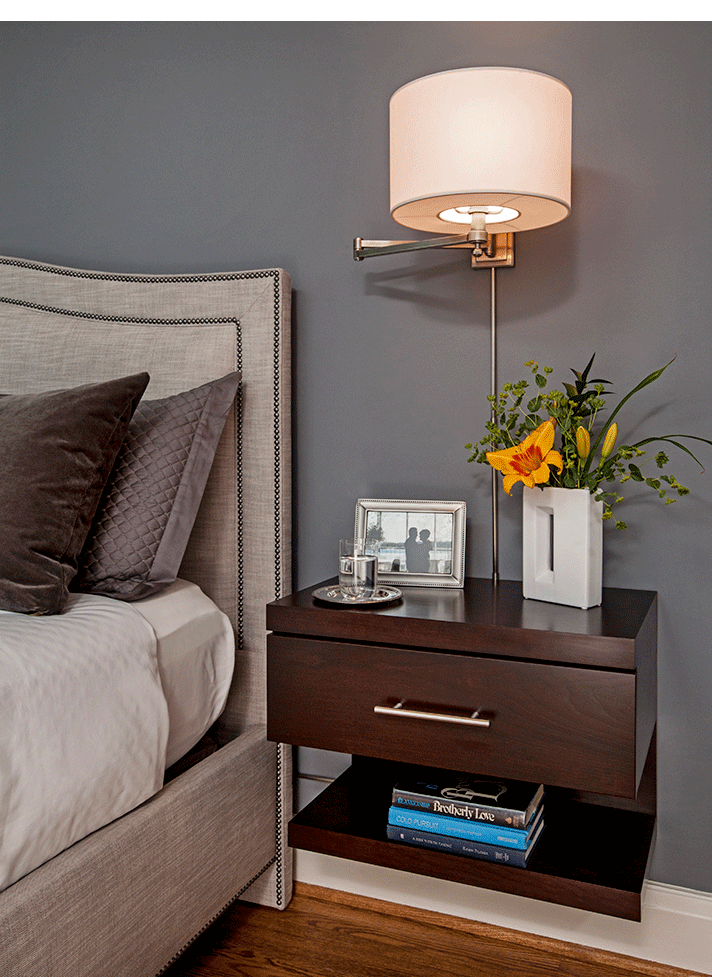 TO GROSSE POINTE PARK DESIGNER KATHLEEN McGOVERN, PRINCIPAL OF KATHLEEN McGOVERN STUDIO OF INTERIOR DESIGN, comfort and function are paramount considerations in ensuring rest.
"This particular client lives remotely from the business he owns, and he requested a comfortable, quiet refuge from the demanding schedule he maintains when he is in the city," Kathleen says of this high-rise on Detroit's riverfront.
The colors and textures were chosen purposefully.
"The palette is an assembly of dusty colors...grey, grey-violet, charcoals, taupes – colors both restful and masculine," she says. "A mix of textures bring visual interest to any well-designed bedroom. We selected a handsome wool tweed for the upholstered bed, silk and velvet as the decorative layer, and leather and iron as a contrast to the luxury finishes on the bed."
The furnishings all serve a functional purpose, too, Kathleen notes, but allowing room for technology is another consideration.
"We feel that most technology should play a limited role in the design of a bedroom," she says. "A charging station and a cell phone provide a sense of security, but unless it's a guest bedroom, we aren't fans of TVs in bedrooms...a good night's sleep requires that you turn off the day."
To that end, controlling light is essential. "Privacy, light-filtering, and blackout window treatments are options clients often request for window treatments. Automated-closures update a hand-pulled treatment," she explains.
Nightstands, Kathleen says, are important elements in the bedroom. However, space was at a premium in this project, so she and her team custom-designed a pair of floating nightstands, which were made by a local craftsman.
A tabletop lamp would have taken precious space, so a reading lamp was placed over the nightstand, leaving the top "free for the essential vase of fresh flowers and wedding photo."
Although out of view in the above photo, the addition of a beverage bar to the ensuite (bedroom with adjoining bath) has been in high demand lately, Kathleen says.
"A dedicated nook tucked away between bedroom and bath houses the Nespresso, a wine cooler, and pint-size fridge," she explains. "Today, master suites almost require this convenient array of small appliances, which add a layer of luxury and functionality to the space."
Regardless of a bedroom's size or style, Kathleen has some general parting advice:
"The most important advice we give all our clients is to find the mattress and foundation that provide the appropriate support and then buy the best sheets you can. Nothing will kill the potential for a good night's rest quicker than uncomfortable linens."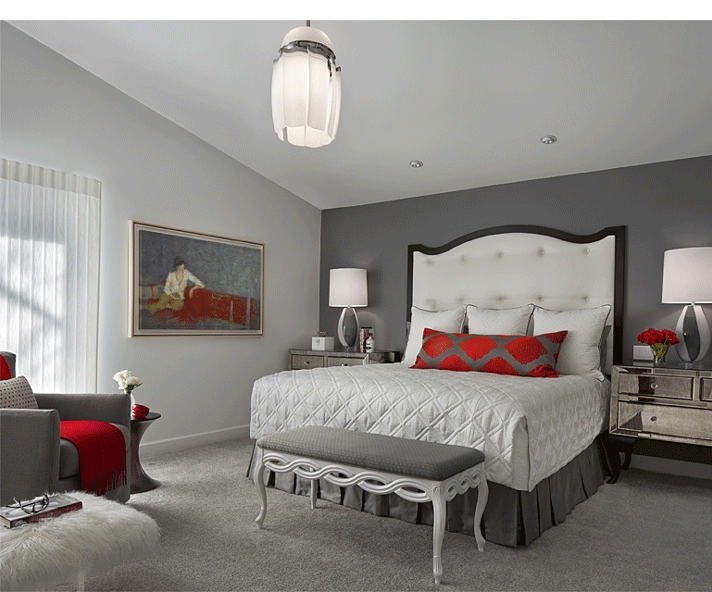 TOBY SNEIDER, PRINCIPAL OF WEST BLOOMFIELD-BASED SNEIDER CUSTOM INTERIORS, believes a bedroom should be a well-designed refuge.
"The goal for any good bedroom design is to make it a personal sanctuary," she explains. There are a few other design constants, she notes. "A well-defined bedroom should include the same basic requirements: a versatile lighting scheme, bedside accessibility, which often has a different set of needs for each sleeper, and comfortable seating."
In the above project, Toby's client expressed a penchant for the color red, but the designer was judicious in how she used this dominant hue, particularly in the bedroom.
"This particular client desired elements of the color red throughout the entire home," Toby says. "In the bedroom I utilized it in accents while still keeping the rest of the room sedate with a neutral palette, along with functional fabrics."
The result is a tasteful and elegant room with just the right degree of color.