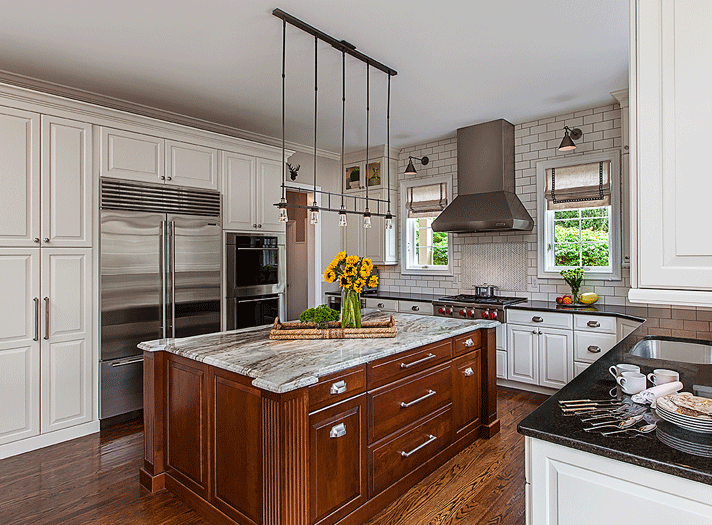 The kitchen is often called the heart of the home for good reason. Aside from being the most utilized space in many houses, it often acts as the main social hub for friends and family to gather. Three of the area's top designers share their expertise on how to properly mix high-end items with more moderately priced pieces in the kitchen without sacrificing cohesion, style, or impact.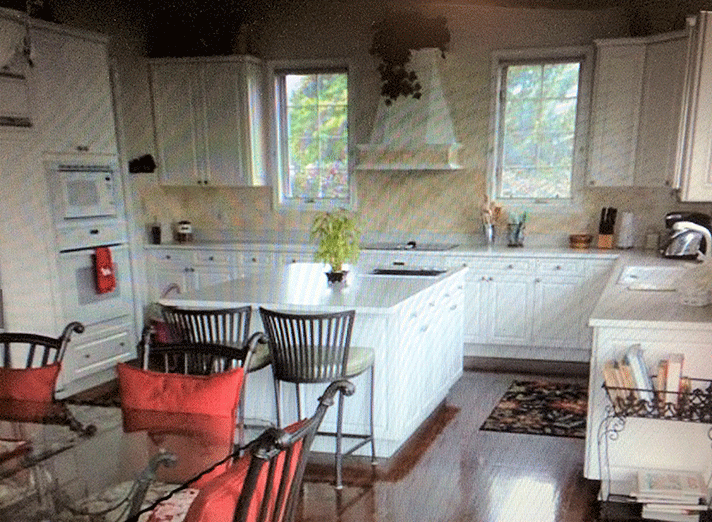 RENEA LEWIS OF DESIGN BY CHOICE received a call from her client shortly after they purchased their new home in Rochester Hills. She was hoping to save the existing kitchen cabinets while adding additional cabinets above, as there was a lot of space between the cabinets and the ceiling. "When I saw the kitchen, I was surprised that the cabinets were Thermofoil in a high-end home," says Renea. "Furthermore, hinges were damaged, and the finish was separating on some doors."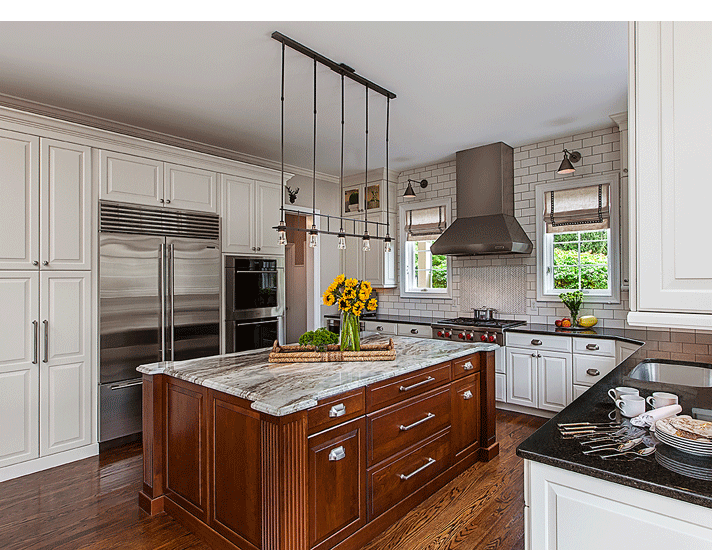 "After much discussing the pros and cons, my client decided to splurge on the cabinets and design a more efficient kitchen than the existing one. We chose a linen white paint over maple cabinets to give a softer appearance to the kitchen. The island is the centerpiece of the room, so we chose a contrasting dark cherry for a furniture-quality look." Here is where Renea implemented cost-effective choices to stay on budget:
SAVE
Absolute black granite on surrounding cabinet countertops.
 
Reusing dining furniture that was special to my client.
 
Displaying special and meaningful collections in the lighted cabinets.
 
Cost-effective subway tile backsplash.
SPLURGE
Fantasy brown quartzite on the island.
 
Replacing the cabinets, lighting, and appliances.
 
Beautiful Ann Sacks herringbone stone panel behind the range.
"What I love about this kitchen is the amount of natural light and how wonderfully it works for entertaining. It is not only beautiful, but also functional as well. It is important to think through a project before jumping into the deep end. My suggestion is never beginning demo work until you have a plan that fits your budget and all selections have been made."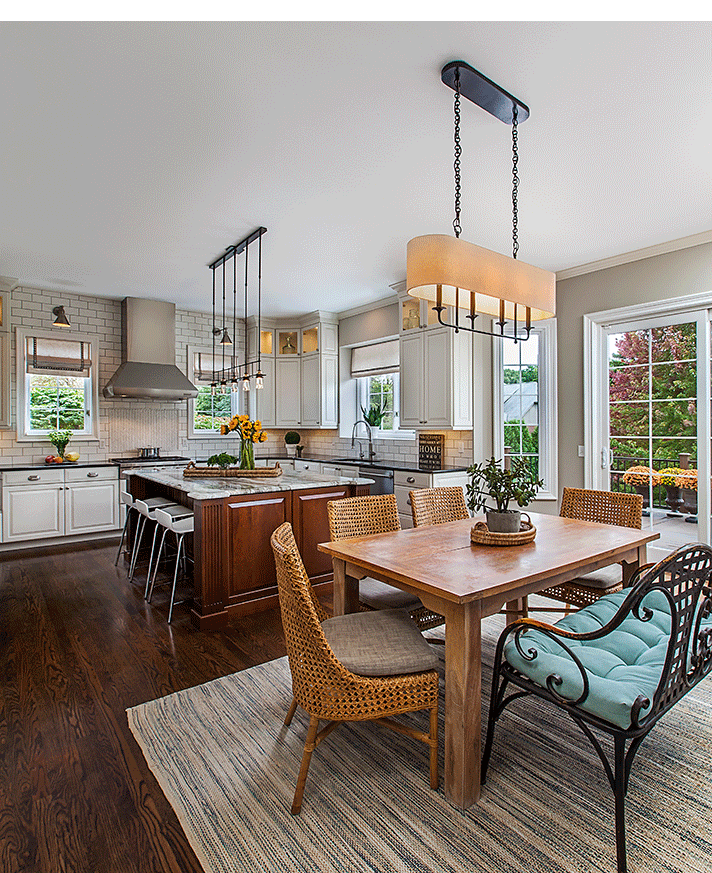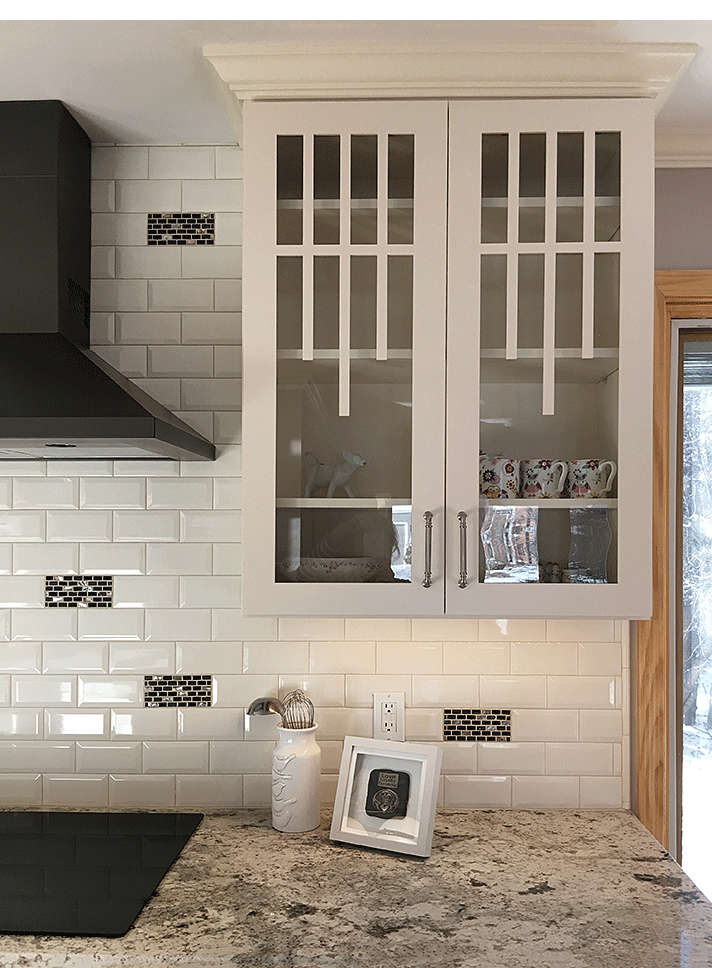 For the two kitchens pictured here, LOIS HARON OF LOIS HARON DESIGNS shares several of the techniques she used to meet the needs and budgets of her clients.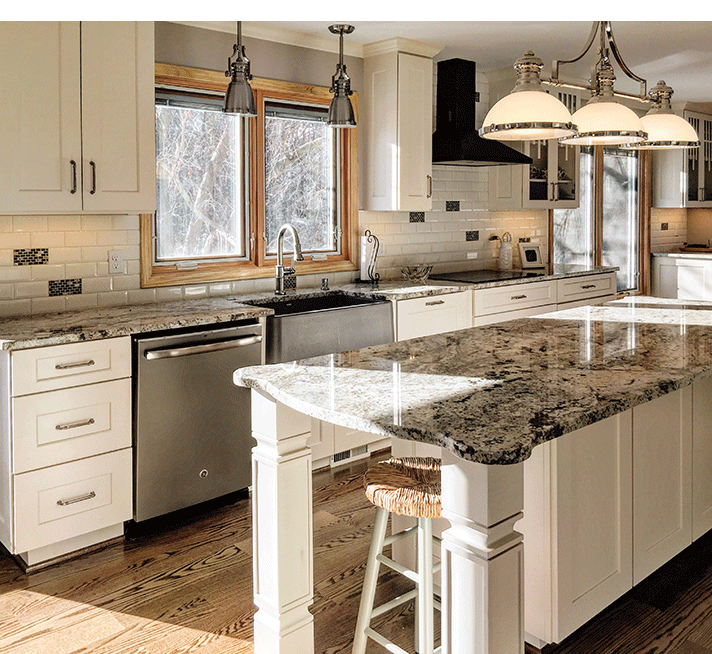 SAVE
Use no larger than a 3" x 6" backsplash tile in beveled style. It is also less expensive in gloss than matte.
 
Sporadically place the glass accent tile among the regular backsplash tile for a custom look. This glass accent tile came on a 12" x 12" sheet. If you make the accent the same size as the 3" x 6" main backsplash tile, you can get a lot of usage out of one or two glass accent sheets. Also, it will help in keeping the labor cost down during installation.
 
Use granite countertops, which are beautiful and less expensive than quartz.
SPLURGE
Use drawers throughout, even in the island, which will give you more storage space.
 
Add custom post supports to the island with a sitting space and have the granite cut with a tailored curved corner for an extra custom look.
 
The elegant mullion design on the glass display cabinet looks much more appealing than a plain see-through glass cabinet.
 
Use more expensive hardware rather than standard knobs and pulls.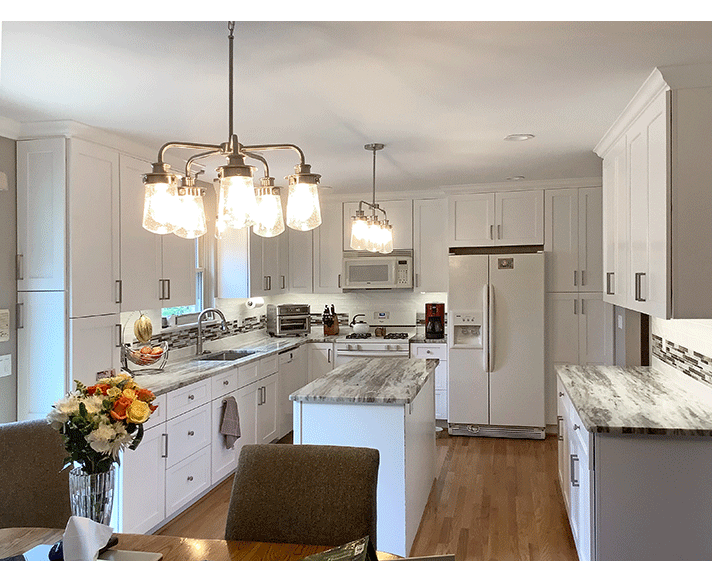 SAVE
For countertops, choose a beautiful granite rather than quartz, which costs more.
 
Choose light fixtures that are reasonably priced.
 
Choose good plumbing fixtures from a reliable plumbing supplier. The big box stores may carry the same brands, but usually the quality is not that the same.
SPLURGE
Install crown molding around the whole kitchen and dining area to give it a unified look.
 
Drawers in the island provide additional storage. A storage closet with a vacuum plug was added next to the back entry, which gives the homeowners a place to store outdoor shoes, pet leashes, and an electric broom used to easily clean up debris tracked into the house.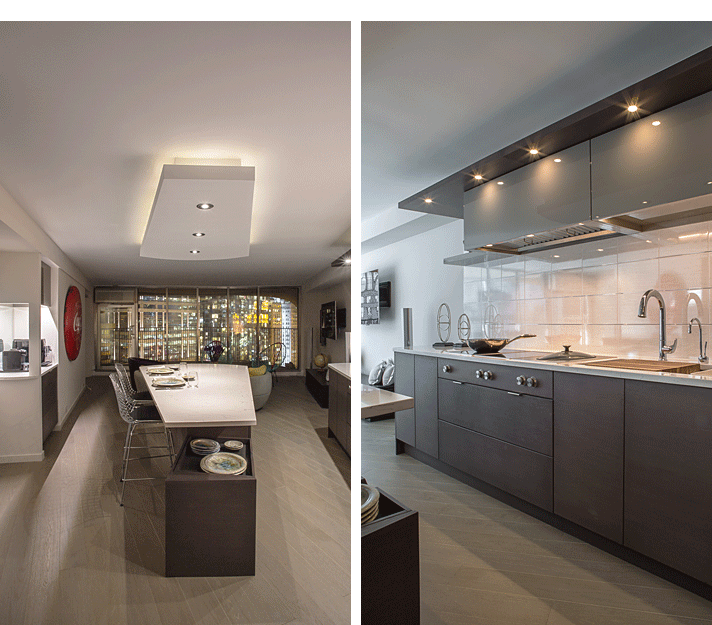 CO-OWNERS DEBBIE AUER AND DAVID CARR OF AUER DESIGN have many years of experience designing both residential and commercial kitchens. While there are vast differences between the size and functionality of these spaces, there are a few commonalities. Here is a detailed breakdown, arranged by product, on where to save and where to splurge on your kitchen project:
CABINETRY: Go with a less expensive brand (but not the cheapest) and upgrade the quality of the box, hinges, and door slides. Keep the cabinet face simple, like slab doors.  Choose oak, maple, or a painted finish to save. Doors are less expensive, and we also love rollout drawers from behind the doors. Stay away from overhead garage style cabinets. They may look cool, but the oversized hinge mechanism causes you to lose a lot of storage space inside of the cabinet and adjustability with the shelves.
 
PLUMBING: Residential kitchens do not have many plumbing fixtures, so this is a place you could save or splurge. With under-mount sinks, stainless steel provides a more economic route, but we personally love Silgranit, which is a granite composite sink material with superior strength and durability. It does not show spotting, which keeps it from looking dirty.
 
APPLIANCES: If you are a cook, this is the place to splurge (but be sure to keep in consideration the value of your home and use that as a guideline for your upgrades). Bosch builds great mid-range refrigerators that have the look and quality of a Subzero, without the high price tag. We also love their ranges and dishwashers. If you really want to splurge on a range, shop for a great-quality brand with features like side-hinged oven doors. A quality range can last several decades. AGA is a great high-end range, and we love their uniqueness. The entire surface can be used to cook, not just the burners. They have a vintage feel and come in a lot of great colors. (But be sure you have lots of ventilation, these burners run hot and are on all the time.)
 
COUNTERTOP: We suggest splurging with Quartzite, as it is durable and does not stain. We prefer it over marble or granite because of its consistency and color range.
 
LIGHTING: We think that splurging on strategically-placed pendant lighting is a must. This is your focal point and where you can achieve the most impact for your buck.
 
FLOORING: We love the look of a wood floor in the kitchen. An engineered hardwood is typically less expensive than solid hardwood flooring. Luxury vinyl tile, ceramic, and porcelain tile all offer wood-look options at a reasonable price. However, our top choice is wide-plank hardwood flooring.