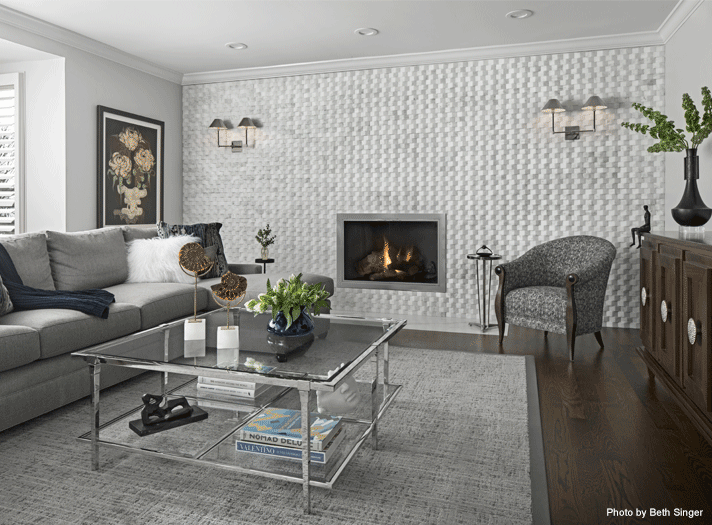 This month, we tasked six accomplished designers to share their strategies to transform a space using easy-to-accomplish solutions. Boy did they deliver! Read on to discover clever and unexpected ways to make a difference in every corner of your house and your front porch too.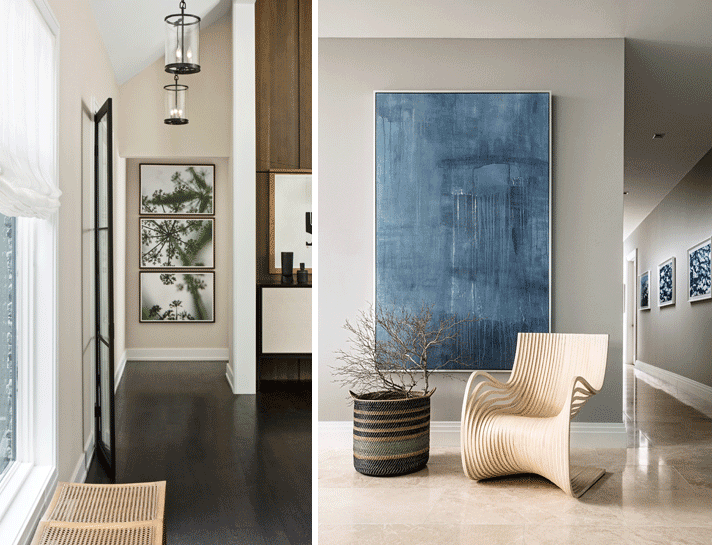 AN EYELINE FOR ART
"Adding artwork to circulation spaces, meaning areas that you pass in a home on your way to another room, have the potential to leave a lasting impression. For example, I placed a triptych botanical photograph at the end of this hallway (pictured left). It's a major artery that carries people from one side of the house to the other and offers a soothing focal point with its soft color and focus. In the opposite photo, (pictured right) I created a vignette with a large piece of artwork, a sculptural chair, and a basket. In addition to its aesthetic value, the homeowner can bring the chair into the adjacent space if they need more seating." – Jimmy Angell, James Douglas Interiors
JIMMY'S TIPS:
Art in a hallway always makes a substantial impact. I think there should be a vista to focus on at the end of the hall; it's important that there's a destination for your eye.
Try adding natural elements, such as dried branches from your landscape, into a stylish basket as an effortless way to add texture and interest to an otherwise empty vessel.
Wallcoverings with a dynamic pattern, striking texture, or an exciting color can make a dramatic difference in a space.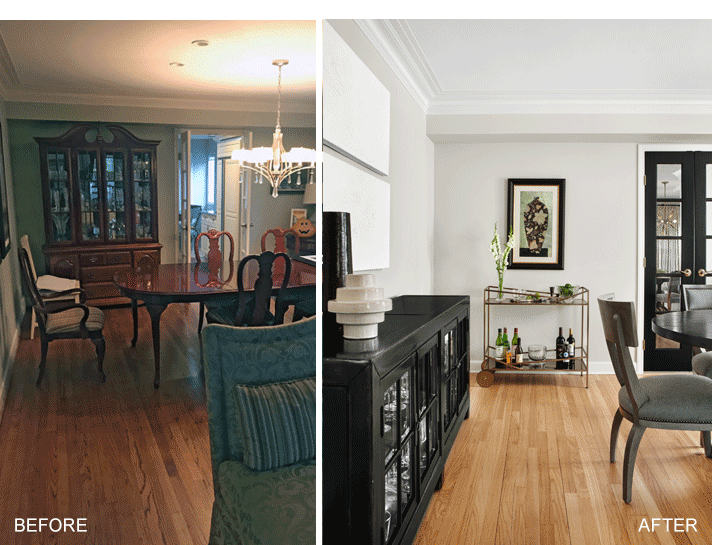 HOME SHOPPING
"The homeowners were looking to refresh their dark, formal living/dining area which wasn't comfortable or utilized. We wanted to convert this space into an area for entertaining as well as family gatherings. I shopped different sections of the home for other furniture pieces and accessories that we could give a new life. I repurposed a black entertainment/tv console from the family room to now serve as a sideboard and storage for China and crystal. A kitchen table and chairs that once overcrowded the space were moved into the new gathering room, which allowed a comfortable flow between the spaces, as well as being a nice transition into the redesigned kitchen." – Margaret Skinner, Margeaux Interiors
MARGARET'S TIPS:
Declutter! Less is more and adds value.
Don't be afraid to pull items found in disparate rooms in your home. Small considerations such as these can really go a long way in transforming a space.
Paint always makes a difference. Something as simple as painting doors black creates a striking contrast and adds architectural interest.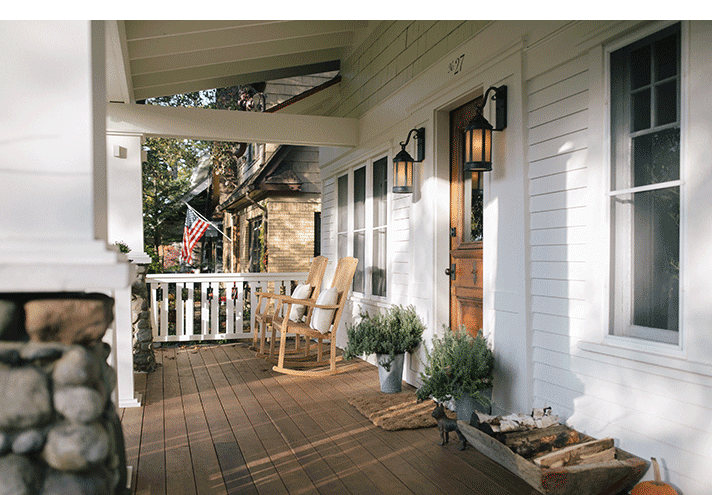 FORMER GLORY
"We researched the original plans of this home with the City of Pleasant Ridge and constructed a completely new covered porch utilizing every original detail possible, while removing all the architecturally insignificant updates done over the years. This included new era-specific windows and a reclaimed 100-year-old front door. Once the foundation was restored, we set about creating additional curb appeal with the home's historic design in mind. Wooden rockers, tin planters, woven mats, and an antique wooden log holder adds warmth as you enter this gorgeous home." – Christine Ramaekers, MainStreet Design Build
CHRISTINE'S TIPS:
Landscape and coach lighting (seen mounted on either side of the front door) should work together to highlight the space and coordinate with the home's architecture.
Although the entire home should be exceptional, consider points of interest that draw the eye in. If the door is special, make sure it is highlighted with great lighting. If the focus is on the columns, don't add too many details around them – keep them clean and simple.
Any design change should be thought of in proportion to the existing architecture. Our eyes equate symmetry with beauty.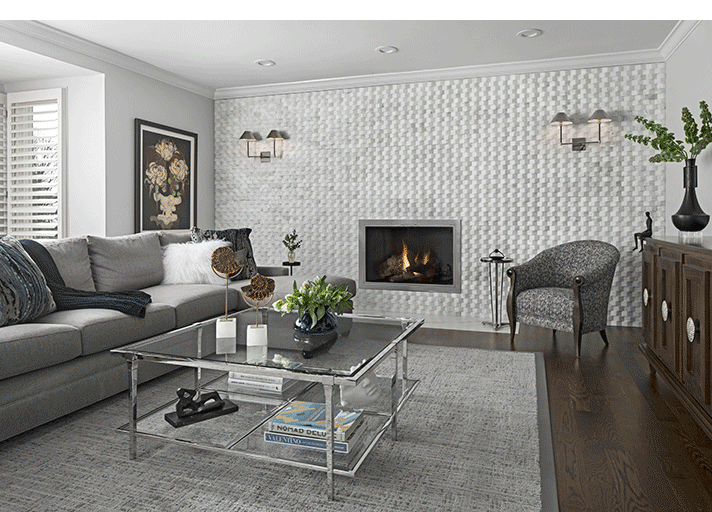 3-D DAZZLERS
"In this main floor update and renovation, the homeowner desired a sleek look that was comfortable and family-friendly. We eliminated the fireplace mantel to give the space more balance, while cladding the entire wall with 3-D marble, which created a dramatic effect. We also added sconces to highlight the texture and dimension." –Toby Sneider, Sneider Custom Interiors
TOBY'S TIPS:
Look up! Adding paint, wallcovering, or millwork will create depth and drama to the ceiling.
Bold design choices such as a gallery wall or displaying a collection will bring personality to a space.
To make a room stand out, add one unexpected item that gives a spark of interest such as an oversized light fixture.
SOURCES:
Rug: The Ghiordes Knot
Sofa and cocktail table: CAI Designs
Chair: Refinished and upholstered by Designer Furniture Services + Fabrics
Chair fabric: Tennant & Associates
Pillow fabric: Pindler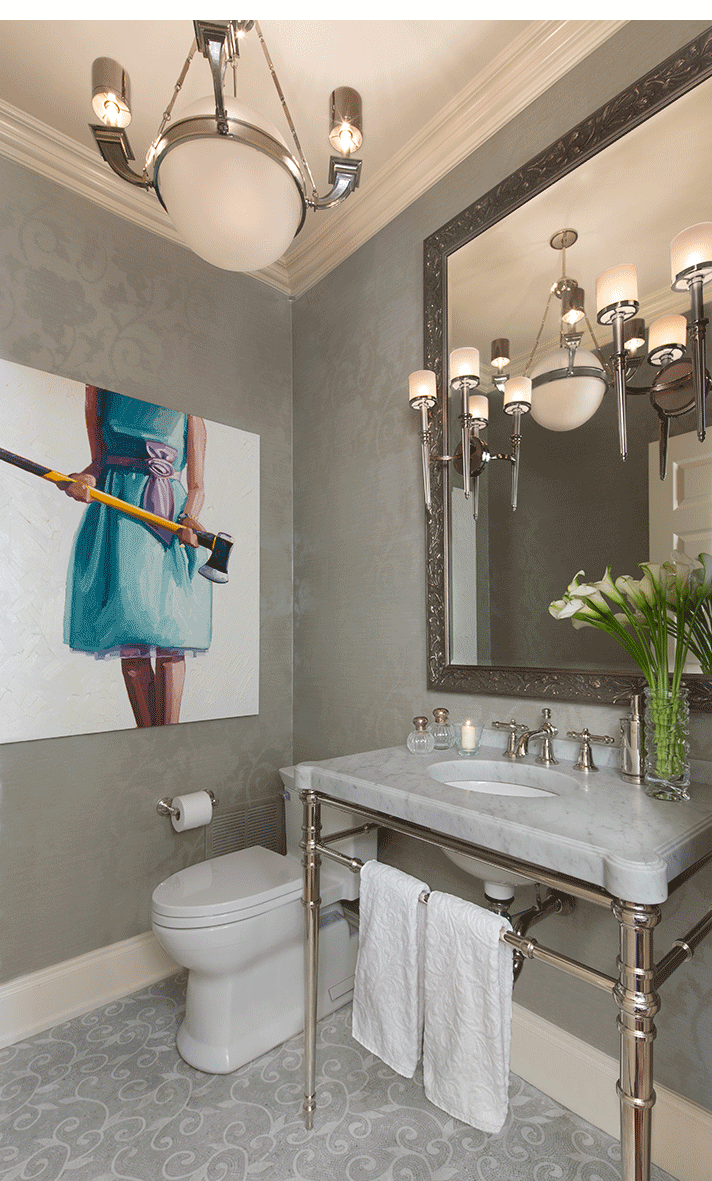 UNCONVENTIONAL UPGRADE
"The homeowner asked me to revamp her ordinary powder room into something spectacular, so my approach was to use marble and polished nickel details to enhance the space. The counter is three-inch-thick marble, and the floor is a mosaic in three different marbles. The homeowner is a big art collector, so we crowned the space with this painting by Kelly Reemtsen."—Jennifer Asmar, Asmar Interiors
JENNIFER'S TIPS:
I recommend changing up the flooring to something special, particularly in a small space. It makes a significant impact.
A large mirror in a fine frame creates an optical illusion to make the room feel larger than it is, thereby changing the atmosphere completely.
When selected properly, lighting is the jewelry of an impeccably finished space.
SOURCES:
Vanity and flooring: Ann Sacks
Wallpaper: Tennant & Associates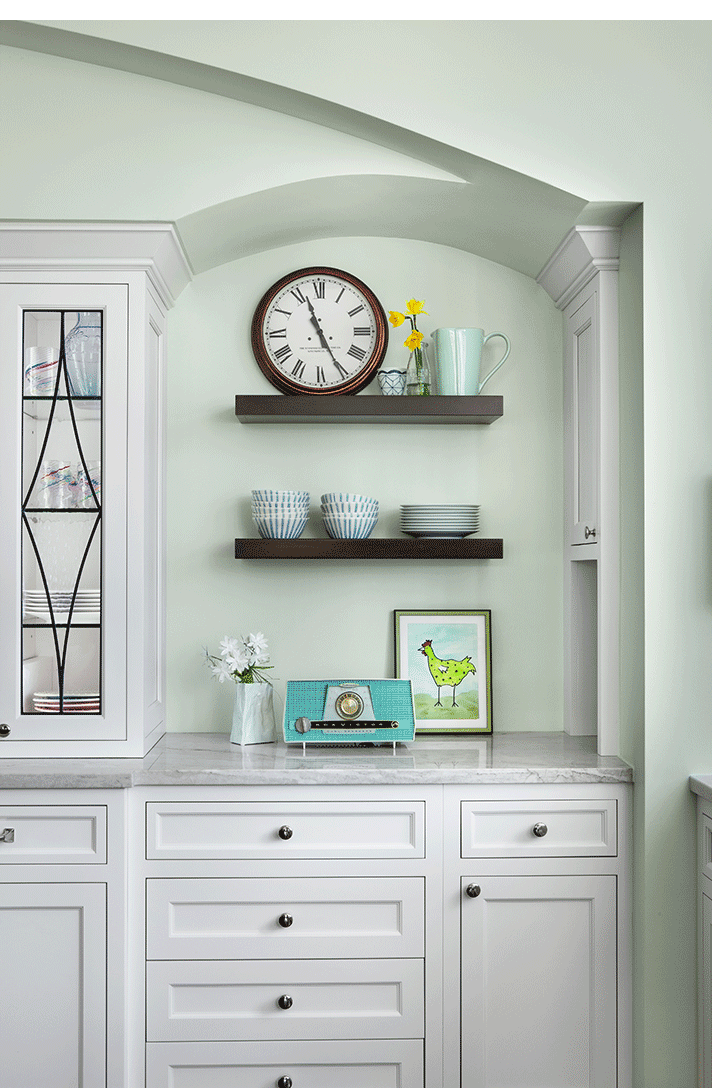 DOUBLE DUTY BY DESIGN
"This area of the kitchen is chock full of family essentials to get their day going: easily accessible bowls for breakfast items (juice glasses and coffee cups can be easily swapped out), a working radio is a family favorite for morning music, the watercolor of the hen was hand painted by the homeowner to brighten everyone's morning, and the clock is there to keep everyone on time!" – Colleen Farrell, Colleen Farrell Design
COLLEEN'S TIPS:
It's common for accessories and arrangements to get shuffled around from use and cleaning. I recommend assessing your space from the door as if you are a first-time visitor or just moving in, then set everything up as attractively as you can.
Routine maintenance, like rotating or swapping cushions and adding fresh pillows, brings character and life back to a tired room. Consider splurging on distinctive custom fabrics and the perfect trim.
If you have a little area in your kitchen that you can accessorize, be sure to rotate the items once or twice a year. Always keep a bountiful basket or bowl full of fresh fruit and vegetables (stickers removed!) arranged like a charming farmer's market display. These simple steps will help you continue to appreciate the kitchen you have and remind others that your home is loved.