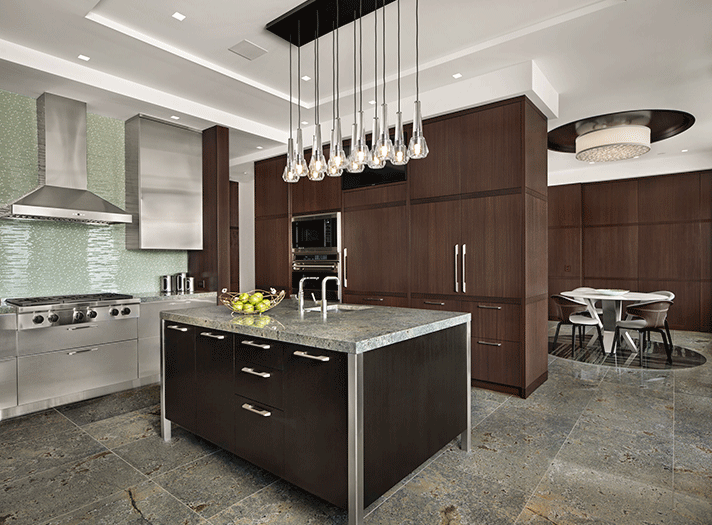 The days are getting  noticeably shorter and Daylight Saving Time ends Nov. 1, so it's the perfect time to focus on lighting. Proper lighting contributes immeasurably to a space (as seen in this kitchen designed by Schaerer Architextural Interiors), whether it's task lighting or atmospheric. Three top designers share some illuminating tips about how to best take advantage of natural and artificial lighting.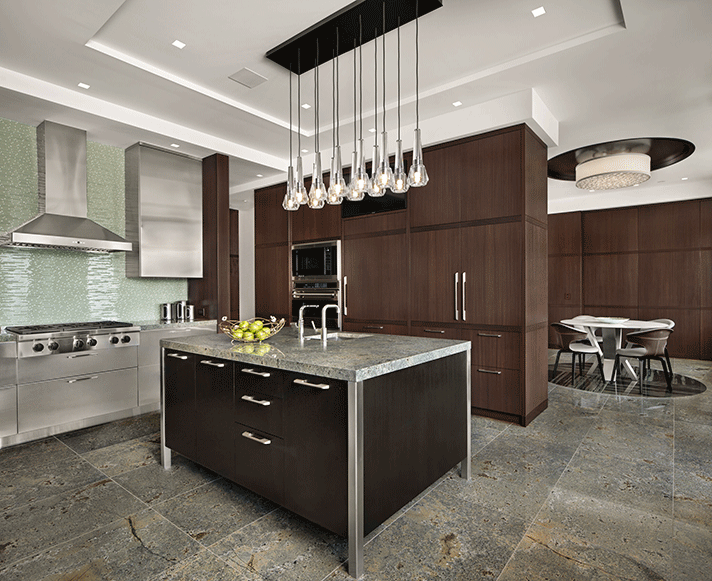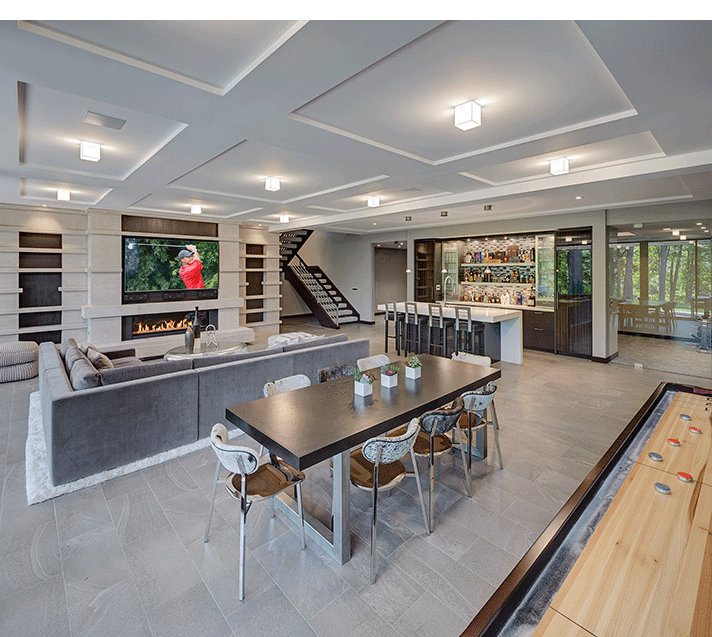 BOB SCHAERER AND HIS DESIGN TEAM AT BLOOMFIELD HILLS-BASED SCHAERER ARCHITEXTURAL INTERIORS believe that correct lighting – whether it be natural or artificial, is crucial, and they explain how it can add interest to a space.
"Over the last 10 years lighting has really expanded its designs due to LED light sources and an overall expansion in design based on materials, finishes, shapes, sizes, and customizations from manufacturers or artists. We are now not only lighting spaces for tasks, but we are adding additional lighting to create a mood, define space, or adding a fixture that is the main focus of the room.
"Correctly lighting an office, kitchen, closet, or bathroom will always be important, but with the expansion of fixtures now we are adding lighting to create interest in areas we may have chosen to ignore before. At times just a glow coming from behind a mirror or a shadow cast from a fixture can create additional interest in a space.
"As designers who love nature and incorporate it into our interiors, we also try to capture natural light whenever possible. In a bathroom, a transom over the vanity is a great way to bring in natural light while still providing privacy. Adding a film to a glass door can also allow light from a well-lit space to pour into an adjacent space lacking natural light. When natural light isn't available, choosing the right amount of light and source for the light is especially important. With today's technology, we can choose color temperatures that are closer to natural light. Of course, choosing finishes that help create a sense of light and airiness in a space will help tremendously when the space lacks natural light."
In the above kitchen image and in the lower-level photo below it, there were deliberate choices made about the lighting.
"The multi-point pendant fixture was chosen to help provide task lighting at the island, define the island as the central space in the kitchen, while also adding to the overall sense of timeless design and sophistication.
"In the photo below of a lower level, we did not have space in the joist to use recessed can lighting. Shallow coffers were designed to add interest to what would otherwise be a flat, uneventful expanse of drywall. The translucent shallow cube lights were selected to accentuate the coffers and add a soft glow to the overall recreational space."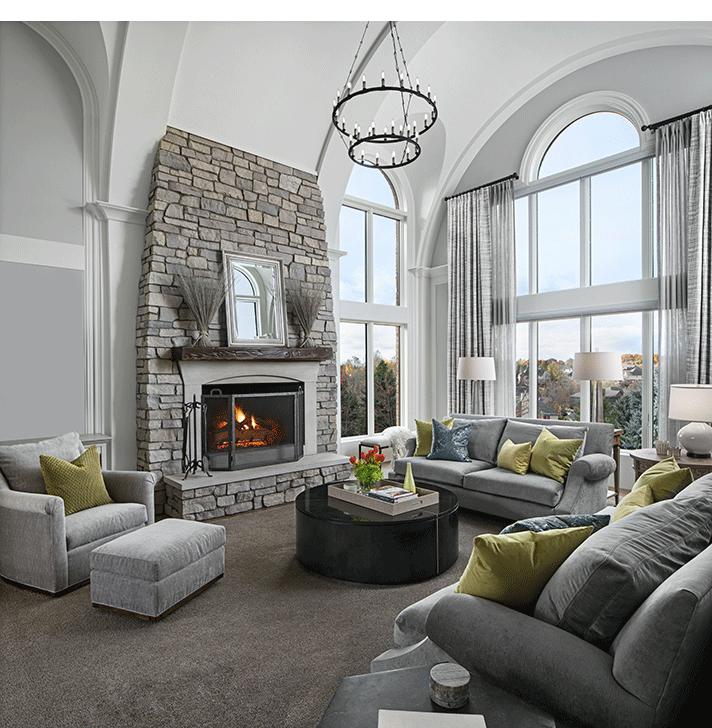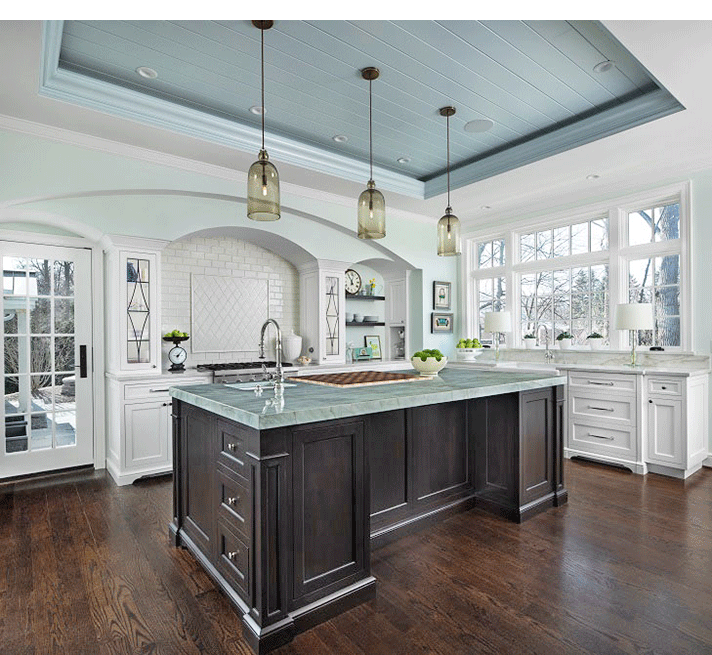 CAPITALIZING ON NATURAL LIGHT WHEN DESIGNING A SPACE IS A TOP GOAL, but doing so takes care, balance, and planning, says Colleen Farrell, principal of Rochester-based Colleen Farrell Design. She offers her advice about what to consider when dealing with natural light.
"Placing furniture to take advantage of natural light is ideal, but it takes some thought to plan well. Watch how the light travels from morning until evening. Will there be soft, consistent light, or will there be times of harsh sun exposure? Sometimes, winter sun can be surprisingly stronger than in the heat of the summer, so be sure to watch how the sun patterns change through the seasons. Plan accordingly for protection of wood, carpet, and fabrics in harsh conditions by using window film, window treatments, and maybe indoor/outdoor textiles."
Colleen has some additional advice concerning lighting in general when planning a room arrangement. She advises layering several lighting options, for instance:
First, plan wisely around your natural lighting conditions.
Use a dimmer on every source of light you have and be sure to use warm lighting, rather than cool, for your home.
Use recessed or ceiling lighting for overall dimmed lighting or bright light when cleaning or doing an overall task.
Place lamps throughout the space in a balanced and thoughtful way that allows you to have the light you need in a specific area for a specific use, as well as to create a balanced ambiance of light.
Don't forget the importance of the light from a flame, the premier light source. The soft glow of fire and candlelight cannot be beat.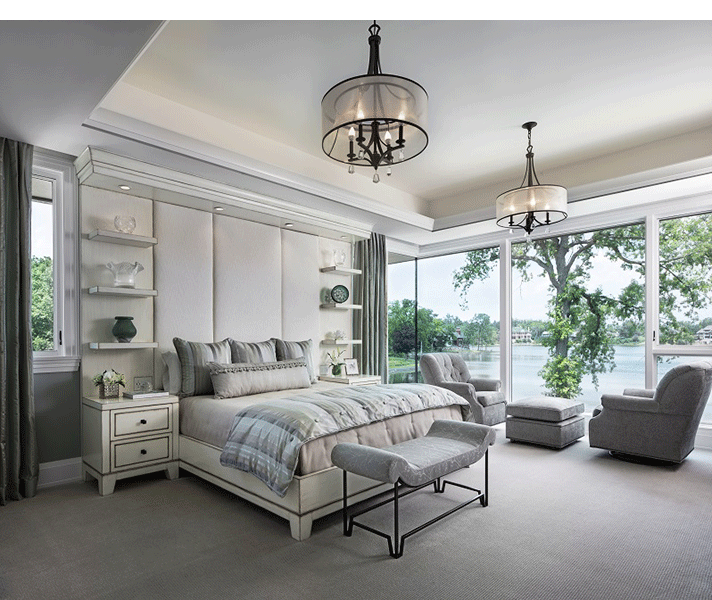 MICHELLE LaVICTOR, PRINCIPAL INTERIOR DESIGNER AT BLOOMFIELD HILLS-BASED YOUNG & YOUNG INTERIORS, says one of the things that makes the master bedroom pictured above so alluring is a combination of technology and generous natural light. Controlling lighting is key, she says.
"We believe lighting is more than just light bulbs and fixtures; lighting is also about how you control the levels of light and how light affects you physically and mentally. In this home, lighting control is essential and, with a push of a button, thanks to the Lighting Control System, this bedroom scene changes from wonderful natural daytime lighting into a tranquil space perfect for a relaxing and restful evening.
"Also controlled by the Lighting Control System, power blackout draperies and sheers that are beautifully hung from built-in ceiling pockets can be opened and closed with a push of a button."
In this room, artificial lighting is provided by decorative chandeliers, LED cove up-lighting, and recessed down lights, which can all be regulated.
"A strategically placed lighting control panel allows all fixtures to dim and turn off together or independently right at the client's bedside," Michelle says. "Easy-to-use light control makes climbing into bed at the end of the day effortless."
Michelle strongly suggests taking advantage of natural light in any room.
"We recommend and specify corner windows in all of our homes to provide uninterrupted outside views, along with essential amounts of natural light to come pouring in. This bedroom has an amazing view of the lake and is a perfect place to sit, read a book, and enjoy the sunshine."
Michelle advises adding a dash of drama and ambience, which she says are often neglected when considering lighting in a bedroom.
"Here, we included all forms of lighting to create dramatic lighting scenes to set the perfect mood.  We chose the chandeliers to add a bit of jewelry to the room while adding an extra layer of light. They are a wonderful addition to the cove lighting that accents the ceiling with a soft glow."