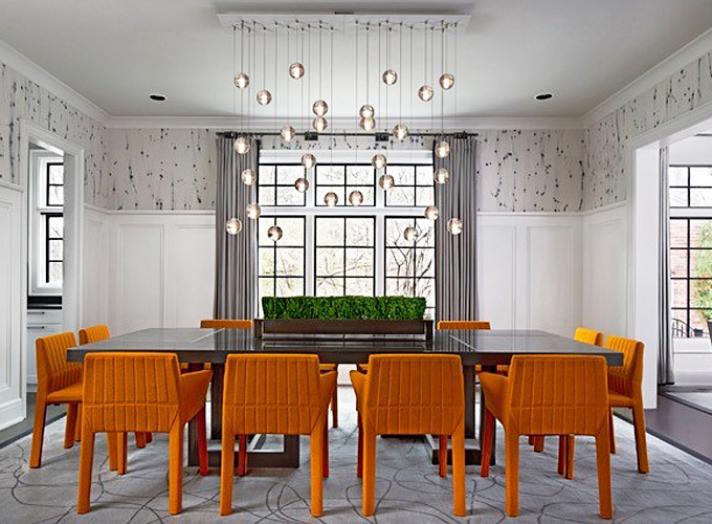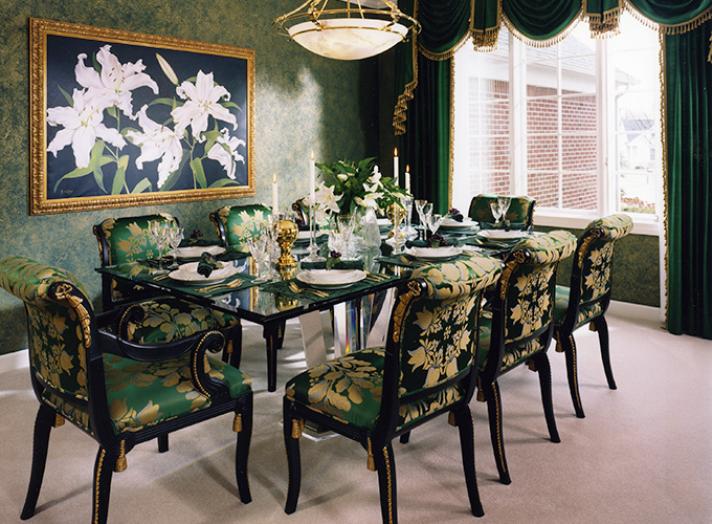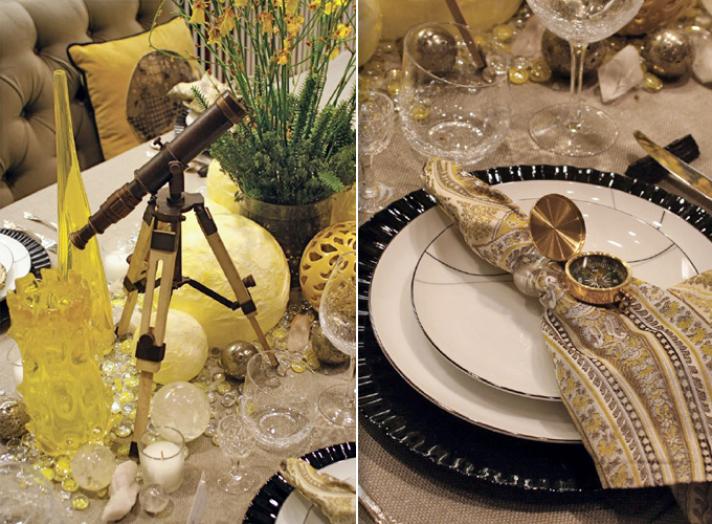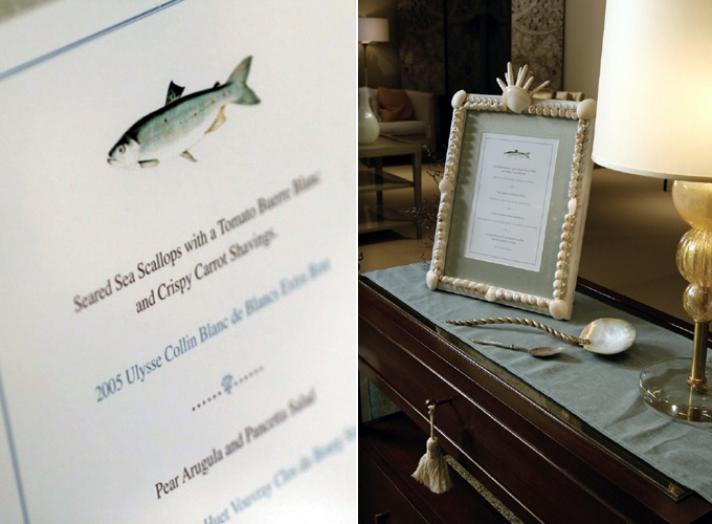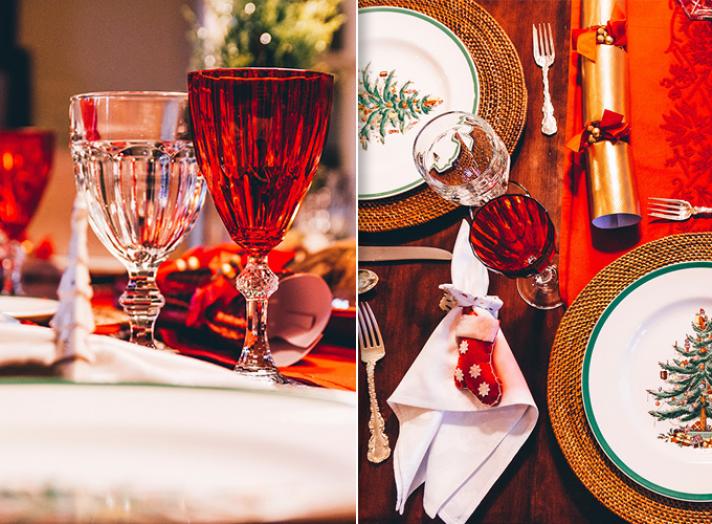 With Thanksgiving just weeks away, the holiday season is upon us! Many of us will be hosting friends and family in the coming weeks, so we asked top designers to share some of their favorite dining room designs, go-to entertaining tips, and delectable recipes.
"This dining space is ready for a party! These colors lend themselves to a beautiful fall event, and with a tablescape that includes twiggy foliage with orange buds and berries, plenty of low votives, and smoky glassware, it will look smashing, festive, and seasonally appropriate."
– Amy Weinstein, AMW Design Studio
"In this era of open floor plans and eat-in kitchens, formal dining rooms may seem passé. Entertaining has become more relaxed and informal; however, many homeowners still love the idea of a separate dining room. There is something special and elegant about entertaining in a space devoted solely to the purpose of dining. It brings back memories of family sit-down dinners and delicious holiday meals. I have several clients who have and prefer to use separate dining rooms. Because these areas are not used every day, they can handle darker walls, elegant furniture, and lavish drapery treatments. For instance, in the dining room pictured here, we used my client's favorite color, emerald green, to create a dramatic yet relaxing and soothing atmosphere. We used this tone on the walls, chair fabric and draperies, accented by brass and gold. Formal dining rooms make every meal seem special and are not going away anytime soon."
– Linda Shears, Linda Shears Designs
"Don't just use table decorations like vases and candlesticks; pull from other things you may have around the house that could bring an element of surprise, color or texture. We did a table setting for an evening of watching the stars using a small antique telescope. We made papier-mâché orbs and painted them yellow like the moon, and placed electric tea lights in them for a soft moonlight glow. We pulled these yellow vases for their texture and some round metal orbs from a rock shop to complete the tablescape. People were thrilled to find small compasses on the place settings as their take-home gifts.
Print the menu. Nothing says great expectations for guests as much as when they see a beautiful table and a printed menu. Type up the menu in a nice-looking format and then place in in a great frame. The menu can be placed wherever you have drinks before the meal, or on the buffet or side table. Or make small, unframed menus and put them on the place setting. It's a big impact for a small amount of effort and cost."
– Dan Davis, Dan Davis Designs
Jones-Keena designer Heather Duggan worked with Birmingham clients to glamorously upgrade their dining room – just in time for Thanksgiving! The star of the room is the elaborately hand-painted walls in silver leaf with gold accents and variations of climbing purple cherry blossoms. A floating shelf lines the rear wall which makes a convenient buffet for holiday meals. The dining chairs were reupholstered in an elegant velvet, and silk curtains with detailed beaded trim were added. The traditional chandelier and wall sconces provide the perfect lighting for entertainment.
– Heather Duggan, Jones-Keena & Co.
"Creative centerpieces can be the star of any dinner party. I like to use unconventional materials as part of the design, and I layer fabrics, mix and match china and linens, and add lots of texture. Try stacking pedestal plates for added interest. Hit the dimmer and add a mix of candles in varying heights for perfect party lighting. Choose unscented candles so the smell won't compete with the food. Plan a playlist and have the music on and candles lit before the first guests arrive. Go-to favorites that you keep on hand will make impromptu get-togethers a breeze. I always have ingredients for Mystic Crab Dip and Baked Brie on hand, and wine and Pellegrino in the fridge just in case friends stop over."
– Cynthia Evans, Cynthia Evans Interiors
---
SHARABLE RECIPES FOR ANY OCCASION
Baked Brie (recipe provided by Cynthia Evans, Cynthia Evans Interiors)
1 puff pastry sheet
1 large round of Brie
1 small green apple, chopped
¾ cup walnuts, chopped
½ cup dried cranberries
½ cup brown sugar
2 tablespoons melted butter
Directions: Combine the apple, walnuts, cranberries, brown sugar, and melted butter in a mixing bowl.
Roll the pastry sheet into a circle. Cut the round of Brie in half horizontally. Place the bottom half of the cut Brie in the center of the pie crust. Spoon half of the apple mixture onto the Brie. Place the top half of the Brie on the mixture, and spoon the remaining apple mixture on the top of the cheese. Pull up the edges of the pastry to the center, creating the illusion of a drawstring pouch.
Bake at 350 for 20 minutes or until browned. Serve with your favorite crackers and grapes.
Mystic Crab Dip (recipe provided by Cynthia Evans, Cynthia Evans Interiors)
1 can crab meat, drained
1 8-oz. package cream cheese, softened
1/3 cup mayonnaise
1 tablespoon onion powder
1 tablespoon garlic powder
2 tablespoons horseradish
1 teaspoon dried parsley
Directions: Blend the cream cheese, mayonnaise, and horseradish in an oven-proof dish. Add the onion powder, garlic powder, and parsley, and fold in the crab meat. Cook for 20 minutes at 350 until lightly browned. Garnish with a sprig of parsley and serve with crackers and grapes.
Aunt Cathy's Famous Coleslaw (recipe provided by Anne Strickland, PORT Mfg. & Design)
1 head Napa cabbage, very thinly sliced
1 bunch scallions, thinly sliced
2 packages ramen noodles
2 oz. slivered almonds
¼ cup sesame seeds
½ stick margarine
Dressing:
¼ cup canola oil
½ cup sugar
½ cup cider vinegar
1 tablespoon soy sauce
Directions: Sauté noodles, almonds, and sesame seeds in the margarine until brown. Spoon onto a plate with paper towels to drain and cool. When you are almost ready to serve, put the cabbage and scallions into a bowl and add the cooled noodle mixture. Mix up the dressing and pour over cabbage. Toss well and enjoy!