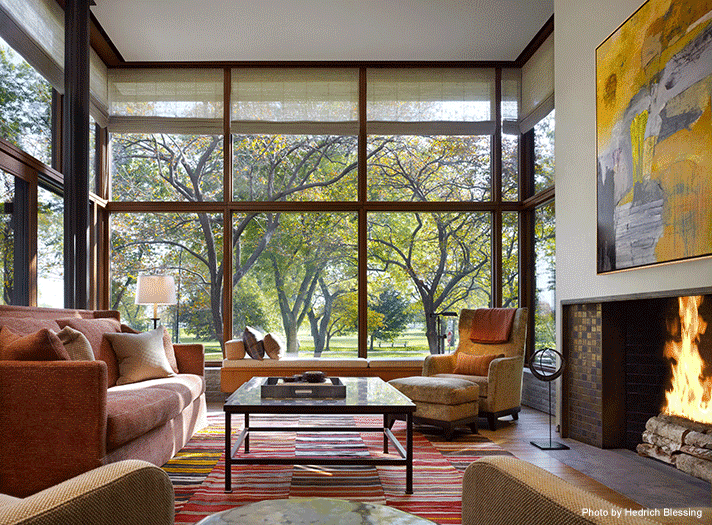 Brrr! There's a chill in the air and an urge to curl up by a warm fire. We asked three accomplished designers their approach to creating a cozy hearthside environment. Read on to discover what they had to say and enjoy the glow!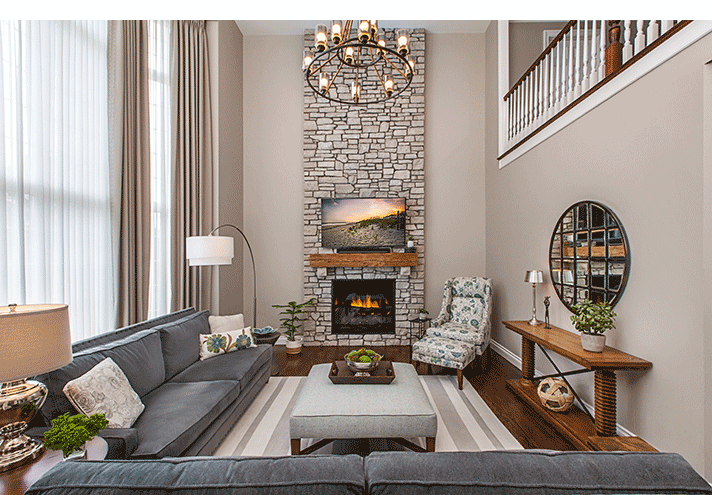 HEART OF THE HOME
"When my client purchased this home, it had a small fireplace surround that was totally disproportionate to the towering ceiling above. To resolve this, I recommended a homey space with a floor-to-ceiling stone fireplace as the focal point in the room. If you look closely, you'll see a heart-shaped stone to the left of the fireplace opening. The stone mason hand carved this per my client's request to symbolize the heart of their home. In another meaningful gesture, the barnwood mantle was sourced from the client's family farm, which makes the fireplace wall even more special." – Renea Lewis, Design by Choice
RENEA'S TIPS:
Hire a professional. There are a number of complications that can occur when replacing an existing fireplace, so hire a contractor who specializes in fireplaces. If it's a natural wood-burning fireplace, it's critical to know whether the smoke shelf is adequate. And don't forget to schedule annual maintenance!
Instead of customary brick, look for stone with interesting textures to create a relaxed atmosphere.
For an added personal touch, consider built-in bookshelves surrounding your fireplace that display meaningful books, family photographs, and mementos from favorite travel destinations. Added bonus: entertainment components can be prewired and placed on a shelf.
SOURCES:
Light fixtures, Lighting Resource Studio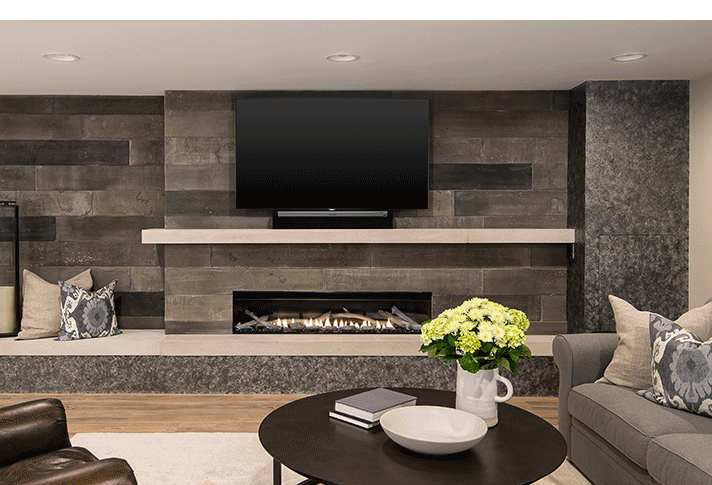 MODERN HOT SPOT
"This home has a modern feel and we wanted to create a welcoming lower level – a space that didn't feel like a basement. We focused on the main living area wall and developed a design that incorporated the entire length of the room. The 60-inch linear fireplace fit into the home's modern styling when paired with elongated cement tiles and a chunky limestone mantle and hearth. The wall and fireplace were designed to be the prime focus of the entire lower level." – Christine Ramaekers, MainStreet Design Build
CHRISTINE'S TIPS:
Don't limit the design by size, scope, or wall structure. There are so many options for fireplaces today, they can fit into nearly any space.
I think it's important to have a conversation with my clients regarding the hearth's height and size. A raised fireplace with a hearth is often thought of as out-of-date. However, when it's designed well, it can create a snug area for gathering with friends and family.
When adding a sizeable fireplace to a lower level, it's important to consider the BTU level, or heat output, of the fireplace to prevent overheating the entire basement.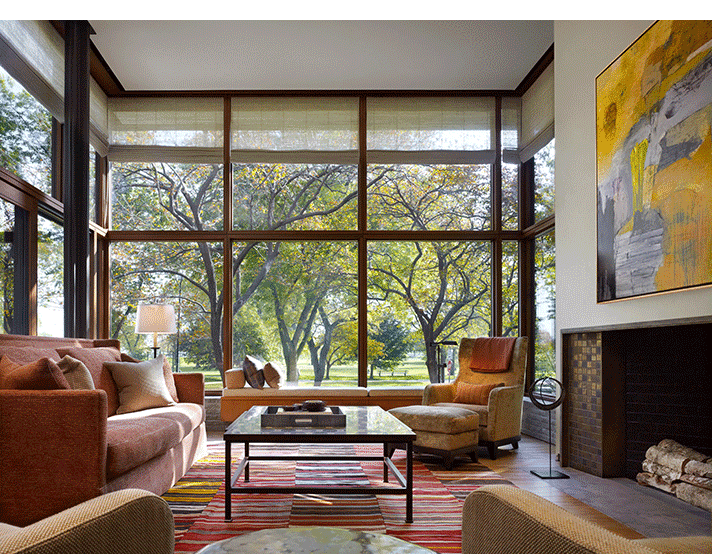 DOWN TO EARTH
"I started with cheerful, yet very modern bones with this house. The homeowners wanted chic interiors to compliment the fireplace in place, but comfort was their number one priority. The fireplace tile was very earthy with its toasty Ann Sacks metallic tile and limestone. The design extended this tone throughout the space with natural, comfortable upholstery and a vintage rug." – Jill Schumacher, Rariden Schumacher Mio & Co.
Determining whether your client would like a raised fireplace to perch on or a flush hearth is important. For example, exterior fireplaces often have a raised hearth to cozy up to in colder weather.
Consider fireside seating. If you have available depth in the room, it's so comfy to have two designated chairs by the fire.
I remember back in the 70s and 80s when oversized floor pillows were all the rage. My mom's designer used them, and they were the first pick for anyone laying by the flush hearth. I highly recommend them!
SOURCES:
Clarence House fabric, Rozmallin
Tile, Ann Sacks