Shorter winter days mean more time spent indoors. Six of the area's top designers share their thoughts on how to create bright and inviting spaces to be enjoyed year-round.
With the winter solstice fast approaching, we'll be spending plenty of time indoors with minimal daylight to fill our homes. Luckily, there are several ways to keep our spaces light, bright, and inviting during these shortened days. Whether it be through design decisions that enhance natural light, strategically placed artificial lighting, or both, these designer tips are sure to brighten your home.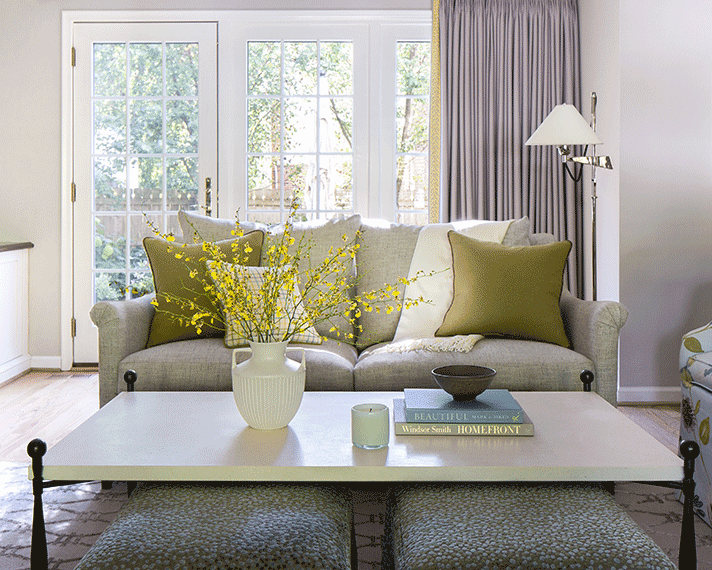 KOURTNEY SHAMMO, WHO NOW OPERATES HER OWN FIRM, KOURTNEY ANNE STUDIOS, created a welcoming atmosphere in this living space through the use of a natural palette that coincides with the calm courtyard located just outside the sliding glass doors. Kourtney suggests focusing on these three elements to brighten a dark room:
Painting: "If windows are limited in the space, choose a paint color that has a light reflectance value of 50% or higher. This will help the room not feel so dull and drab. If a dark color in the room is a must, contrast it with lighter art pieces. The contrast will not only create interest but also balance the light in a space."
Lighting: "Accent lighting is key," exclaims Shammo. "Having an adequate amount of overhead lighting is great and necessary, however, sometimes a room lit with the proper mix of floor lamps, table lamps, and/or art lamps is what will make the space feel light and warm – especially on those dark winter days! It isn't always about a space feeling 'bright', which can sometimes work against us, but rather feeling warm and inviting. I also love the life that lit candles can bring into a room. They are very subtle but add another layer through their soft light and scent."
Layering Textures: "If your upholstery pieces are dark, contrast it with lighter color pillows or cover the center back of the sofa with a beautiful throw," Shammo suggests. "Find ways to contrast dark corners the same way! Maybe this is the place for a floor lamp, reading chair, or tall house plant. Remember, it is about warming up a space and the contents of the room – not necessarily the amount of (natural) light the room receives."
JANE SYNNESTVEDT OF JANE SYNNESTVEDT INTERIOR DESIGN chose a light palette in this open living room and kitchen, which allows for colorful accents via the rugs, art, furnishings, and architectural elements:
"The importance of good design is evident, and these photos are examples showing the effect of moving the color around the room so the eye travels through the space, feeling the warmth and discovering the originality these pops of color create. A light wall color, our client's art collection, custom furnishings, and accessories create a cohesive, light, and airy design. The mix of textured fabrics helps create a light, airy feel year-round. The height of the living room ceiling allowed us to ground the space with this beautiful custom Navy hue. This adds drama in the evening hours, and saturation of color in the daylight."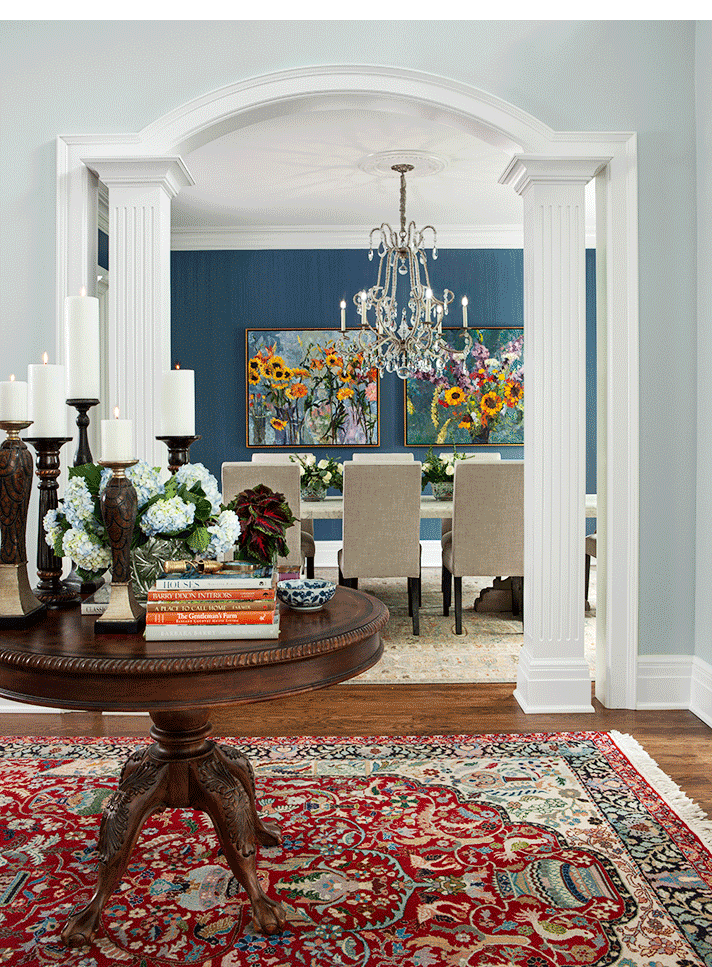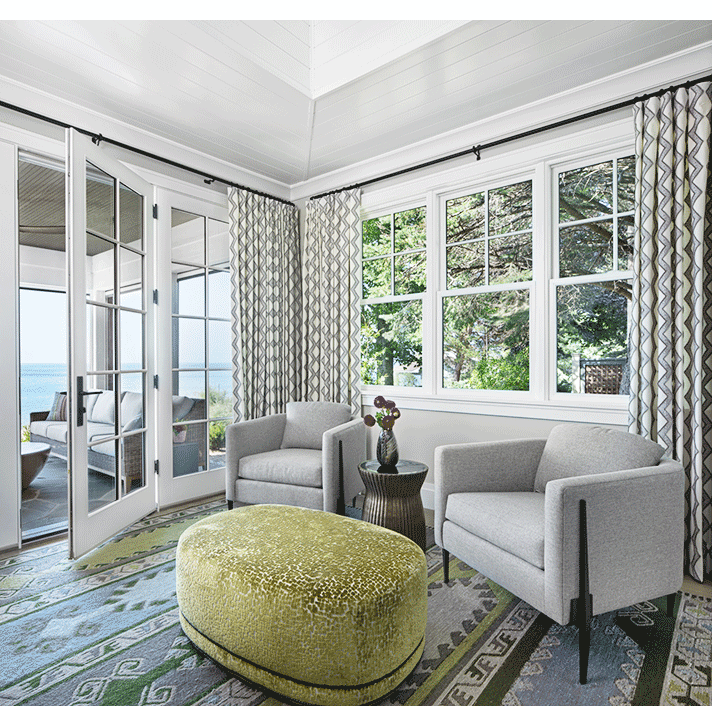 NICOLE WITHERS, A PRINCIPAL AT JONES-KEENA & CO., created a bright space in this small Northern Michigan library and reading room with abundant natural light stemming from two walls of windows and a two-story skylight. "Pattern, texture, and color make this room happy," says Nicole. "The space and its color scheme relate to the outdoors. It was inspired by nature and Lake Michigan views."
Selecting a light wall color helps open this small space. A glossy paint finish boosts the way the library's walls and shelves throw and reflect light creating depth and movement. Minimal contrast between the trim and ceiling gives the room a more expansive feel.
A large-scale colorful rug can ground a space and inject personality. Opt for light, patterned window treatments versus heavy curtains. Minimalist, light-colored open chairs shown here complement the rug while the sheen on the chartreuse cut velvet ottoman reflects lights mimicking the outdoor trees. Bright, tasteful art and accessories against neutral walls create interest.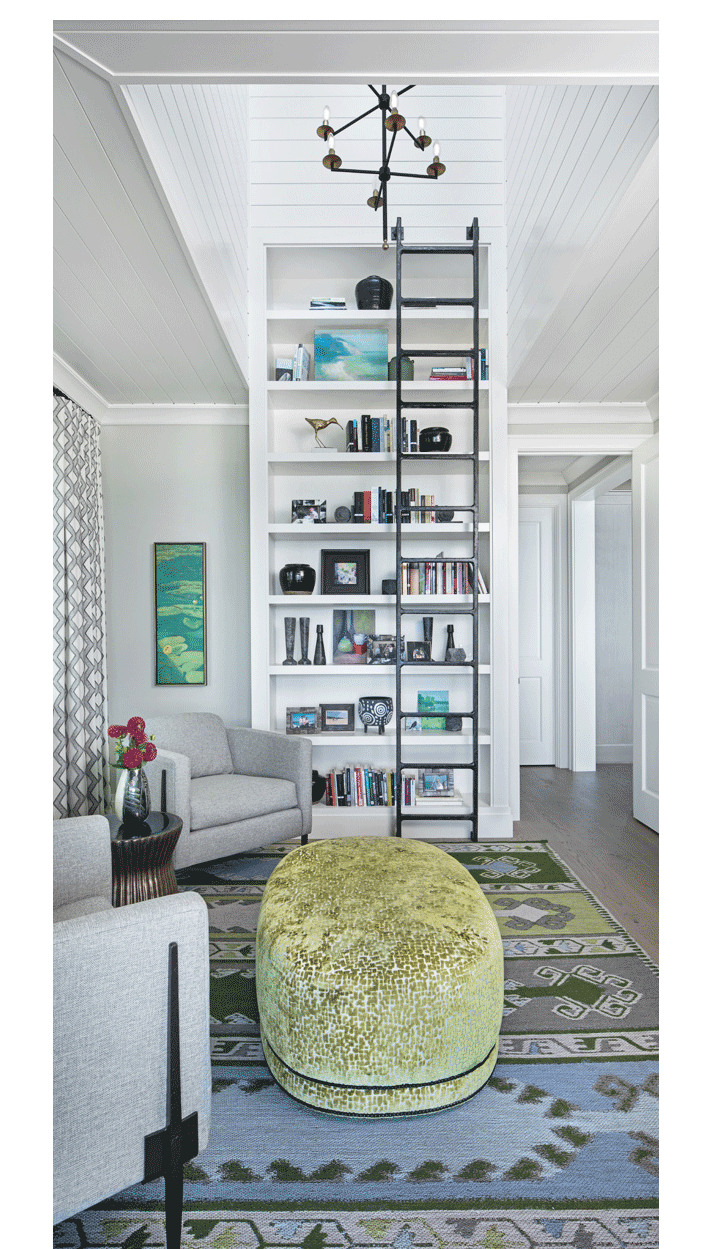 If you want to brighten up your home during dark winter days, MARIA KRAMER, SHOWROOM MANAGER AT CITY LIGHTS DETROIT, recommends layering the lighting. "Make use of wall sconces, floor lamps, and table lamps to create a soothing effect," says Maria. "It's best to utilize your floor and table lamps in the evening because it is much easier to adjust the direction of the light they cast." If you can add a dimmer to your overheads, all the better. Switch your light bulbs to ones that mimic natural daylight. A layered scheme will produce a soft, flattering look and help you get over the lost daylight hours in no time."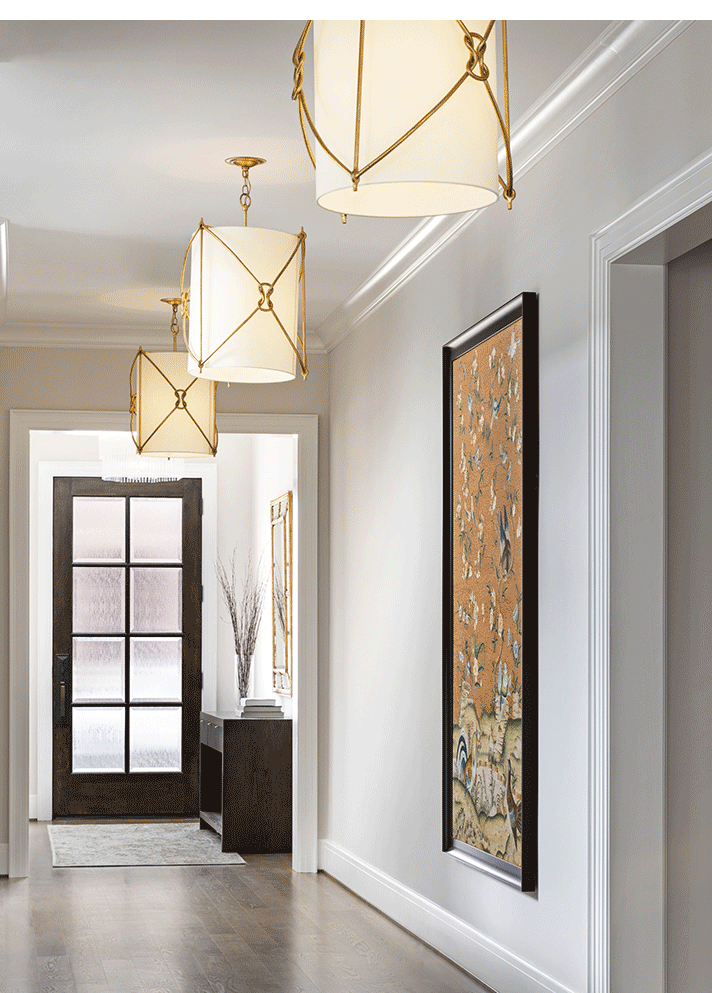 BARBI STALBURG KASOFF OF STALBURG DESIGN believes there are several ways to create a sense of brightness in the home and explains how she created a calm and peaceful environment that starts in the entrance of this home in Birmingham:
"Natural lighting is always preferred, but sometimes, the architecture of a space will dictate otherwise. Even in a long and narrow space, such as this foyer entry hallway, we have different ways to enhance the lighting. At the front door, we have maximized the use of natural lighting by adding a light filtering film to a glass front door. This allows privacy for the homeowner while still allowing windows to let in natural light. We also used decorative and impactful lighting to enhance the feeling of lightness. It's always important to be mindful with the material and finishes on light fixtures; these oversized pendants have a delicate feel with their linen and soft metal details. Finally, consider the temperature and wattage of each decorative light and with recessed cans. Many of our clients actually prefer 2700K to the standard 3000K recessed cans that are used, as that 'daylight' appearance sometimes appear too harsh. Light will reflect differently off wood flooring vs. porcelain tile, and the wattage and temperature of any recessed cans should take this into consideration."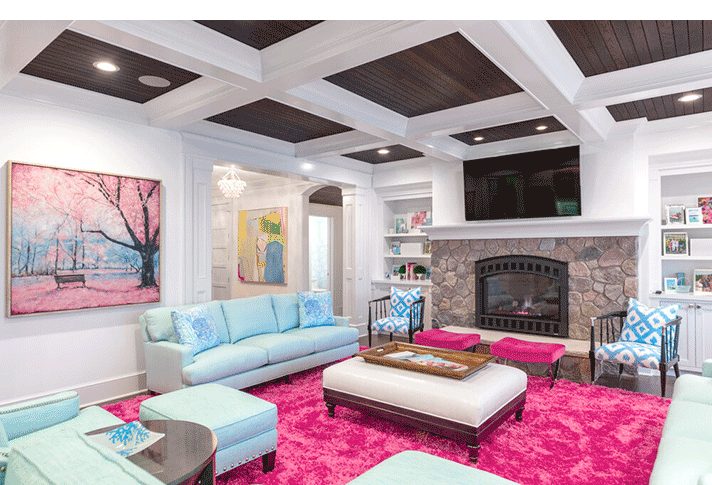 When designing light and bright spaces perfect for any season, CYNTHIA EVANS OF CYNTHIA EVANS INTERIORS suggests selecting a color that resonates with you. In this beautiful home overlooking Walloon Lake, her client decided to go bold with fuchsia on the area rug and stools as opposed to the aqua that is found on most of the upholstery. "Don't be afraid to use white on the walls and trim," adds Evans. "It's a great backdrop for pops of color." Contrasting the dark-stained wood floor and ceiling with crisp Benjamin Moore Super White trim paint further energized the space. She also used several crystal chandeliers, recessed lighting, and table lamps in a balanced and thoughtful way to complement the natural light.
DIANE HANCOCK OF DIANE HANCOCK DESIGNS often uses a combination of ambient, task, and accent lighting to create warmth and interest in her designs. In order to avoid improper lighting decisions, she encourages her clients to take a picture of their room, then observe it later in a different environment (e.g. looking at a daytime picture at night in the same space). "You get used to seeing things in your routine," says Hancock. "You'd be surprised with what you don't notice." She suggests employing this principal with the changing seasons as well.
"The winter solstice marks the onset of winter and the shortest day of year. With the light coming in from such a different angle this time of year, you may notice things in the home you might not have before. The best way to light a room is to implement the basic key types – typically known as direct (general), indirect, and accent. Or think of your home as a set design using the three-point lighting method – key light, fill light, and backlight."