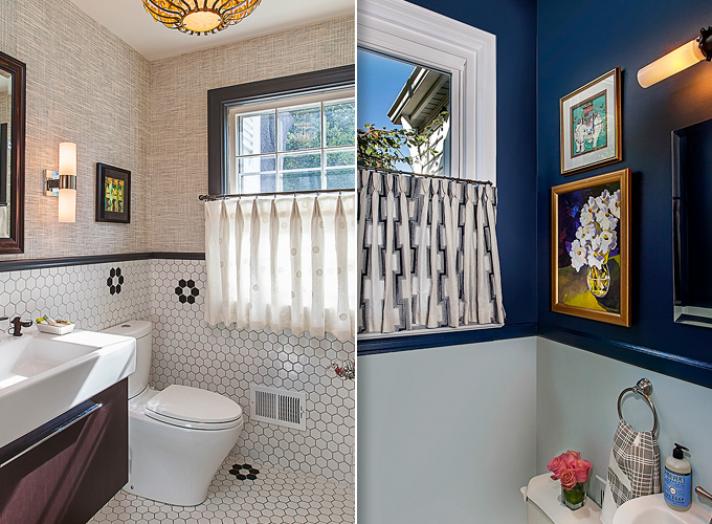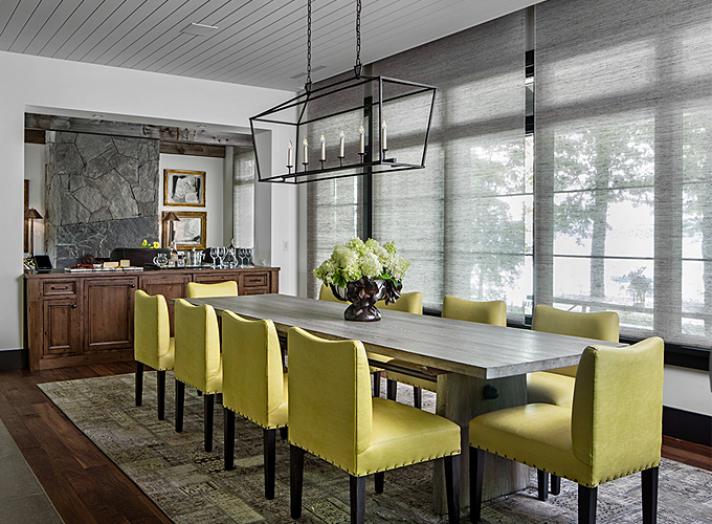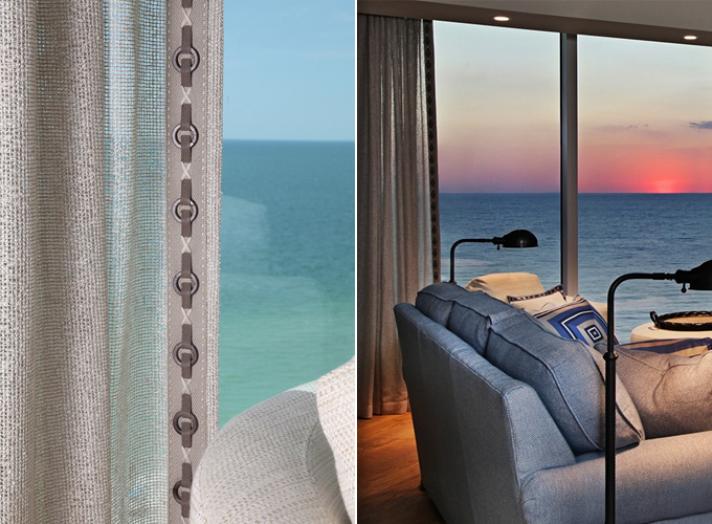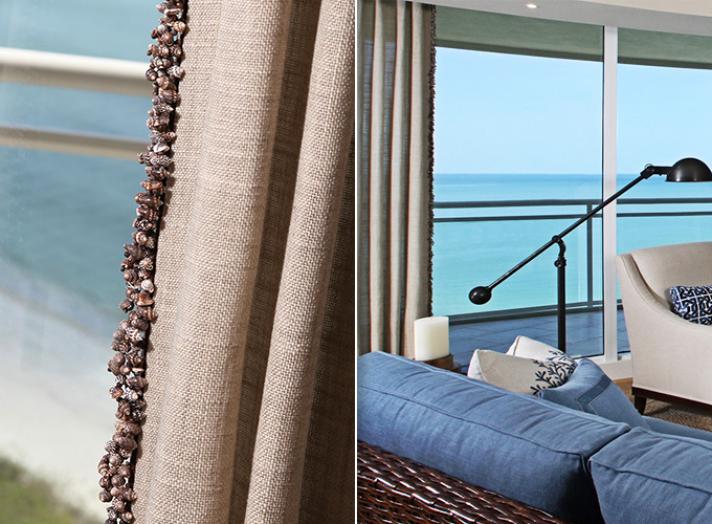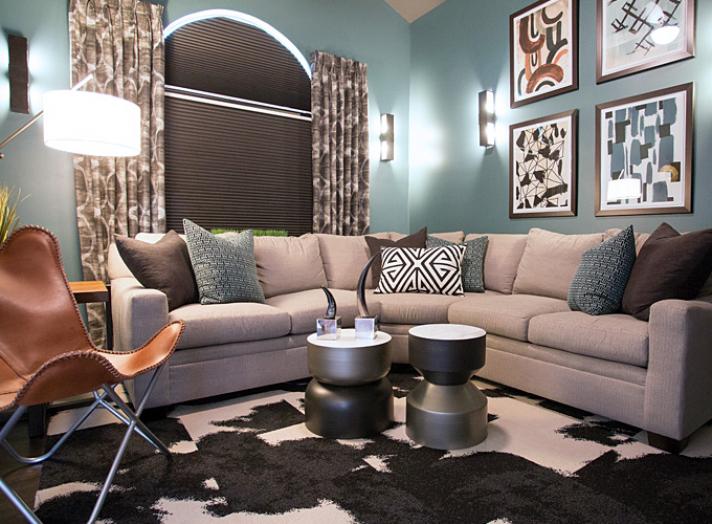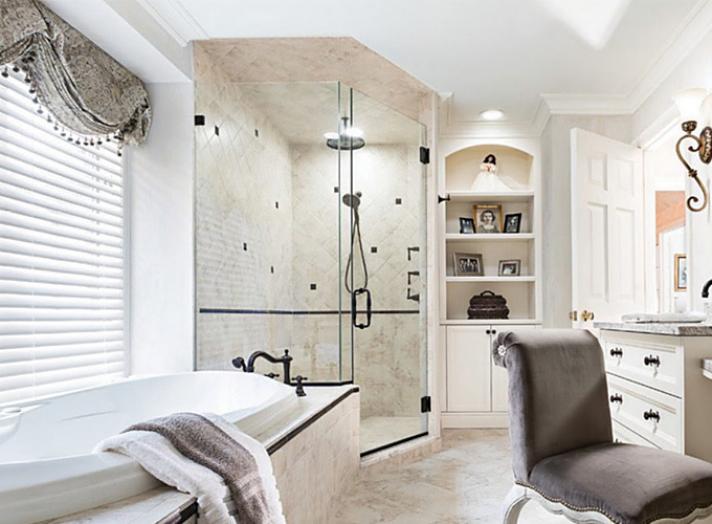 With spring right around the corner, windows take center stage as our thoughts turn to balmy breezes and the sun-filled days ahead. Top designers share their tips for creating window treatments that frame the view and finish the room beautifully.
"At Laura Zender Design, we are big fans of the tried-and-true café curtain, especially in places like bathrooms where consistent light and privacy are equally required. A café curtain is one hung only part way up the window, the way many old roadside cafes used to cover their windows, hence the name. Gone, however, are the days of your grandmother's lacy polyester café curtain on a flimsy white tension rod. We modernize ours with fresh up-to-date fabrics (like the silky blue and white Schumacher pictured above), sleek pinched pleats, and beautiful nickel or iron rods with rings. This is a great way to add pattern, interest, and privacy while maintaining good natural light through the top half of the window at all times. There is a reason this traditional treatment endures: it's so functional and can be dressed up or down in an unlimited number of ways." – Laura Zender, Laura Zender Design
Tucked away in a wooded area of Torch Lake, a new-build home, designed by Jones-Keena & Co., marries rustic with the sleek elegance of modern. The combination of wood, stone, and metal textures embraces the charm of a classic farmhouse, while feeling fresh and updated. The home is outfitted with a high-performance shade system that seamlessly works with the design and architecture. Jones-Keena & Co. designers Lucy Earl and Amanda Rose worked alongside home technology specialists, Spire Integrated Systems, to install Lutron QS Wireless motorized window treatments paired with Hartmann & Forbes window covers (available at Tennant & Associates) to offer semi-privacy and block harsh midday sun. The custom woven natural fabric complements the organic aesthetics of the room. The shades are artfully concealed in the millwork when not in use.
"Open-weave sheers are a good choice for screening late-day sun from an expansive set of windows, while preserving the view beyond. The treatment can be controlled manually or electronically by remote. We selected a Kravet Couture open-weave sheer with a Samuel & Sons edge trim.
A tightly woven linen with a natural shell edge trim was selected for the adjacent entertaining space. No light filtering treatment was required here, but both fabric and trim were selected to coordinate with the adjoining rooms as well as to camouflage a structural column that interrupted the view. We chose a Kravet linen paired with a Samuel & Sons trim to provide a well-curated waterfront window treatment." – Kathleen McGovern, Kathleen McGovern Studio of Interior Design
"Window treatments can elevate a room not only aesthetically but functionally. Natural light is a powerful part of a room and often becomes the differentiator for a multipurpose room. For instance, when addressing the needs of our client in their front room, we recognized that when being used for a casual conversation letting the light pour in is a must, but when it's time to transform into a theater room blackout shades from Hunter Douglas were needed. Windows are often dressed in layers, so the addition of the fixed panels not only complemented the arched window but also covered the light gap, ensuring a tighter light seal." – Rachel Nelson and Lauren DeLaurentiis, RL Concetti LLC
"Once used solely to keep out heat and cold, window treatments now have both functional (privacy) and aesthetic (the pretty part) considerations. For my client's master bath remodel, we wanted to transform the room in to a warm haven with a traditional feel. The large window is in the front of the house. Privacy was a must, as was natural daylight. Because this window is right near the tub, we chose to install faux wood blinds. The vanes resist moisture and are easily adjustable for either total privacy or to let in daylight and fresh air. For dimension, style, and softness, we echoed the color palette of the room by layering an elegant balloon valance over the blind in a cream and bronze damask." – Linda Shears, Linda Shears Designs
"In this space, I chose wood plantation shutters to keep the focus on the woodwork and not overwhelm the space. The shutters are divided into two sections for greater light and privacy control. Keeping the lower section closed also enables the homeowners to look outside, but not the dogs!" – Dawn Jacobs, Artichoke Interiors