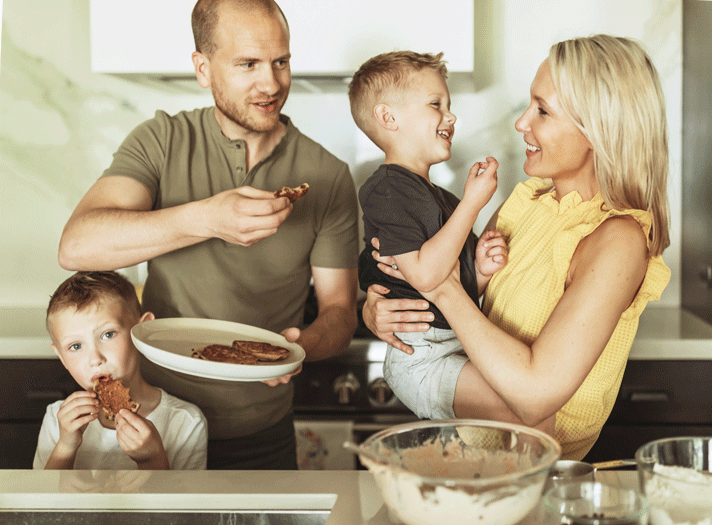 To celebrate this month's Designers' Own Homes Virtual Tour, we asked four Design Tour veterans to share their favorite spaces in their own homes. Kevin Serba and Barry Harrison, both with never-seen-before western Michigan vacation homes on this year's tour, and former tour designers Marianne Jones and Katie Rodriguez, who is pictured here with her husband and sons, share their tips for designing comfortable spaces filled with custom details and personal touches that support their busy lives.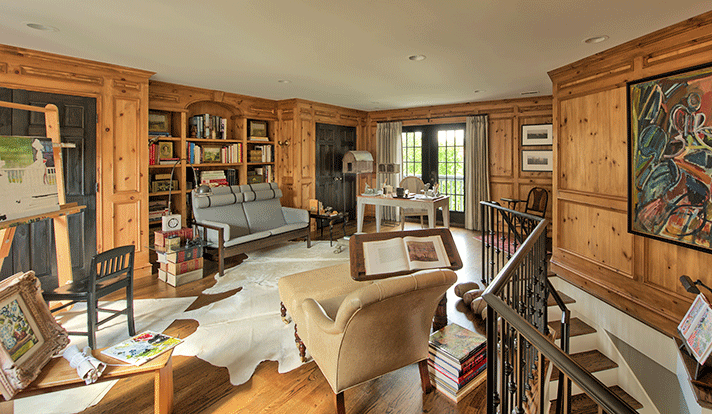 The home of BARRY HARRISON OF ART | HARRISON INTERIORS was featured in MDC's inaugural Designers' Own Homes Tour back in 2016. He explains why his second-story library is his favorite space that doubles as the creative hub of the home:
"I live in Birmingham on a very small lot which backs up to a park. My library is located on the second story and overlooks my back yard. It's above the landscaping, so I have a clear view of the city lights to the north. The open, airy space is where I paint and sculpt and have easy access to my books and papers. It really is my living space in the house. It's located off my main bedroom and is large and comfortable enough to dine at the marble-top desk, which is part of the Art | Harrison Collection, designed with my business partner, Arturo Sanchez."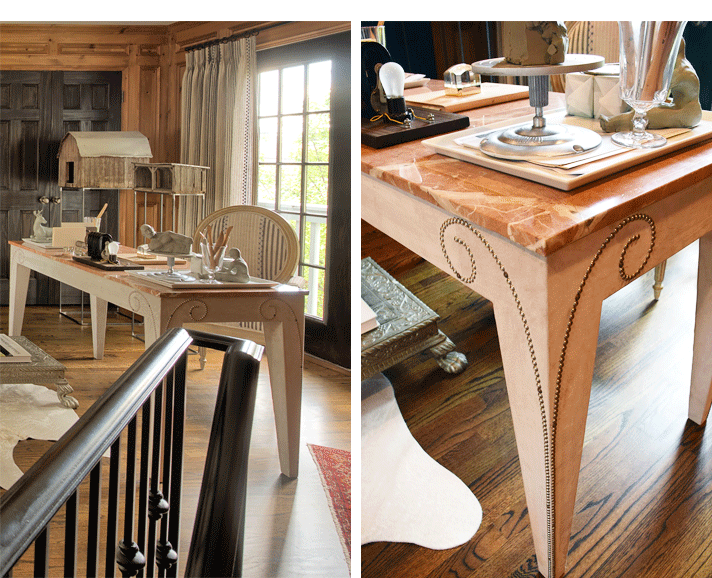 "The walls are all pine and very casual. The original wax stain has aged over the years, giving it their current honey color. I hand-painted all the artwork myself. Even the upholstered desk chair was hand-painted to match the casual drapery fabric. I also use the space to create clay sculpture prototypes when designing larger garden sculptures for clients."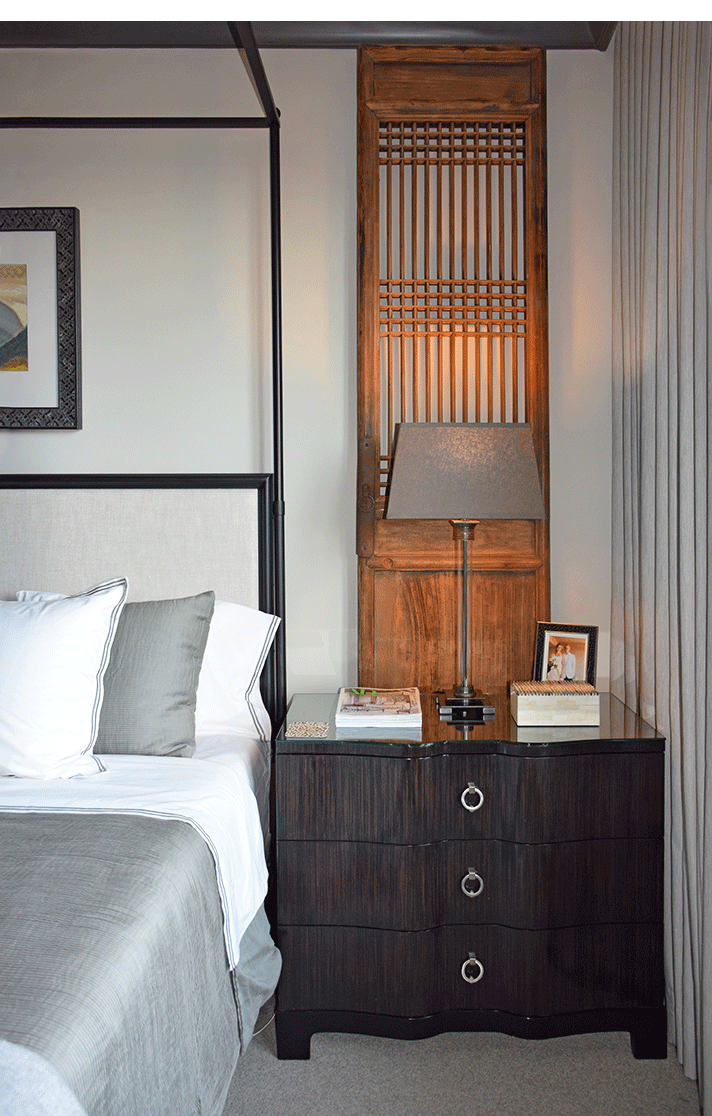 KEVIN SERBA OF SERBA INTERIORS' sophisticated townhome in Birmingham appeared in MDC's 2019 Designers' Own Homes Tour. His primary bedroom is a peaceful, quite suite that features several natural elements in warm, neutral tones, making it one of his preferred destinations to unwind. The wall-to-wall wool carpeting in a softer neutral gray complements the wood tones used throughout. The antique wood screens that hang over each nightstand were originally hand-carved teak doors that Kevin repurposed specifically for this space. Deeper taupe linen shades also add warmth and are perfectly framed by a 2-inch wood blind and floor-to-ceiling linen drapery that are black-out lined for optimal sleeping conditions. The iron bed with a linen headboard allows Kevin to easily arrange pillows across the back and comfortably relax in bed while reading a book or watching TV. A warmer, neutral gray tone was used on the walls while the trim and doors feature a darker Benjamin Moore shade. Kevin recently remodeled the adjacent primary bath which completes this serene scene.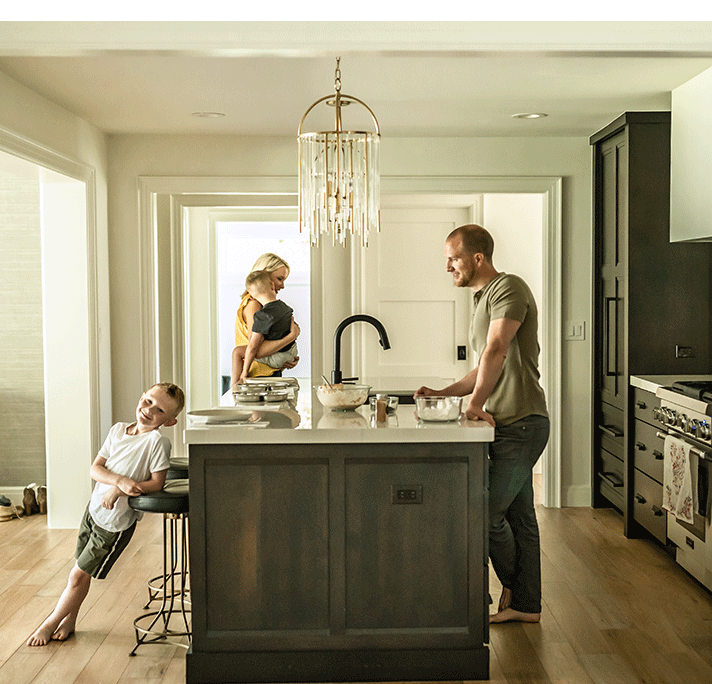 KATIE RODRIGUEZ OF KATIE RODRIGUEZ DESIGN also participated in MDC's 2019 Designers' Own Homes Tour. While a cozy chair in a reading nook may be most people's definition of the optimal home comfort zone, Katie explains in her own words why her kitchen is the ideal space for her young, active family:
"The kitchen is the place where we often find comfort with food, friends, and family. At my home, we are very casual and wanted a place that we could feel comfortable living in with two little kids plus all their friends running around. We accomplished that through efficient storage and durable materials that can take the abuse. We are near-minimalist with our approach to design and life. With that in mind, we designed a space with easy access to our most used items. And a very clean palette free of clutter. Its simplicity makes it an easy and flexible space to be in with our young family."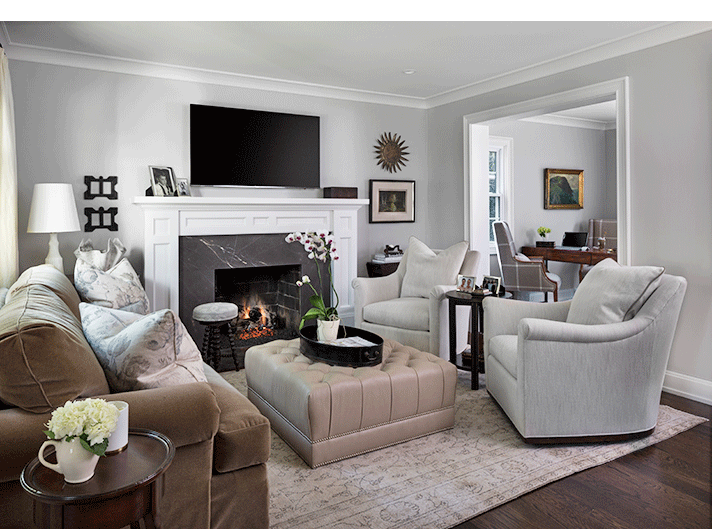 INTERIOR DESIGNER MARIANNE JONES' 1,550-square-foot bungalow in Birmingham first debuted during MDC's Total Transformations Home Tour back in 2017. The entire house was completely renovated from top to bottom, but the living room and adjacent office space has emerged as the favorite area for Marianne and her husband:
"While the space is quite small, we have created many opportunities to bring in other complementary pieces of furniture for additional seating. The two lounge chairs swivel allowing easy movement for conversation or front-facing TV viewing. We love our gas fireplace and use it daily. It creates a nice focal point."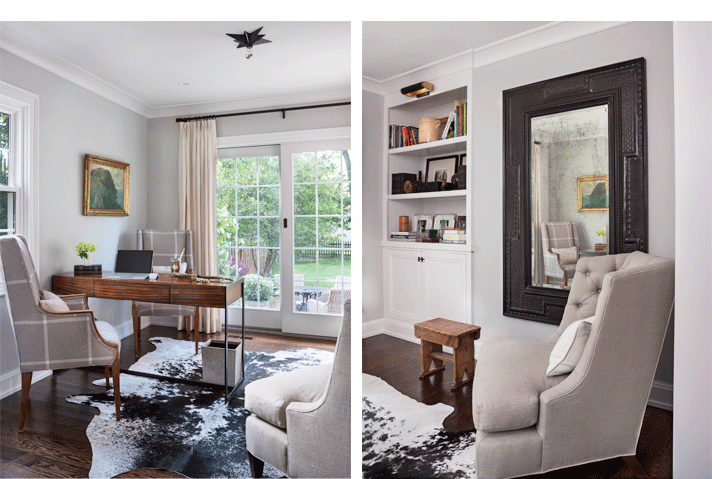 "The archway into the library was originally a solid wall for a back bedroom that had the only accessible doorway to the outdoor patio off the back of the house. By opening that wall, we were able to allow for a lot of natural light and a great functional space. When working with a small space I recommend considering the way all the rooms flow together. Choose a complimentary palette of fabrics and paints so the space can flex for a larger gathering."
Be sure to get your tickets for MDC's first-ever Designers' Own Homes Virtual Tour, and join us from the comfort of your own home anytime from 10 a.m. (EST) on Friday, September 17 through Monday, September 27 as we visit the vacation homes of Barry Harrison and Kevin Serba in western Michigan, and the primary residences of  Annie Kordas, Rachel Nelson, Dawn Jacobs, and Cheryl Nestro.