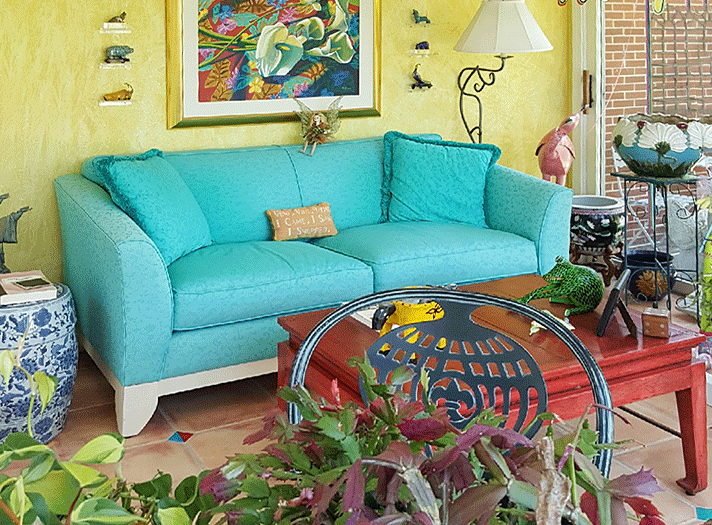 A happy home is paramount for overall well-being, and our decorating decisions can help set the stage for a brighter outlook. A few of the area's top designers reflect on past projects and share their thoughts on how interior design decisions can positively affect a homeowner's mood.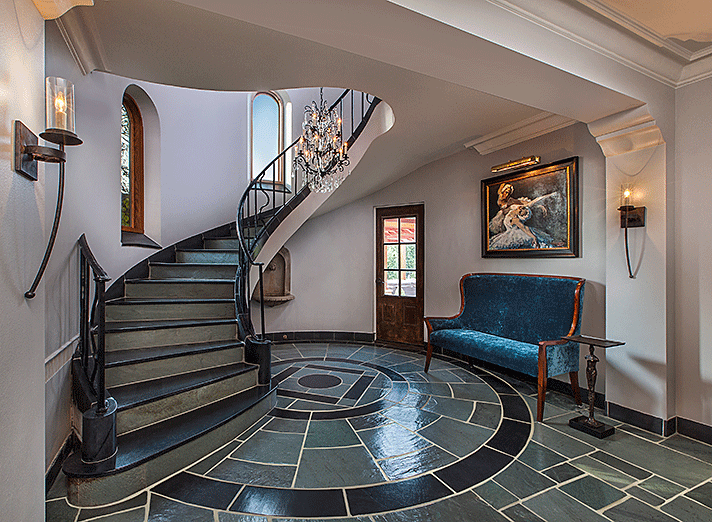 Happiness is subjective, but KATHLEEN McGOVERN OF KATHLEEN McGOVERN STUDIO OF INTERIOR DESIGN in Grosse Pointe Park believes we can influence happiness by the design choices we guide our clients into making. "I have learned that there are commonalities in many projects where the end result is 'happiness'," says Kathleen. Those are:
COLOR PREFERENCE: Most people are able to tell you the color(s) they are hoping for in the first 30 minutes of an interview. They know the colors that they want to be surrounded by, and usually the ones that they don't! No one is indifferent to color in their home.
COMFORT: There is an almost universal agreement that a completed space that is comfortable, no matter what the level of formality, is a winner in the happiness department.
PERSONALIZED SPACE: Achieving a design plan that is unique to oneself or one's family ranks high in happiness. Uniqueness can be shown through style, color, art, or unusual collections. It is inspiration personalized.
A RESTORATIVE SPACE: Post pandemic, we recognize that providing spaces that reduce anxiety and that are restorative in nature, are vital to the well-being and happiness of everyone.
"A recent example of this would be the homeowners of this Grosse Pointe historic renovation, who both have demanding careers," says Kathleen. "Their days are both challenging and unpredictable. Their home, on the other hand is the opposite. It is a tranquil refuge, beginning at the front door. The foyer is quiet, yet visually stimulating by the pattern of the home's original slate floor and its carefully curated furnishings. Their favorite art piece is hung over a velvet upholstered settee. The lighting is purposefully subtle, completing the comfort (and happiness) of the scene."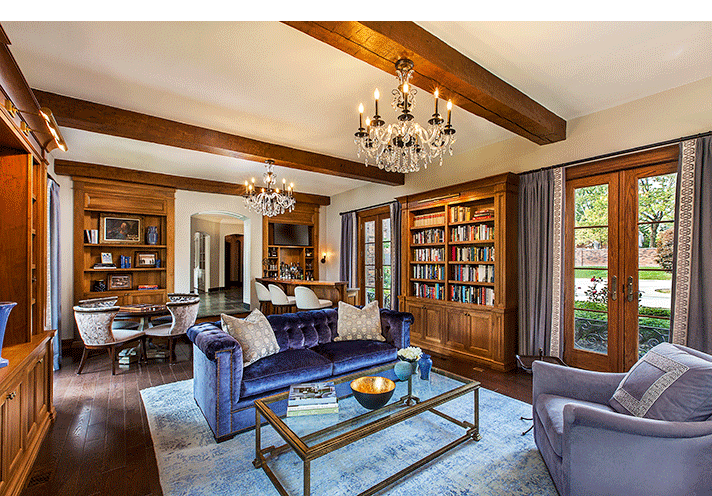 "Color choice was the primary happiness indicator in the library," says Kathleen. "The homeowner called out her desire for a violet-blue velvet sofa and the palette evolved from that one single wish-list piece. Soft violets and light neutrals dominate the room, where the family game table, custom bar and limestone fireplace provide a comfortable retreat. The room is personalized by favorite books, collected pieces, and original art."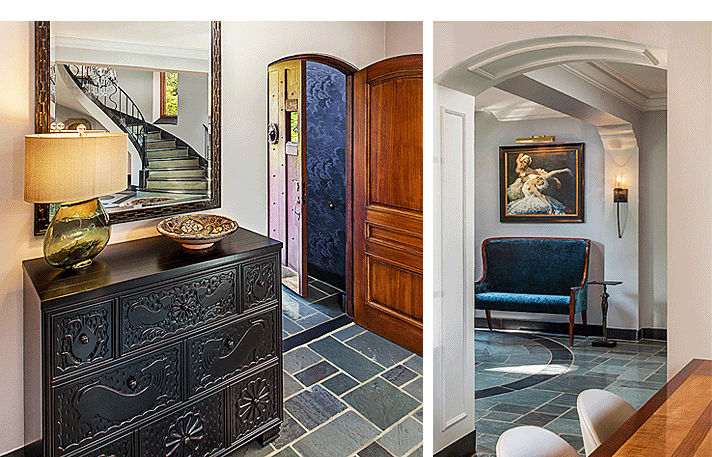 MDC Resources
Foyer settee, side table, lamp, mirror: RJ Thomas, Ltd., Suites 72 & 82
Foyer fabric: Tennant & Associates, Suite 61
Foyer art lighting: City Lights Detroit, Suite 98 
Foyer carved chest: Hickory Chair Interior Design Showroom, Suite 122
Vestibule wallcovering: Kravet, Suite 105
Library sofa, swivel chairs, bar stools: Hickory Chair Interior Design Showroom, Suite 122
Library sofa and pillow fabrics, trim, and drapery fabric: Tennant & Associates, Suite 61
Swivel chair fabric: Kravet, Suite 105
Library game table: RJ Thomas, Ltd., Suites 72 & 82
Library game table chair fabric: Rozmallin, Suite 60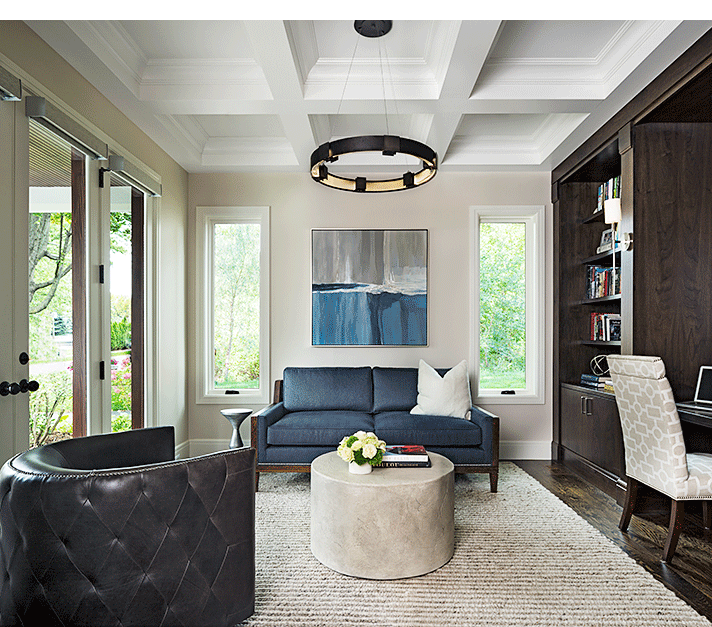 "I truly believe that we are made unique, and therefore what makes us feel happy may be different," says KATIE RODRIGUEZ OF KATIE RODRIGUEZ DESIGN. "I do feel that there are certain elements, or lack thereof, in a home that will bring peace. And in today's connected world, I think that a peaceful home is one that will equate to happiness." In order to achieve this, Katie maintains that a few key elements are salient:
ORGANIZED SPACES: I like to include thoughtful storage spaces, that will prevent clutter and allow us to focus on what is important.
EDITED DISPLAY OF ITEMS THAT BRING JOY: An edited collection allows us to really appreciate what is important.
SOOTHING TONES FOR WALL COLORS: These could be light or dark, but I prefer to use less-saturated colors.
INTENTIONAL FOCAL POINTS: This allows for your eye to travel the room in a way that is easy to understand.
NATURAL LIGHT AND ELEMENTS: The sun and natural elements, no matter if it is a plant or in the form of art, always makes us feel good!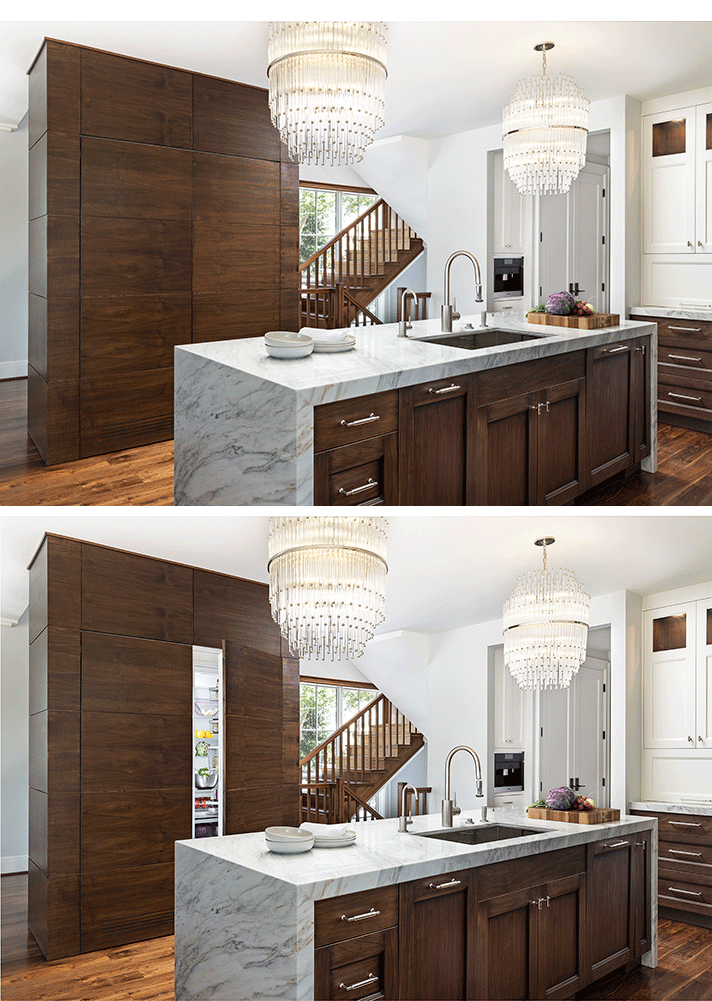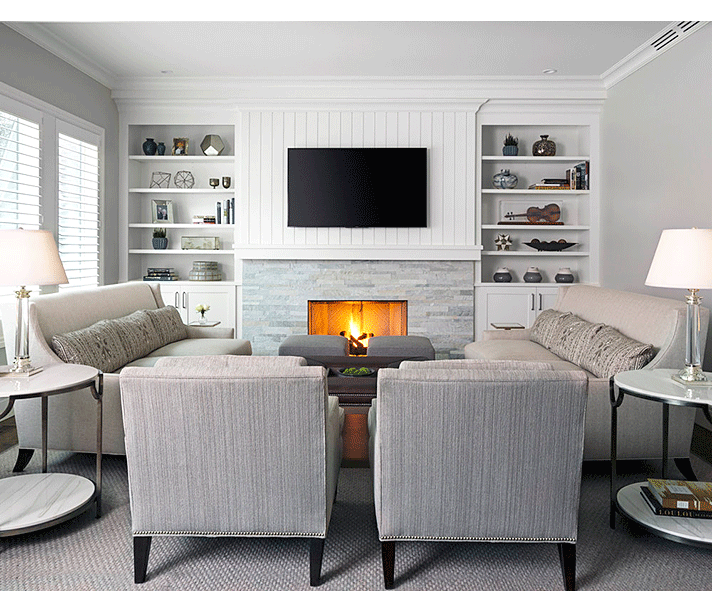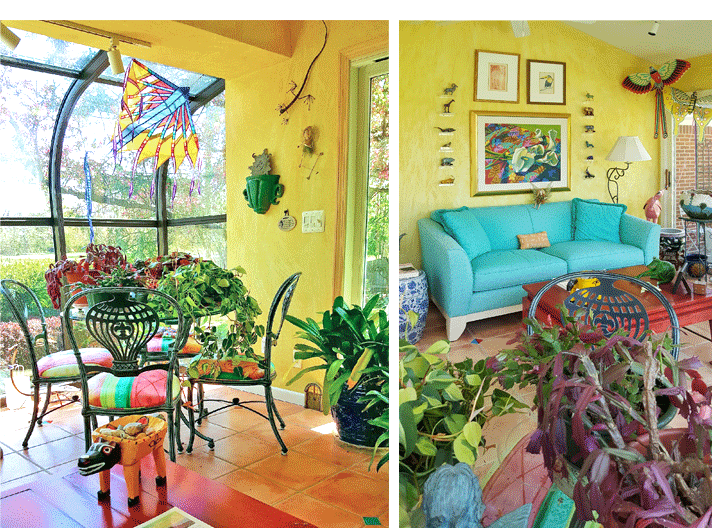 "In The Wizard of Oz, Dorothy closes her eyes and clicks the heels of her ruby red slippers together and repeatedly says 'There's no place like home'. Our homes are where our hearts are and the design choices we make have an effect on our emotions and our well-being. One of the most well-documented mood-altering interior design elements is color," says LINDA SHEARS OF LINDA SHEARS DESIGNS. "Pick colors based on what attitude you want for the space based on your personality and energy. For instance, yellow is the most energetic of the warm colors. It certainly is not a calming hue but it does promote optimism, laughter, joy and hope."
"But color is not the only design element that helps create this positive and joy-filled space," says Linda. "With three walls of glass overlooking the backyard gardens, biophilia reigns in this light-drenched room. Nature permeates and elevates the mood, even in the winter months when many of the potted plants come indoors. It is also important to surround yourself with things you love. Creative expressions such as artwork and putting memories on display can add to the comfort zone. The collection of cloisonné animals on lucite shelves belonged to a dear friend and when she passed, I inherited them and show them proudly. We need our homes to help us recover from the day and restore our mental health. Being able to feel relaxed and calm is essential for 'there's no place like home'."