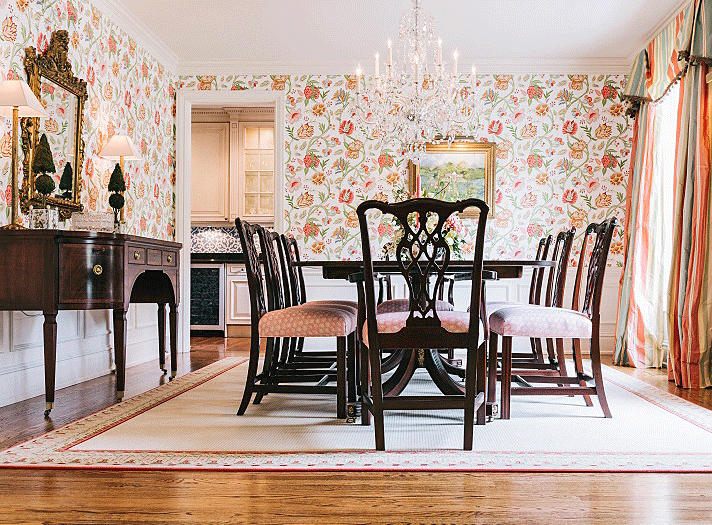 November kicks off the holiday entertaining season, with Thanksgiving right around the corner. Three design pros offer entertaining tips and show how to create a dining room that's comfortable yet sophisticated, such as this colorful space designed by Cynthia Evans. The designers also share favorite recipes you may want to add to your entertaining menu.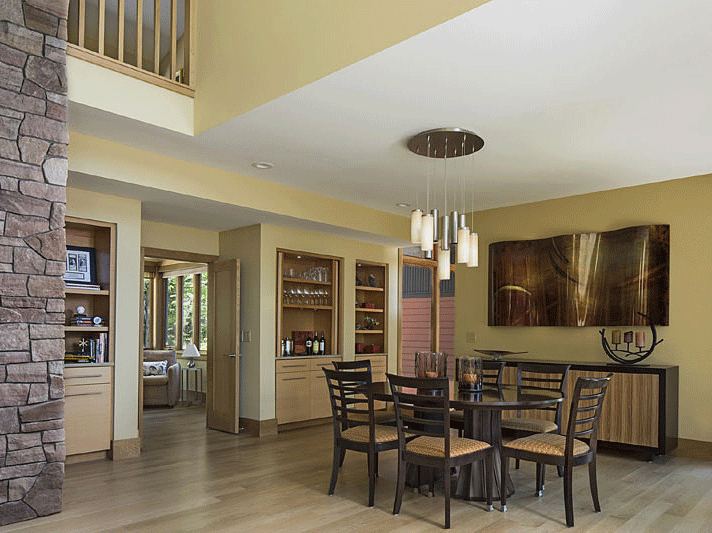 LINDA SHEARS, PRINCIPAL OF LINDA SHEARS DESIGNS IN TROY, shares her design plan for a dining room in a home overlooking Lake Michigan. Her clients wanted a clean, streamlined look, and Linda complied.
"When my clients built their second home on Lake Michigan, they wanted easy upkeep and interior selections that were simple and more streamlined. No 'visual noise' to compete with the magnificent views of the lake from their property. Entertaining tends to be less formal in a lake house environment.
"The dining room pictured above is part of their open floor plan. The ceiling transitions from a two-story cathedral in the great room to a lower flat ceiling in the dining area. This architectural feature helps define the space as a separate area for meals. It allows the dining table to be the focal point where family and friends are often invited to enjoy casual dinners and conversation together.
"Complementing the table is a handy built-in bar and a custom storage buffet. An oversized undulating piece of metal art over the buffet creates warmth. For lighting we used a decorative transitional style chandelier. We avoided recessed lighting directly over the table so as to eliminate harsh shadows on guests' faces. Instead, recessed perimeter lighting encircles the space and casts a warm background glow."
In keeping with the season, Linda offers this simple but delicious recipe for cranberry sauce.
Linda's Cranberry Sauce
2 cups or more of raw Michigan cranberries
1/4 - 1/3 cup Real Maple Syrup
1/4 cup water
1. Put all ingredients in a pan stove-top and bring to a boil on medium heat.
2. Lower heat; continue to stir for 20 minutes.
3. Cool and refrigerate.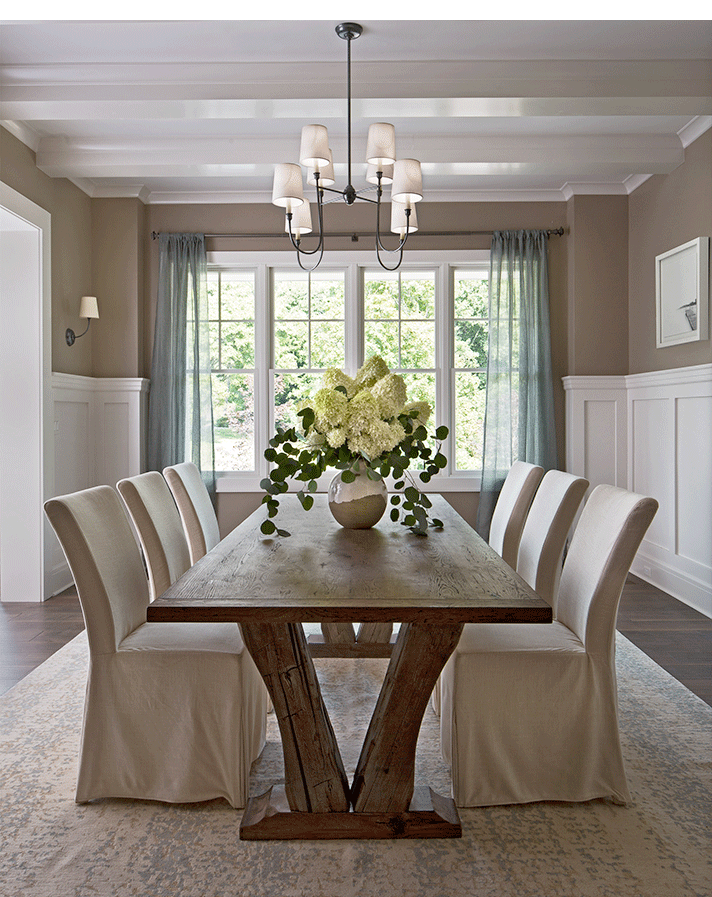 AMANDA SINISTAJ, PRINCIPAL OF BIRMINGHAM-BASED ELLWOOD INTERIORS, does her homework before designing, and that means listening to clients and their entertaining needs.
"My favorite part of the discussion is learning how people entertain," she says. "I have a lot of energy, so I love to focus on the how – how many and the expectations of the space."
Amanda offers these tips on how to make a dining area conducive to entertaining:
The room itself should be dressed. Depending on your style it could be tailored with trim, suited with a wall covering, elegant drapery, or playful light fixtures.
The lighting should be on point. Decorative light fixtures are great focal points but also add much-needed ambience.
Consider the layout. Besides furniture, the flow is extremely important. If it's a big crowd or filled with kids, it's important to make sure you have space not only for the guests but for your storage needs. I sometimes eliminate the host chairs at the end of the table. It allows for a more open walkway and striking symmetry.
The extra touch: Consider the theme or the guests. If it's a cocktail party with girlfriends, enchanting them with a little gift as they sit down will start the evening off right. If it's a strolling party, consider arranging your furniture in adjoining rooms to accommodate more intimate conversations.
For what she calls "my favorite cocktail recipe for my favorite time of year," Amanda shares a version of a Moscow Mule with a real kick.
Spiced Pear Moscow Mule
Makes one cocktail; here's what you will need:
2 ounces vodka
1.5 ounces spiced pear simple syrup*
1 ounce freshly squeezed lime juice
About 4 ounces ginger beer
Pear slice and cinnamon stick to garnish
1. Begin by filling your mug with ice.
2. Add the vodka, spiced pear simple syrup, and lime juice. Top with ginger beer.
3. Stir to combine.
4. Garnish with a pear slice and cinnamon stick.
*Spiced Pear Simple Syrup
1 cup pear juice
1 cup sugar
1 cinnamon stick
1/4 teaspoon nutmeg
1/4 teaspoon allspice
1 pear, diced
In a small pan, add the pear juice, sugar, cinnamon stick, nutmeg, allspice, and diced pear. Bring to a boil and cook for 5 to 8 minutes. The liquid should be slightly thickened. Strain through a fine mesh sieve and allow to cool.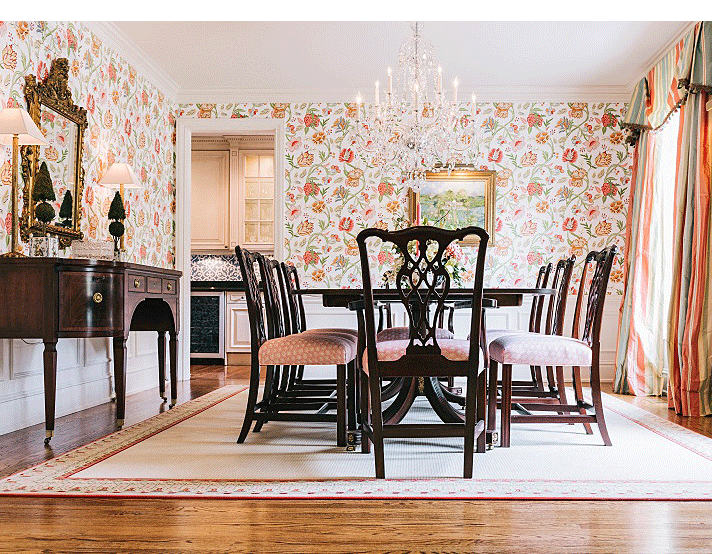 CYNTHIA EVANS, OWNER OF CYNTHIA EVANS INTERIORS IN BIRMINGHAM, shares some sage advice for entertaining:
For dinner parties, simplify the menu and prep ahead of time.
Don't try something for the first time; tried-and-true favorite recipes are often best.
Mix china pattern and linens; start collecting!
Use place cards for ease of seating and to mix up your guests for great conversation.
Use colored glasses to keep track of whose is whose.
For centerpieces, add elements of nature from your backyard: boxwood, evergreens, or dried hydrangeas; arrange or scatter on tabletop.
Candles, candles, candles!
Appetizers are a must.
Serve dessert and coffee in a different room.
Once you have a collection of china, colored crystal, or varied linens, you can mix and match for a truly unique tablescape.
Cynthia also talks about designing the colorful dining room in the above photo. "Many clients have dining room furniture that has been handed down, and the goal is to mix it with less formal fabrics, wallpaper, and carpet to give it an updated feel. This particular client had formal dining room furniture but wanted a little less formal look.
"This client loves pink, so Thibault wallpaper in a whimsical floral was used and the dining chairs were reupholstered in Schumacher pink-and-white woven fabric. Overall, clients still love a designated dining space. Many want something a little less formal — and functional — but still special for entertaining."
Cynthia offers two luscious recipes, one a Baked Brie appetizer and the other a dessert, Peanut Butter Pie, which she calls "a family and friend all-time favorite."
Baked Brie
Pillsbury Crescent Dough Sheet, rolled out
1 Granny Smith apple, finely chopped
2 Tablespoons melted butter and one Tablespoon melted butter for brushing on top of dough after assembled
1/4 cup chopped walnuts
One teaspoon cinnamon
1/4 cup Craisins
1/4 cup packed brown sugar
Wheel of Brie
1. Slice wheel of Brie in half horizontally into two discs.
2. Roll out dough and place bottom half of Brie on dough.
3. Melt butter on low in saucepan.
4. In mixing bowl add apple, walnuts, cinnamon, brown sugar, and Craisins. Place half of the mixture on the Brie.
5. Put second half of Brie on top. Add the remaining half of the mixture on the top of Brie.
6. Pull up the sides of the dough to fully cover the Brie. Brush the top with melted butter. Bake at 350 for 15 - 20 minutes. Serve with crackers or thinly sliced baguettes.
Peanut Butter Pie
1 cup graham cracker crumbs
1/4 cup sugar
1/4 cup melted butter
Mix above ingredients and place in an even layer in springform pan.
2 cups Smuckers all-natural creamy peanut butter
1 1/3 cup sugar
2 8-ounce packages cream cheese, softened
2 Tablespoons melted butter
2 teaspoons vanilla
1 cup whipping cream, whipped
Mix above ingredients and fold in the whipped cream. Place on top of crust and refrigerate for 6 hours.
4 ounces of semi-sweet chocolate chips
3 Tablespoons + 2 teaspoons hot coffee
Mix above and drizzle on top of peanut butter filling. Decorate with dollops of whipped cream, peanuts, and chocolate curls. Enjoy!