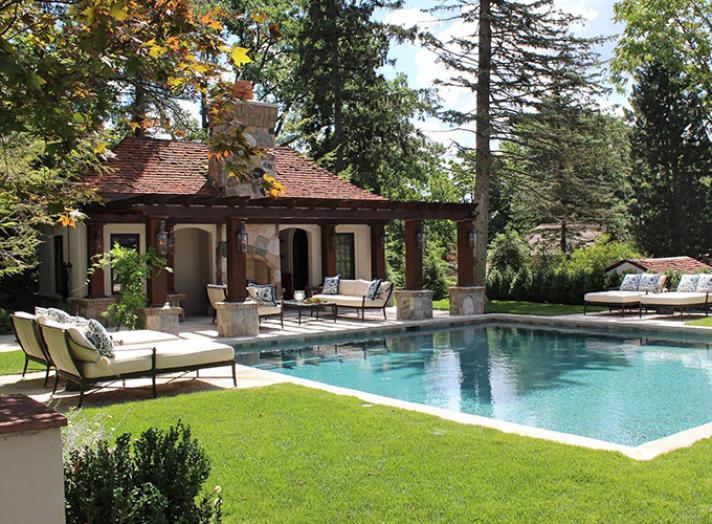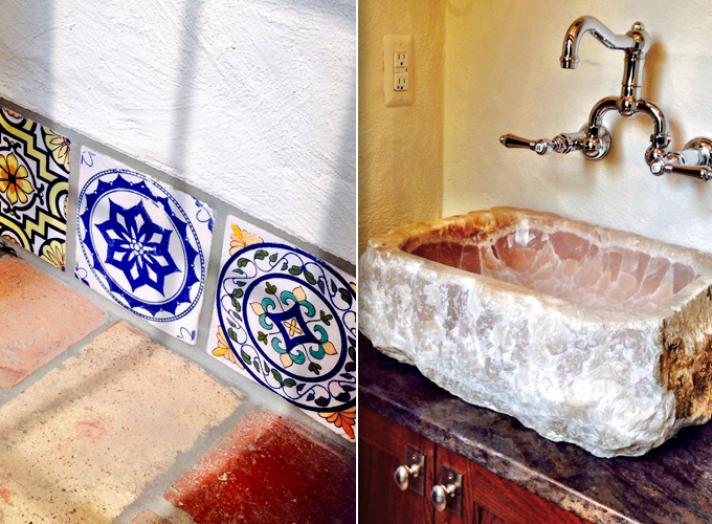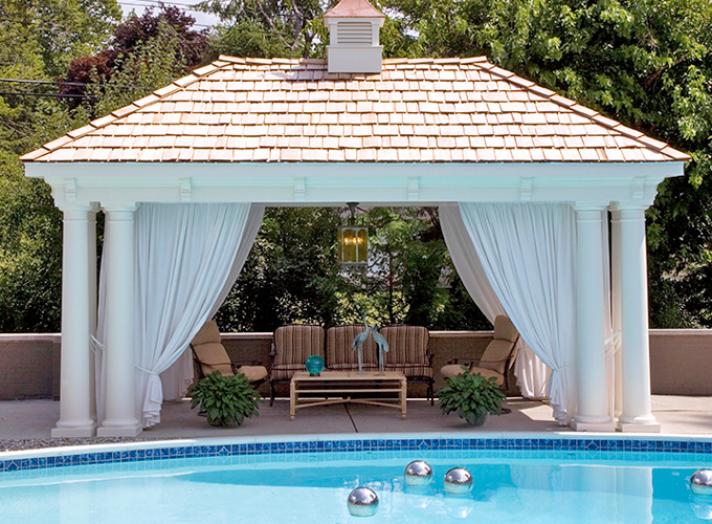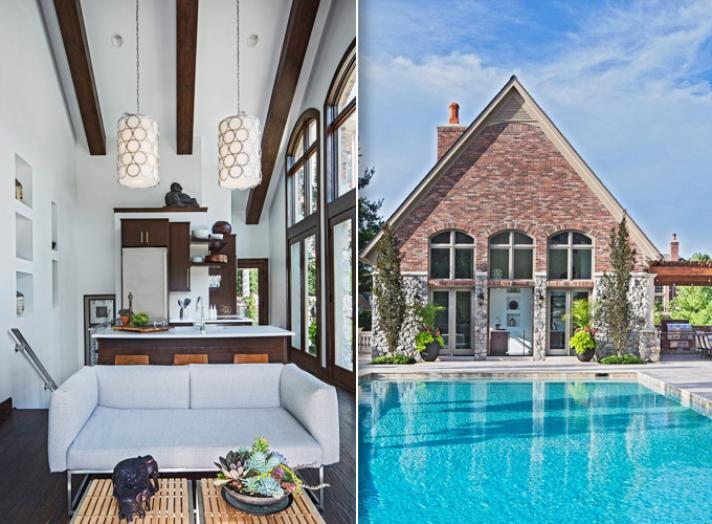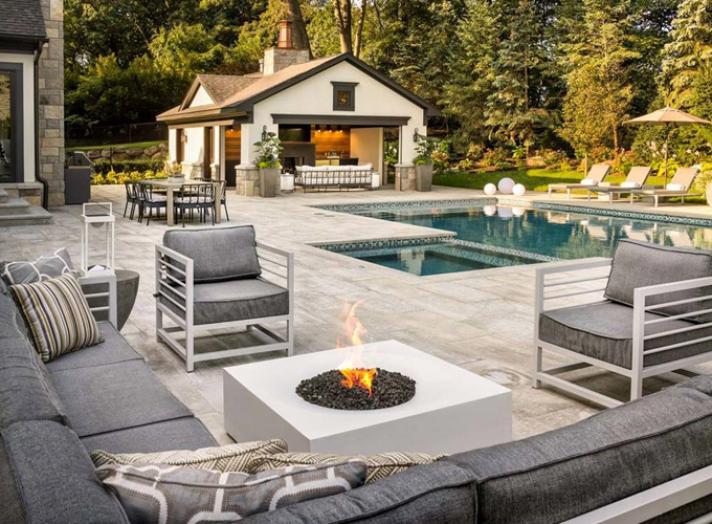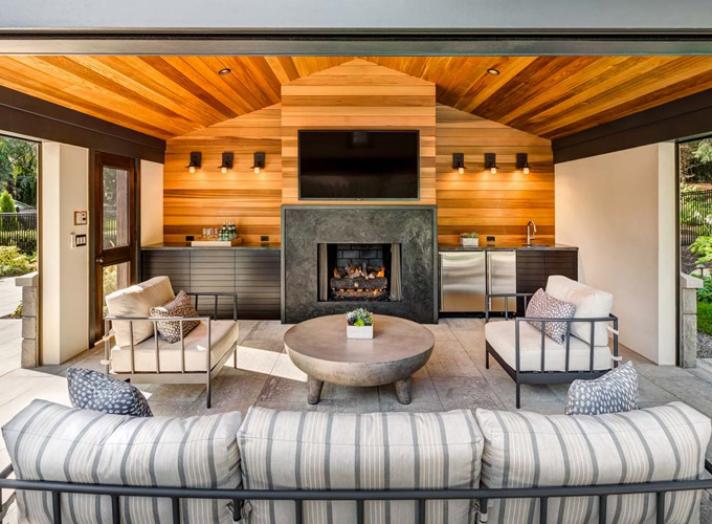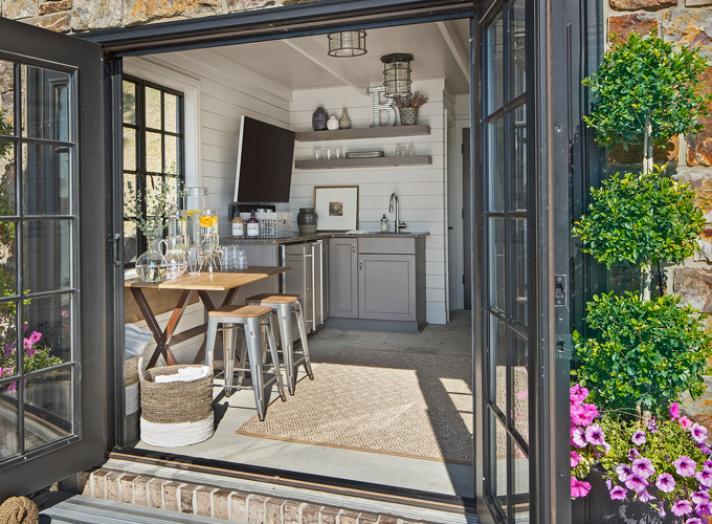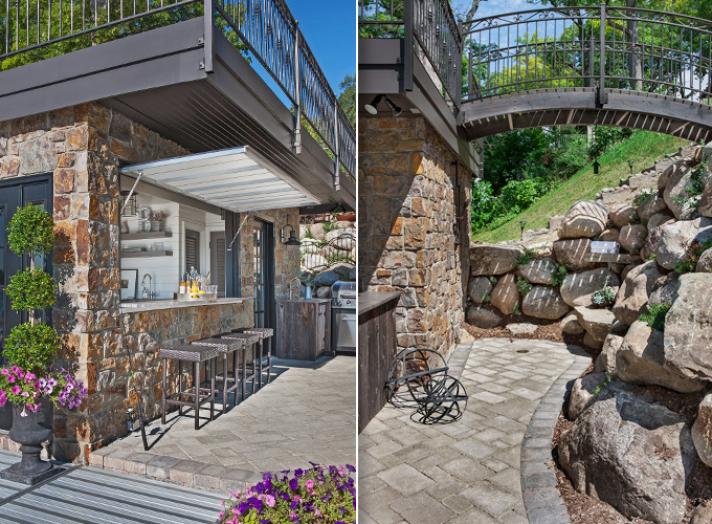 It's no surprise that Michiganders love to be near water, and although our summers may not last long, that does not stop us from maximizing our time in the sun. If you're fortunate enough to have a pool or water on your property, how about a cozy spot adjacent to the water to eliminate trips into the main house or simply for relaxation? Several designers share their favorite summer hideaways.
Jones-Keena's Lucy Earl worked alongside architect Kevin Hart of Birmingham-based Kevin Hart & Associates in the build of a pool house to complement a client's 1927 Bloomfield Hills Tudor. For interior specifications, it was important for Lucy to use Old World materials to capture the vintage appeal of the main house. Lucy selected Pewabic tile, ancient brick flooring, dark mahogany, natural stone, and lantern lighting to stay true to the era. Other pool house highlights include an outdoor fireplace and his-and-her locker rooms.
Designer Paul Feiten's own pool cabana features twelve stately Doric columns and the copper-clad cupola is the crowning touch atop cedar shingles. The lightweight Sunbrella® sheers from Pindler have an open basket-weave pattern that allows sunlight and wind to filter through it. While in the planning stage for the cabana, Paul had to appear in front of his neighborhood board to receive a variance due to the structure's proximity to the city line. When asked to provide proof of hardship he replied, "Look at me; I'm fair-skinned and need the shade or I'll fry!"
When the clients of Rita O'Brien, Rita O'Brien Design Group, moved home after spending six years in southeast Asia, they returned with a love of the Balinese culture. To capture that feeling in their new pool house, Rita incorporated the use of natural woods and stone as well as integrating precious artifacts, sculptures, and furniture collected by the clients overseas. To create the correct look, Rita used a clean white color palette that contrasts with the dark wood beams in the 20-foot ceiling. She used a mix of tiles and textures to create visual interest, all while allowing the Asian artifacts to stand out. This pool house is not just a place to change but also a serene spot with a full kitchen and a magnificent lower-level bedroom suite.
The homeowners of a backyard pool house designed by Rariden Schumacher Mio wanted a luxurious outdoor entertaining space. Complete with all the comforts of a resort, the pool and cabana make for the ultimate staycation! To extend its use deeper into the season, a fireplace and heaters were installed to warm up the cabana, and a fire table was added for cozy lounging in the sectional space. The homeowners also enjoy the hot tub nearly year-round. For full resort effect, lighting details such as portable solar-powered table lamps and floating light globes were added. In the pool house, the custom concrete countertops and fireplace surround were the perfect addition to this mix of materials. The fabrics are neutral yet interesting, with a play on patterns. The cabana is sleek with an organic flair with its primitive cocktail table, natural wood ceiling, and accent wall.
A boathouse designed by Amanda Sinistaj of Ellwood Interiors is nestled into the landscaping, which created a cozy yet private outdoor shower. It also has a bridge that leads to a flat-roof patio garden. There is an outdoor bar/grill area made from stone and cabinetry built from old barn doors and an incredible granite that looks like birch bark. A cabana awning opens to the inside, allowing guests to catch the full breeze in the small seating area, kitchen, and small bathroom. It's comfortable and quaint, and seconds away from a paddle-board adventure.