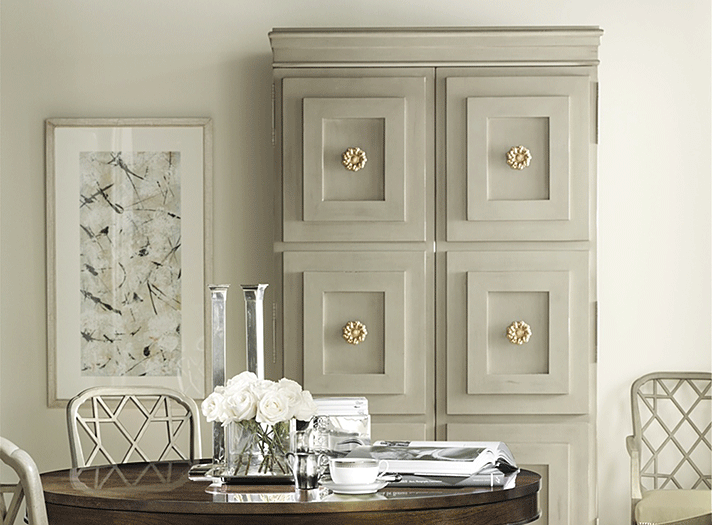 This spring, the focus has been on editing and organizing the many belongings that have accumulated over time, and creating a more stress-free living environment. April's Design Tip featured Amy Weinstein of AMW Studio as she offered her advice on The Big Edit: What's Essential Now, and in May we heard from five top designers who shared their organizing tips for every room of the house.
Now the focus turns to storage. Once you have pared things back to the essential items that make your home – and you – happy and productive, it is time to customize some storage solutions so everything has its place.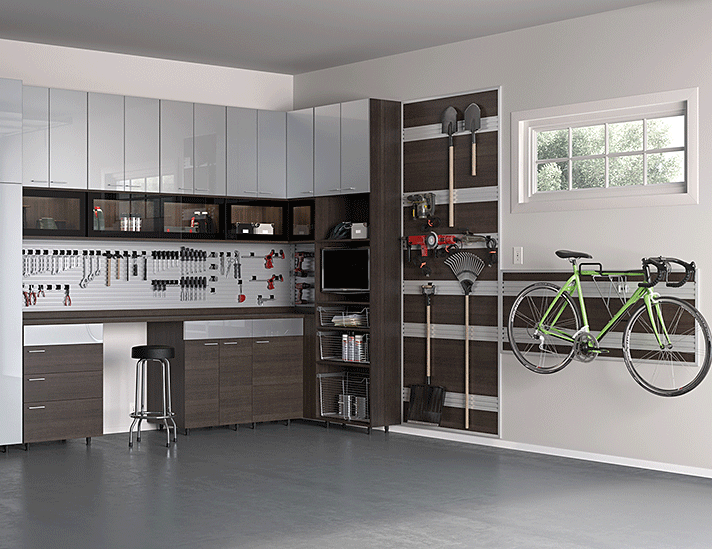 The garage offers open square footage that becomes a tempting place for belongings to accumulate. Without purposeful storage that supports the way the homeowner uses the space, it can quickly become a sea of boxes, outdoor gear, and mismatched bins that offer no clue to the long-forgotten items within.
The Fusion track wall system, available through California Closets, Suite 95, offers both open and closed storage options that are equally at home whether the garage is used as a workshop or an extra entertaining space. A space-saving slatted hanging system hugs the wall, but offers lots of specialized hooks and fittings for bicycles, garden equipment, and other frequently-used belongings. In a workshop area, the coordinating modular storage pieces work together to create a comfortable work surface and sleek storage to keep all the tools and essentials organized. For entertaining, clear door fronts are available so bar and serving items may be easily found, or displayed and enjoyed.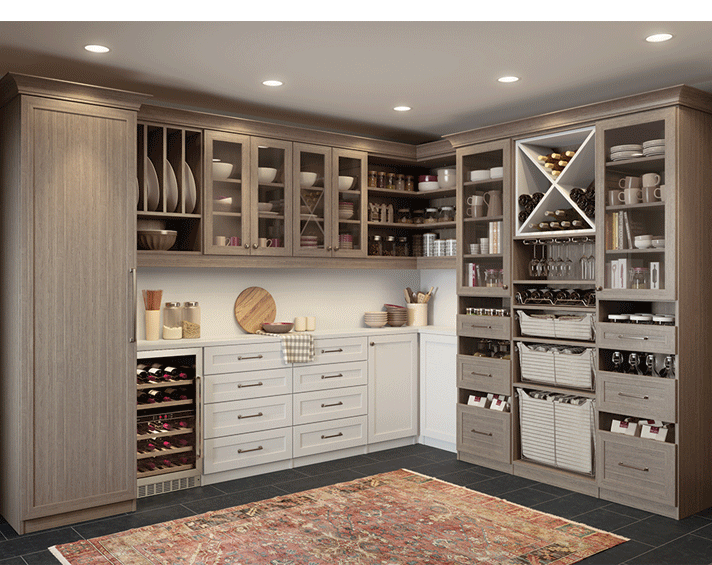 Pantry space has become one of the most sought-after home improvements. Converting an unused closet or corner of the garage or basement to an organized pantry begins by evaluating the types of items to be stored, and the space requirements needed for each. Take inventory of the items you like to keep on hand, noting their different height requirements so shelves can be placed to take maximum advantage of the available space. California Closets offers a wide variety of open and closed modular storage pieces that accommodate everything from oversized serving platters to wine and pantry staples. Shelves and bins roll out for easy access, and the heavy-duty mechanisms easily support the weight of cans and jars.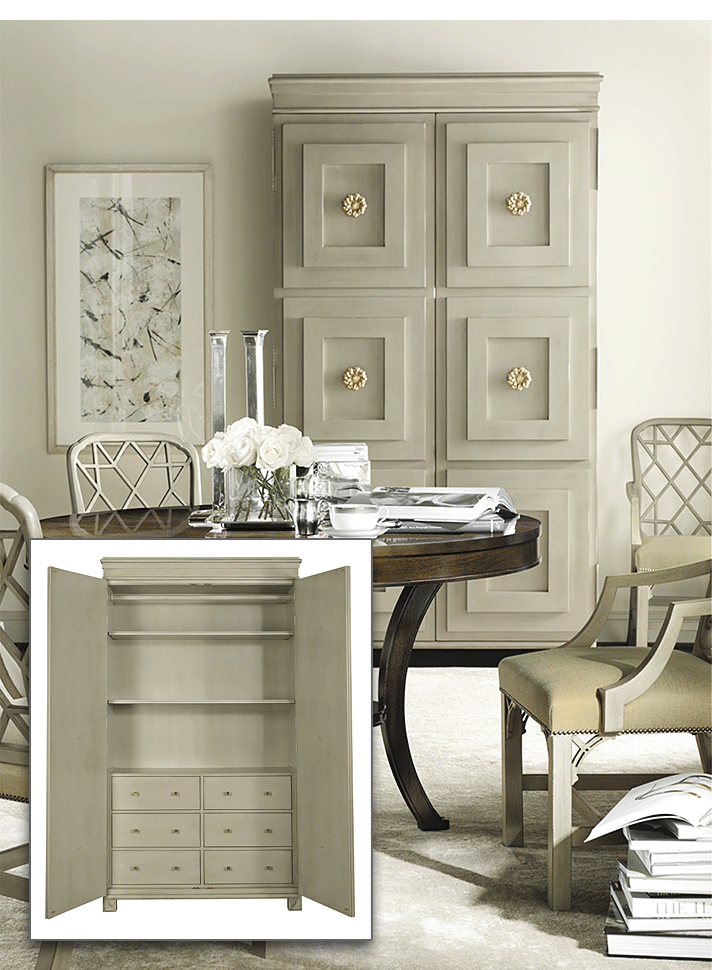 Armoires can provide closed storage in nearly any room of the home. In a kitchen or dining area, the versatile Tuxedo armoire by Hickory Chair, Suite 122, can act as pantry or home office station with ease. It was inspired by a 1940s vintage French Moderne piece and is available in several finish options. In a living area, it acts as a stunning focal point that can store games, books, or craft materials. Keep everything organized inside with clear jars and individual bins for like-kind items. Beautiful containers make daily work more of an "experience" than a chore.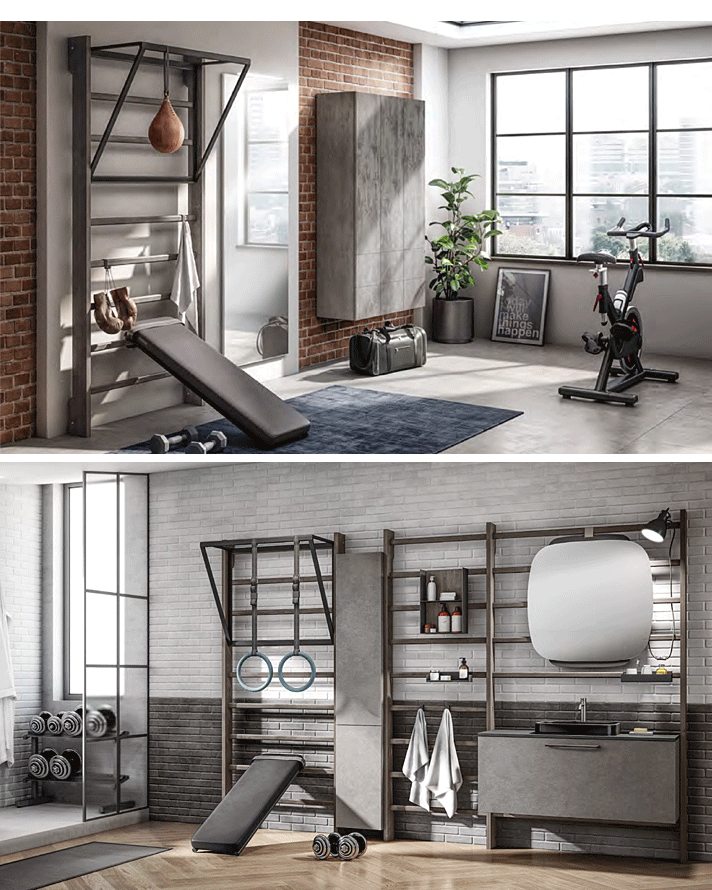 Exercise equipment is part of the decor in many homes. Enter the Scavolini's Gym Space project, a sleek, wall-mounted frame dedicated to physical exercise that will easily fit into a variety of surroundings. The heart of the system is its reinterpretation of gymnastics wall bars, onto which additional equipment such as a Scavolini bench and traction bar may be applied. Additional accessories such as shelves and cupboards help organize and store hand weights, elastic training bands, and other workout essentials. The system integrates perfectly with Scavolini's bath or closet components to ensure endless configuration possibilities, adding new purpose to those areas of the home where self-care is practiced.