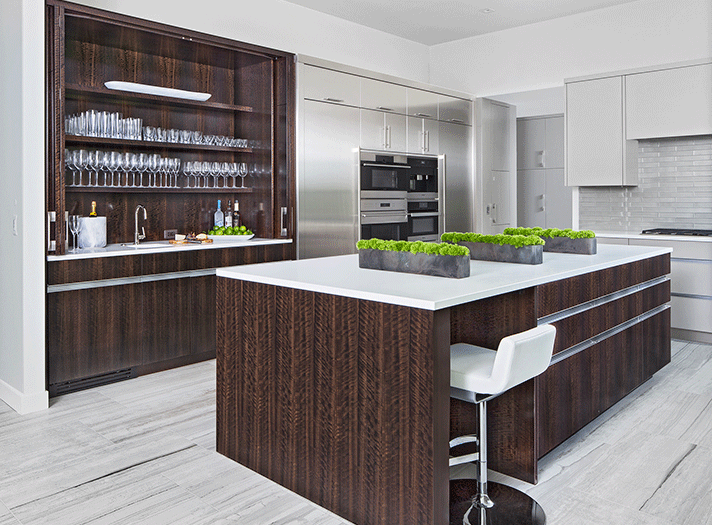 Studies have proven that an organized home has many positive impacts on our mental health. Five top designers offer their advice to declutter your home and create serene spaces that are sure to improve productivity and reduce stress levels.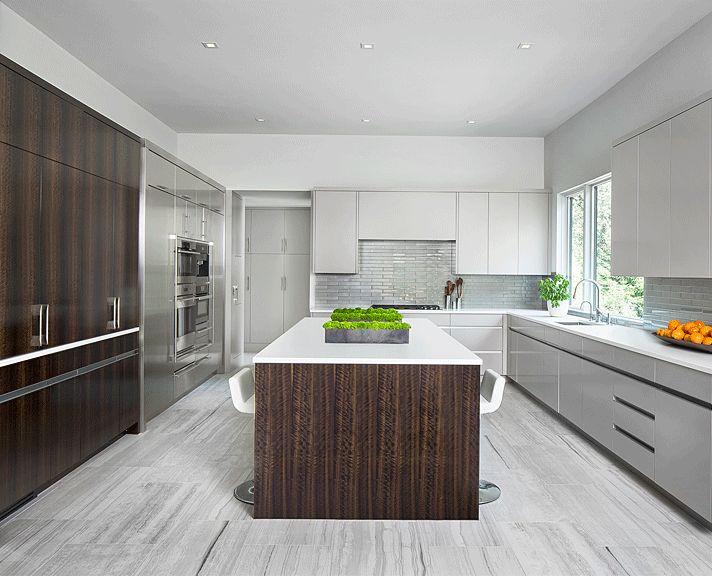 ANN-MARIE ANTON OF IT'S PERSONAL DESIGN IN GROSSE POINTE WOODS used pocket doors that slide shut to conceal the wine bar in this contemporary kitchen to keep things sleek and clean when not in use. She offers these additional suggestions to keep your kitchen organized:
If you are designing a kitchen from scratch, I suggest using drawers instead of cabinets wherever possible. They function much better than cabinets, and things do not get lost and pushed to the back where they are unreachable.
There are so many wonderful organizational pieces that can be placed inside your cabinetry to help keep your kitchen uncluttered and more user-friendly. Drawer separators, pot and pan storage, and utensil organizers all help keep your space orderly.
STORE YOUR SMALL APPLIANCES. Think ahead of how you use your kitchen and design accordingly. Addressing these needs ahead of time will allow you to plan a space that will keep them off the counter. Consider putting a toaster in a pull-out drawer lined with stainless steel so you don't have to remove the toaster from the cabinetry to use it.
DO YOU REALLY NEED IT? I think it is important to always reevaluate what you have in any space of your home and how often you use it, if ever. If something is no longer being used, do not keep it. Clutter leads to chaos and lack of organization, and many of us tend to hang on to things longer than we should.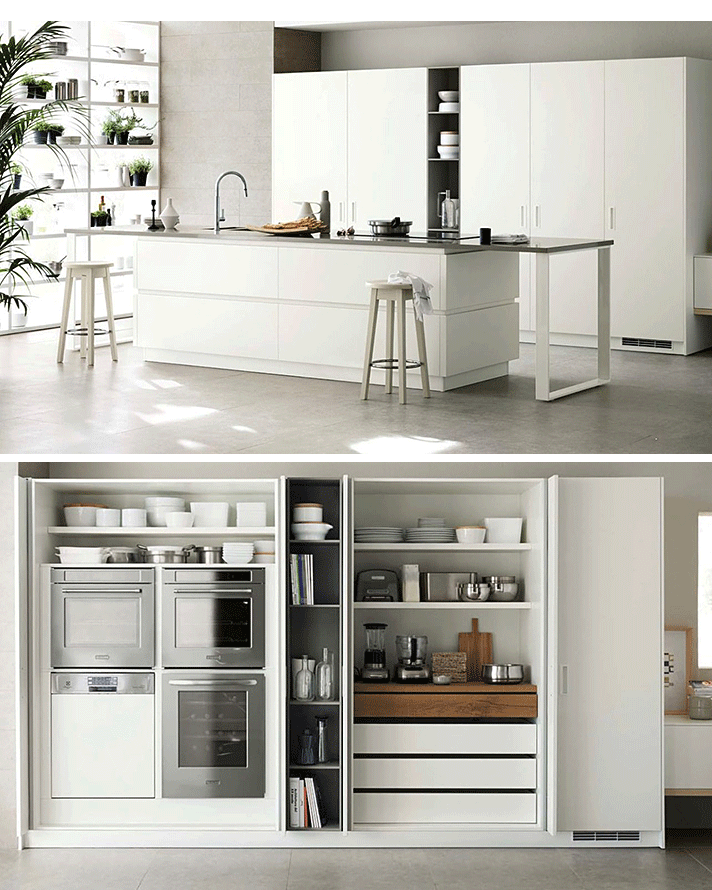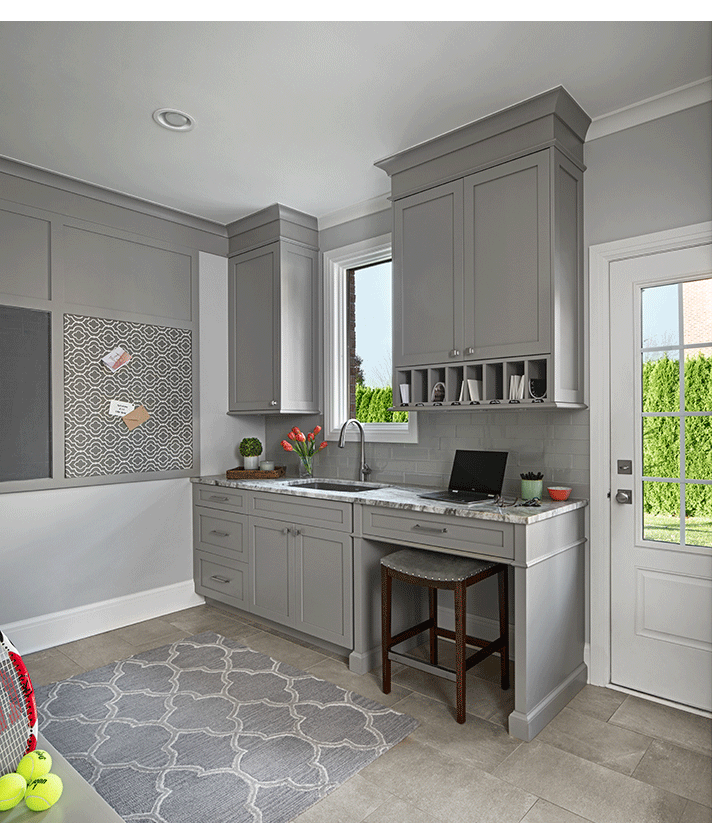 COLLEEN FARRELL OF ROCHESTER-BASED COLLEEN FARRELL DESIGN created this space for a very busy family and their sweet little dog. Previously the first-floor laundry and side entry hall, the space was opened to become a traffic hub for the family's several teens coming and going with all kinds of activities to manage and parents with full schedules.  Floor-to-ceiling cabinets include a locker for each family member, a long bench with shoe storage, a second wall of cabinets for cleaning and pet supplies, and a sink area for filling the dog's water bowl or cleaning up a mess. Colleen offers these systematic solutions to keep your home organized:
Trays and baskets are a great way to tame the mess when you don't have time to get into the details.  During the week, family can toss items into baskets or trays identified for general topics so everything can be organized and put away on the weekends.
A basket at the top and bottom of a stairway is great placeholder for items that need to be carried up or down.
An inbox/outbox for each member of the family is a big help in keeping deadlines in check.
Keys, chargers, purses, and wallets should all be in an identified spot near the door.  No panicking when running late.
Identify a cabinet for packages and mail coming and going; this helps make sure everyone knows what was received and what needs to be returned.
Make sure your "junk drawer" is only full of things you actually need to keep close at hand.
Consider setting up a sink like the one above to manage flowers; and keep all vases and shears here to avoid making a mess in the kitchen sink.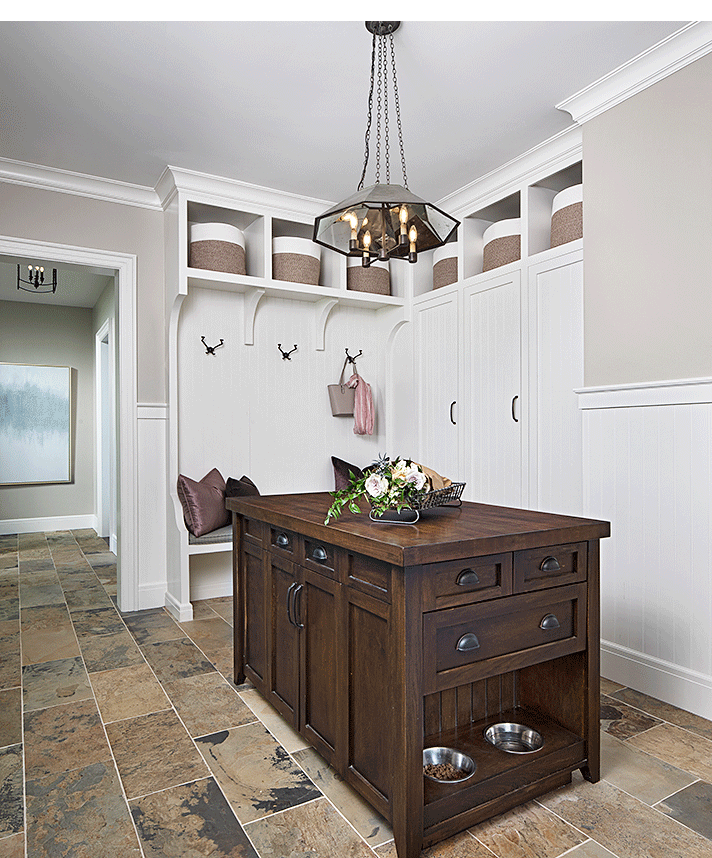 AMANDA SINISTAJ OF BIRMINGHAM-BASED ELLWOOD INTERIORS incorporated an island in this high-traffic mudroom to provide extra surface area and storage. The business side of the island has open shelves that hide the homeowner's shoes from visitors. Amanda offers these tips to keep busy entryways functional:
"Some coats are messy, and you don't need them all the time. Having an extra closet or a deep wardrobe with closed doors is a good way to hide things that can be unkempt. Accessories and purses that are needed on the go can hang on vintage hooks which are visually interesting as well as easy to access. If you have pets, the mudroom is a great place to store their food bowls, and if they are small pups you can create food drawers above the bowls for extra functionality."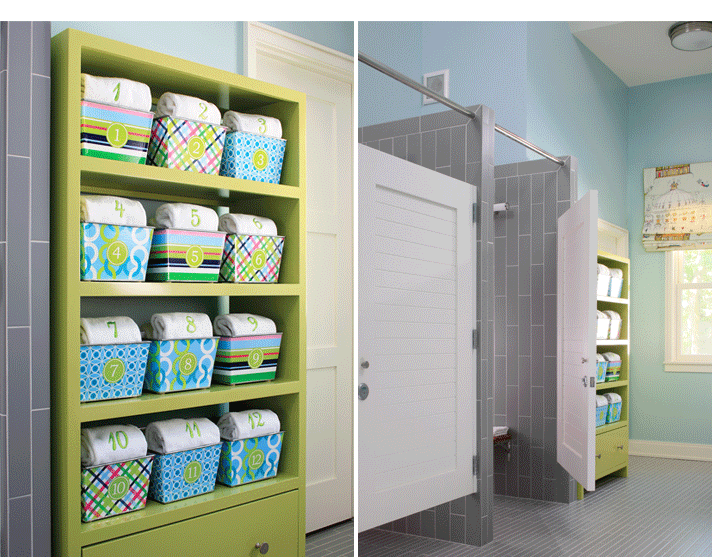 THIS GUEST BATHROOM IS PART OF A LARGE VACATION HOME overlooking Lake Michigan designed by Jill Schumacher of Birmingham's Rariden Schumacher Mio & Co. The dorm-like bathroom has many features to keep guests coordinated including two water closets and three shower stalls with vacant/occupied thumb locks. Each shower stall has hooks and a flip-up seat. The numbered bin and towel rack neatly displays bath, hand towels, and wash cloths that are monogrammed with each child's number for the weekend. For day-to-day bathroom organization, Jill recommends:
Keeping it concise: You do not need every product in the bathroom with you. Instead, keep just your daily routine items in the medicine cabinet within reach.
Keep the counters CLEAN: Make sure you incorporate either medicine cabinets or drawers to store all of your products. Countertops should be clutter-free and fresh looking.
Keep a stack of dark washcloths to keep the countertops dry. There is nothing worse than putting something down in a puddle.
If you love crisp, white towels keep a stack of dark washcloths (not the same as the other washcloths, of course) to use for make-up removal so you do not ruin your nice white towels.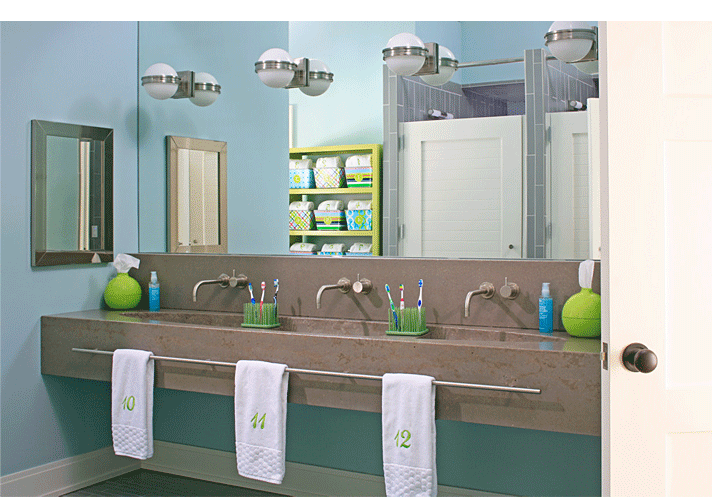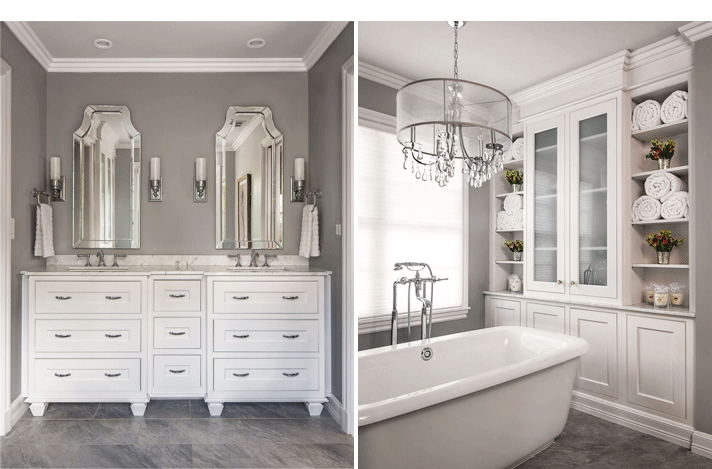 THIS LUXURIOUS MASTER BATHROOM OFFERS ROOM FOR TWO at the elongated custom inset vanity complete with marble countertops. Christine Ramaekers and the team at Birmingham-based MainStreet Design Build designed the bathroom with unique framed mirrors and individual sconces that light up each space for separate grooming. The freestanding tub is surrounded by built-ins with a beautiful chandelier above that creates soft ambient lighting for bathing. Christine shares some additional bathroom storage tips to keep your bathrooms in order:
"Vanity styles have changed over the last few years and many manufacturers are offering vanities with all drawers. Drawers pull out all your stored items so you can easily view everything and keep items accessible. Adding tray dividers, appliance holders, and electrical outlets with USB to the drawers keeps everything organized and in its place. Similarly, medicine cabinets today offer many amenities like outlets, interior mirror finish, adjustable shelves, and even fold-out magnifying mirrors. Utility cabinets allow for all the additional items like towels, cleaning supplies, extra toiletries, and sometimes even laundry baskets. Create storage in the shower and bath with large, recessed cubbies. Many times, these are lined with an accent tile or stone to give the shower a beautiful, unique look."