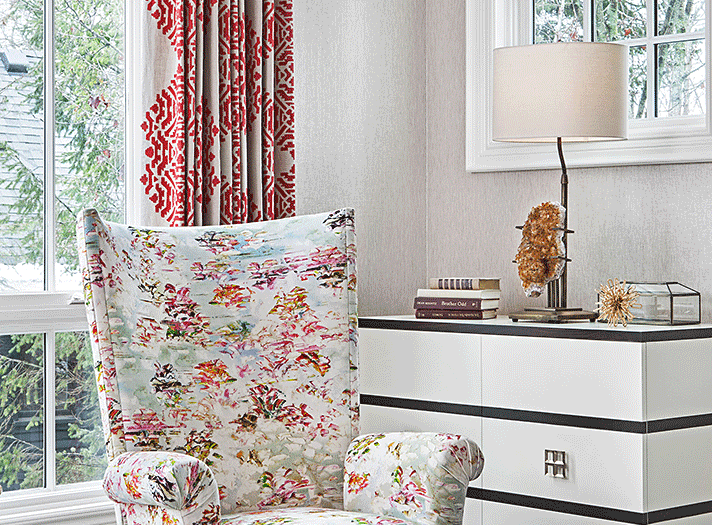 Window treatments are not only a great way to provide the finishing touch in a room, they also have many practical uses such as controlling sunlight and airflow. Read on to see how five top design pros created window treatments that are both functional and decorative.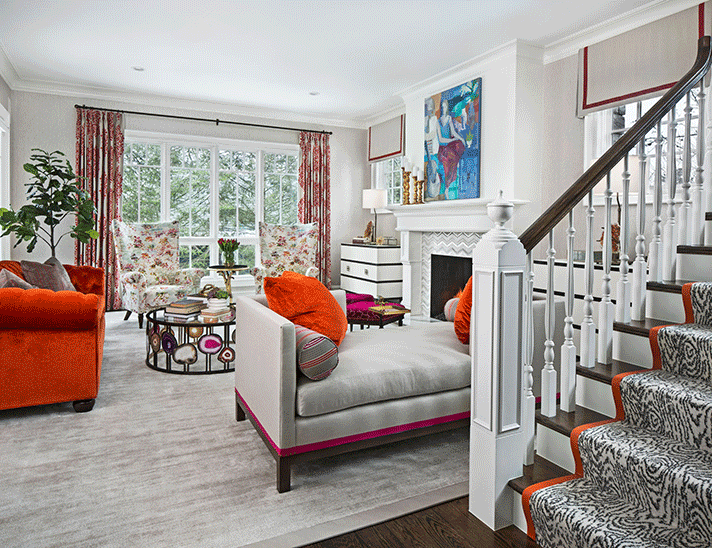 WITH THE DRAMATIC USE OF COLOR IN THIS LIVING SPACE BY MEG CORLEY PREMIUM INTERIORS, the window treatments had to hold a strong vertical interest against the furniture. A large scale pattern in saturated red-orange draws the eye to the back of the room. Privacy was not a factor with this room, so stationary drapery were chosen as the application.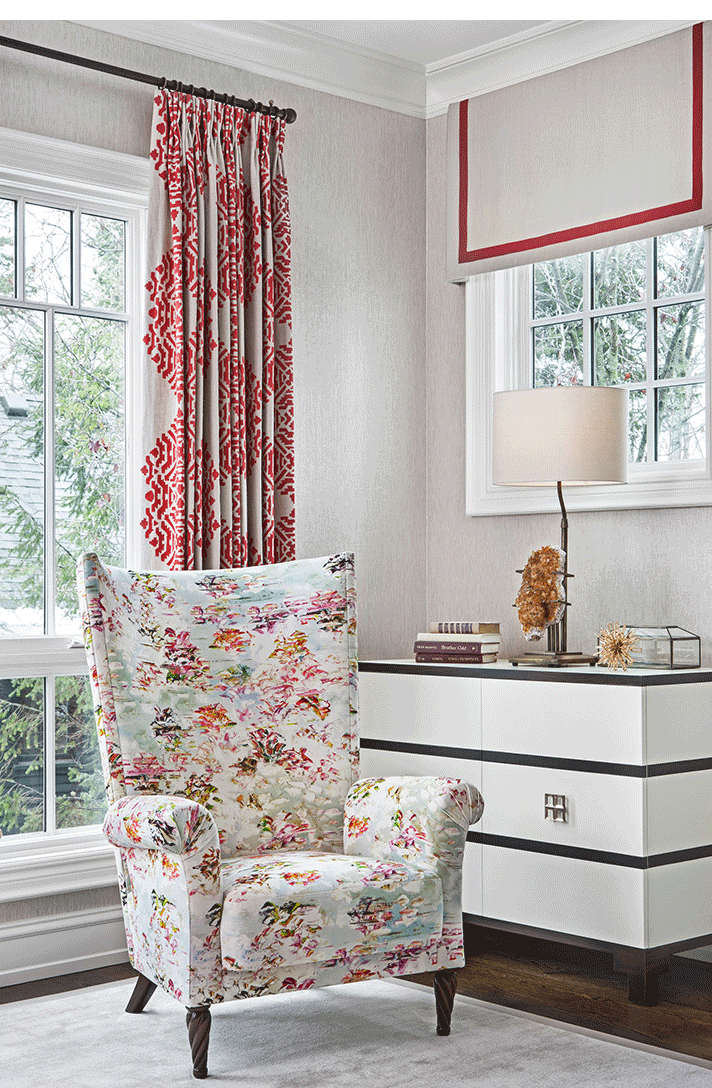 MEG'S ADVICE FOR WINDOW TREATMENTS:
"I am a big advocate of keeping all windows pretty open during the day to let natural light filter throughout the spaces. If privacy is needed, I recommend traverse draperies that stack off to the sides of the windows or soft grass shades. Nothing heavy or fussy; simple so the drapery can stay timeless."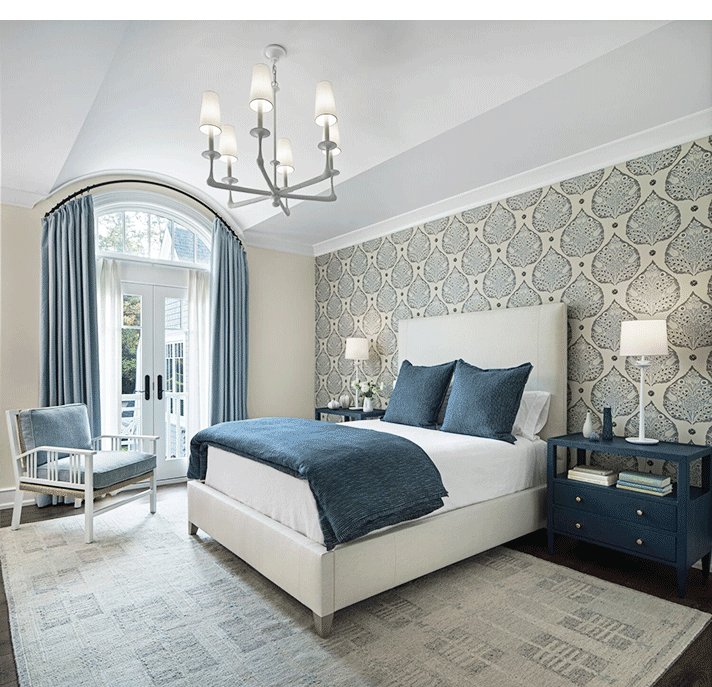 WHEN MARIANNE JONES, PRINCIPAL DESIGNER AT BIRMINGHAM-BASED MARIANNE JONES LLC, developed the window treatments for these two guest rooms, she wanted to respect the architecture of each space. Her drapery workroom created a custom rod that followed the lines of the arched windows, with metal notches and rings for the stationary side panels to rest. The active drapery rod was installed at the door header height and the active panels were added for privacy.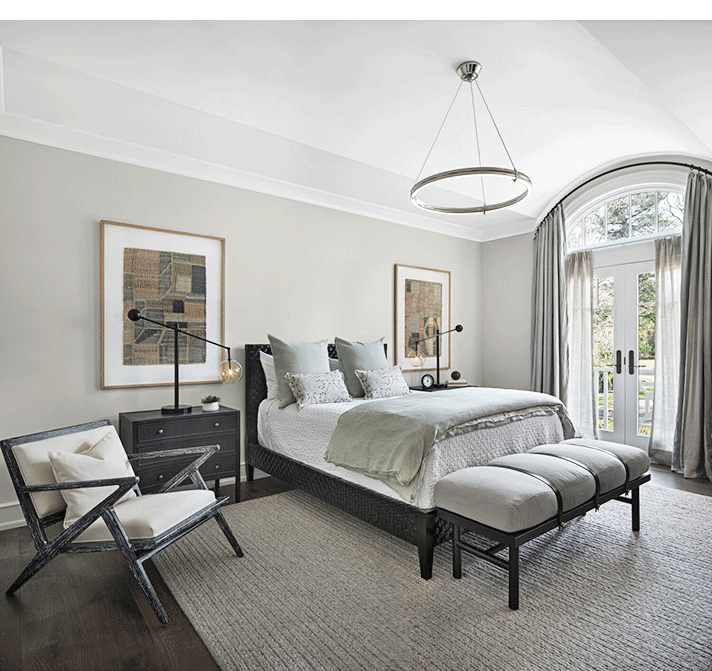 MARIANNE'S TOP TIPS FOR WINDOW TREATMENTS:
"My preference for drapery is a simple French or mini pinch pleat paired with a simple rod treatment. When appropriate, I love to add a flannel inner lining and bump cloth to give it a substantial and rich look. This is also ideal for additional insulation in our colder climate. For a roman shade, I prefer an old style roman with no valance; clean and simple. I also recommend keeping the window treatments off the glass to maximize light."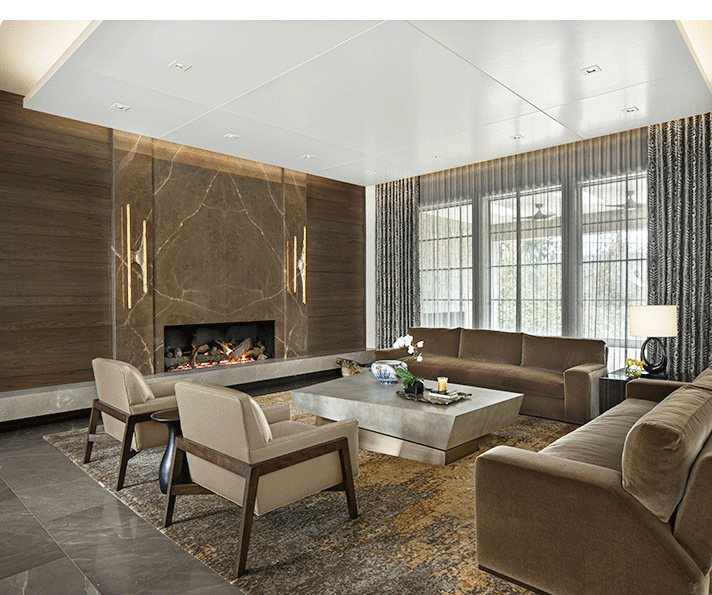 FOR THIS NEWLY-BUILT HOME IN GROSSE POINTE, ANN-MARIE ANTON OF IT'S PERSONAL DESIGN wanted window treatments that added drama yet also supplied covering to the back yard while still capitalizing on the natural light. Although the home has a contemporary edge to it, Ann-Marie softened the room by opting for a very bold print on the stationary panels that add color and warmth and sit over traversing sheers that add texture and interest to the space.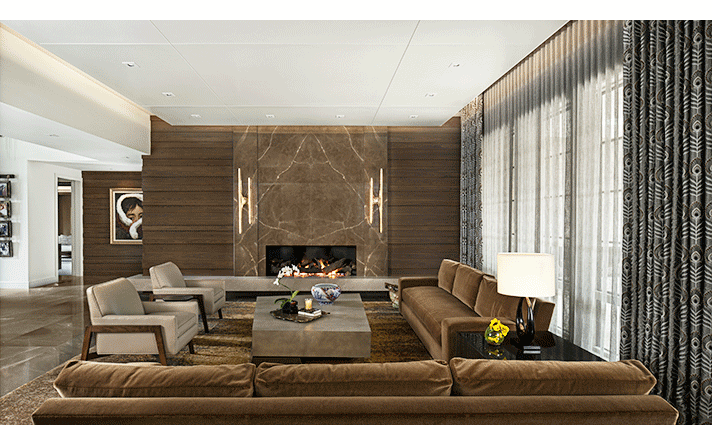 ANN-MARIE'S TOP TIPS FOR WINDOW TREATMENTS:
"In homes that have a lot of hard surfaces and tall ceilings, window treatments are a great way to provide some sound deadening. First think of the function you need your window treatments to serve and then get creative with your application."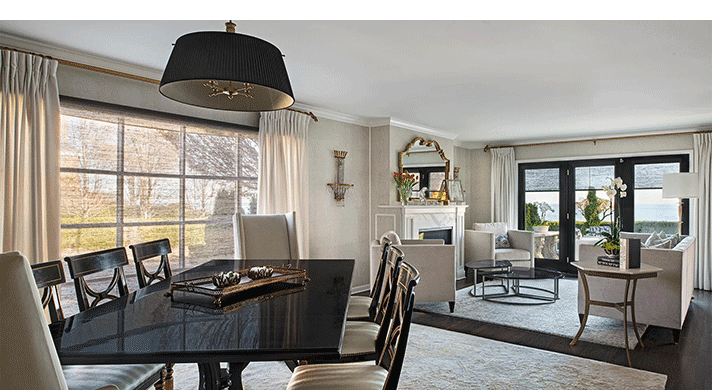 THIS HOME BY PRINCIPAL DESIGNER PHYLLIS WHITEHEAD AND DESIGNER BROOKE JOHNSON OF FIFI & COCO INTERIORS is located on a busy road in Grosse Pointe Shores, so privacy was their main concern when selecting window treatments. In the great room pictured above, they chose drapes for a more elevated look while layering natural roller shades behind them to aid with privacy. These windows are typically used how they are shown – the dining area needs more privacy, while the living room windows typically remain open to capitalize on the beautiful view of Lake St. Clair. For the sunroom pictured below, they wanted to create privacy from neighbors while keeping the room feeling light and airy so they chose sheer drapes to line the entire room. A light color that matched the walls was used to keep everything clean and cohesive, and roller shades were intentionally omitted to create a more inviting atmosphere.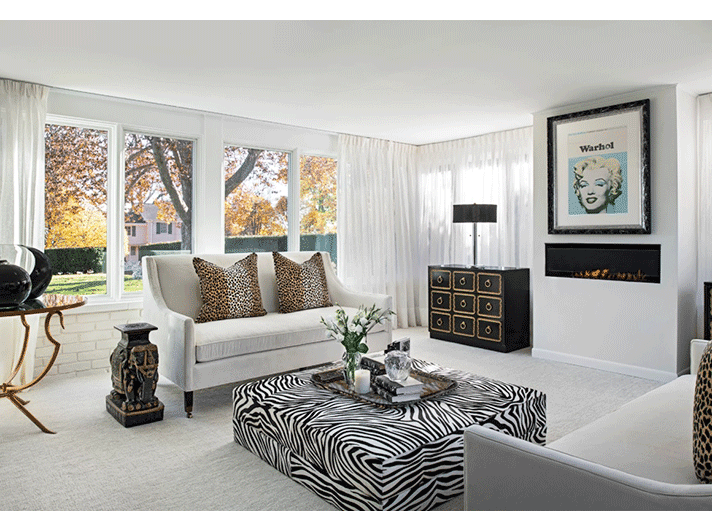 PHYLLIS AND BROOKE'S TOP TIP FOR WINDOW TREATMENTS:
"Adding an extra tall hem to the bottom of ceiling height drapes adds weight, which not only aids in operating, but also keeps them in place when stationary."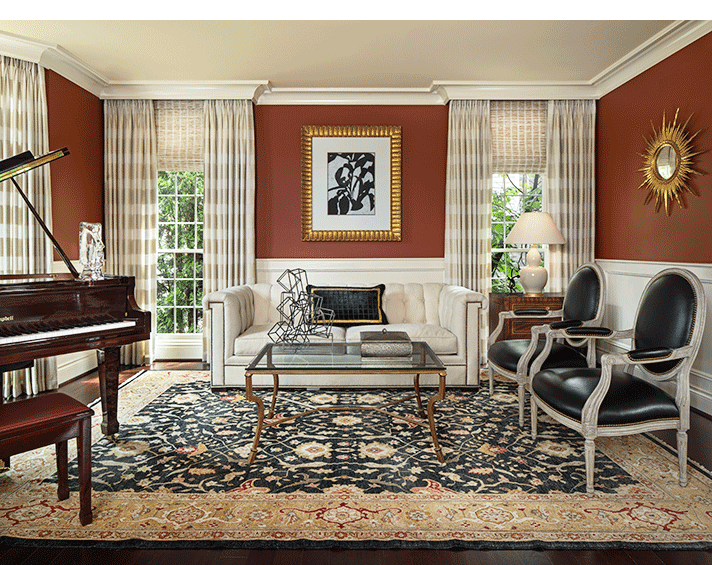 JUST AS PATTERN AND TEXTURE ON CLOTHING AFFECTS THE APPEARANCE OF THE PERSON WEARING THEM, DESIGNER PAUL FEITEN OF PAUL FEITEN DESIGNS believes draperies have a similar visual effect on a room. In these living spaces, floor-to-ceiling Pindler drapery fabrics were used to make the rooms appear larger. He chose drapes with horizontal stripes to  graphically contrast the vertical ripples that naturally occur as they hang. In the music room pictured above, the window treatments go to the ceiling, but the windows do not. The woven reed Roman shades go above the window and under the crown molding to elongate the treatments. In the family room pictured below, the drapery fabrics are actually lined sheers that Paul had custom fabricated by Decoroom to provide better weight and structure. A cavity also conceals recessed roller shades for privacy and sun control.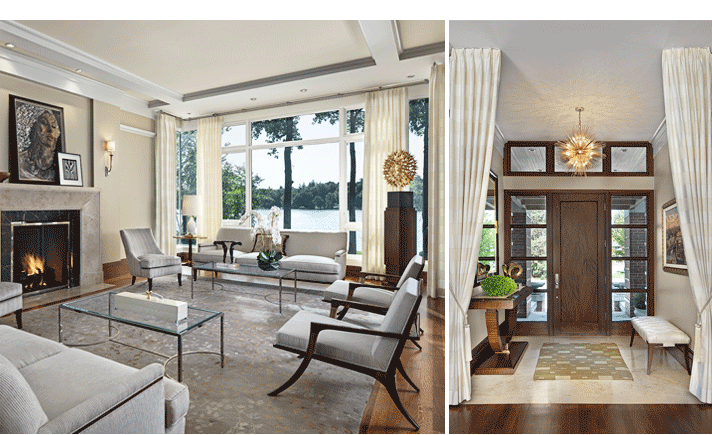 PAUL'S ADVICE FOR WINDOW TREATMENTS:
"Find a drape-able fabric! Be conscious of your selections as certain materials are suitable for different applications. Just as a 100% wool suit will drape better than a cheap suit, some fabrics are better than others for various window treatments. For example, I suggest lined sheers on stationary panels for a delicate look."