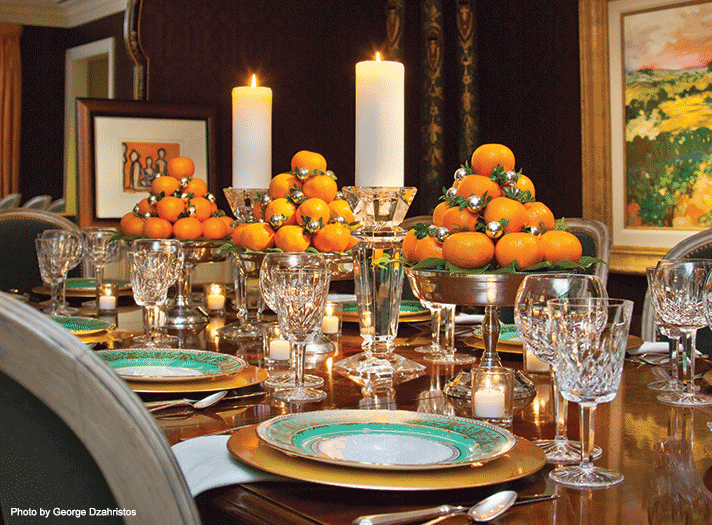 With Thanksgiving approaching fast, the indoor entertaining season is upon us. From long-lasting tabletop décor to creating the perfect party theme, four top designers share their tips to help make holiday hosting a breeze.
Whether it's your turn to host the family holiday get-together or you're having friends over for the weekend, entertaining at home should be an enjoyable experience for both the host and guests alike. Interior designers Dan Davis, Jimmy Angell, Ann-Marie Anton, and Paul Feiten are no strangers to playing host and offer these pointers for a stress-free entertaining season: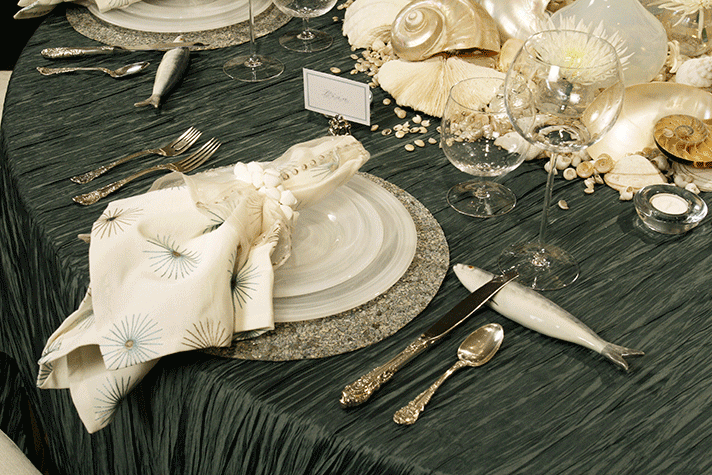 Chilly fall days bring to mind the holiday entertaining season, when we welcome family and friends inside to celebrate. When DAN DAVIS, PRINCIPAL AND PARTNER AT DAN DAVIS DESIGN IN FERNDALE, begins planning one of his legendary dinner parties, he starts with choosing a "theme" that helps him organize everything from the menu to the flowers and décor. Themes can be developed from the menu or from something as simple as a color scheme. Davis let his seafood menu guide one memorable gathering, shown above. Shimmery placemats cut from textured wallpaper resemble the pebbles found under the sea. Coral and seashells make a striking centerpiece, and fish decoys serve as knife rests. Details like the deep aqua crinkled tablecloth and seeded glass goblets add lots of texture and mimic bubbles and the movement of waves.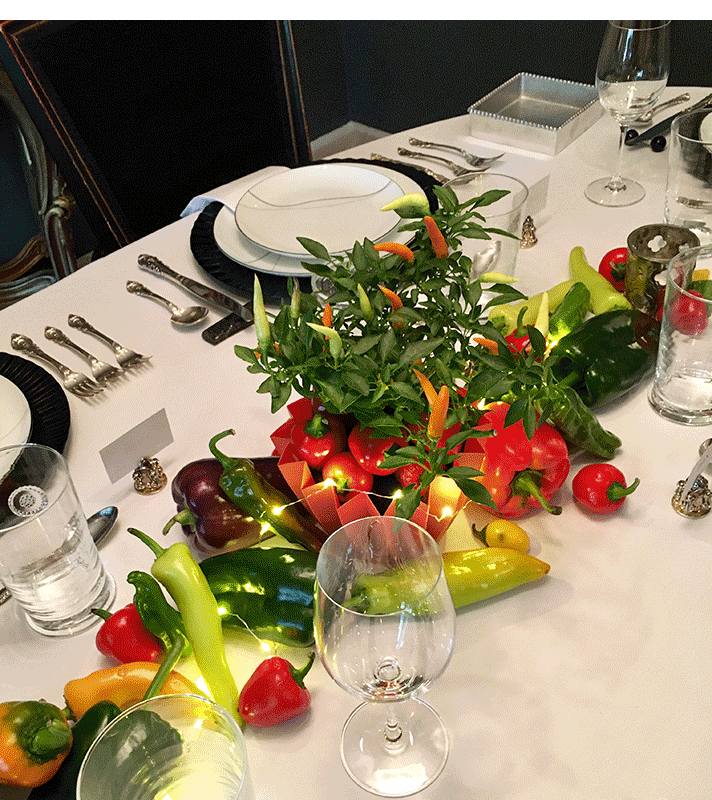 "Themes do not need to be complicated to be memorable," Davis advises. "Once, we planned a menu of a gourmet take on Mexican food. We set the table in black and white and used a variety of colorful peppers and pepper plants as the centerpiece."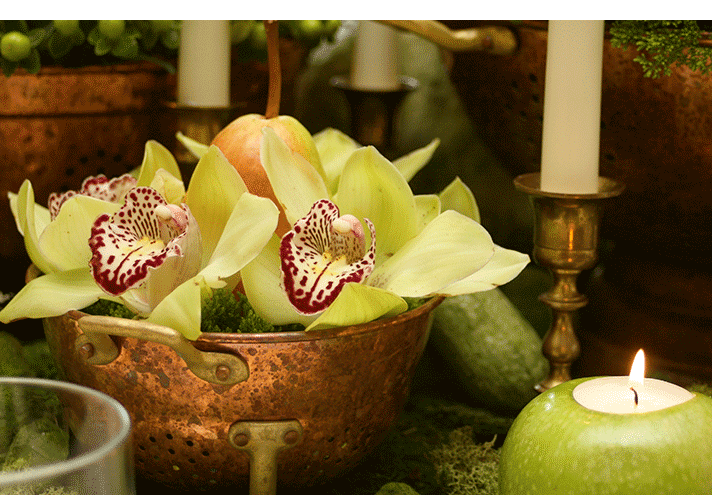 Davis suggests thinking outside the box for table décor. "Flowers are always nice, but look around your home for decorative items you may already have. Try floating orchids in a glass bowl nestled in an old copper colander, as we did for a fall harvest themed party. Or if you have a collection of art pottery, arrange your flowers and candles around that. But don't use scented candles – they compete with the yummy aromas of your food."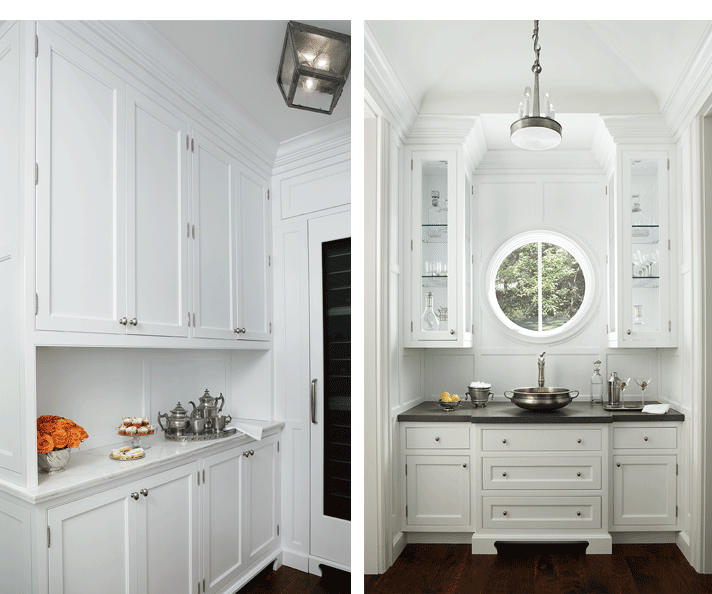 JIMMY ANGELL, PRINCIPAL AND OWNER AT JAMES DOUGLAS INTERIORS IN BIRMINGHAM, suggests using a butler's pantry or similar space to help organize drinks or desserts. "Hosting is much easier if you can find a secondary space near the kitchen or dining room where you can set up patisserie trays, extra ice buckets, and other things you will need as the party progresses," he says. "I like to set up the bar away from the kitchen to keep guests out of the way of food prep."  When staging courses, he sometimes suggests using a walk-in pantry or laundry room to keep trays and tureens at the ready.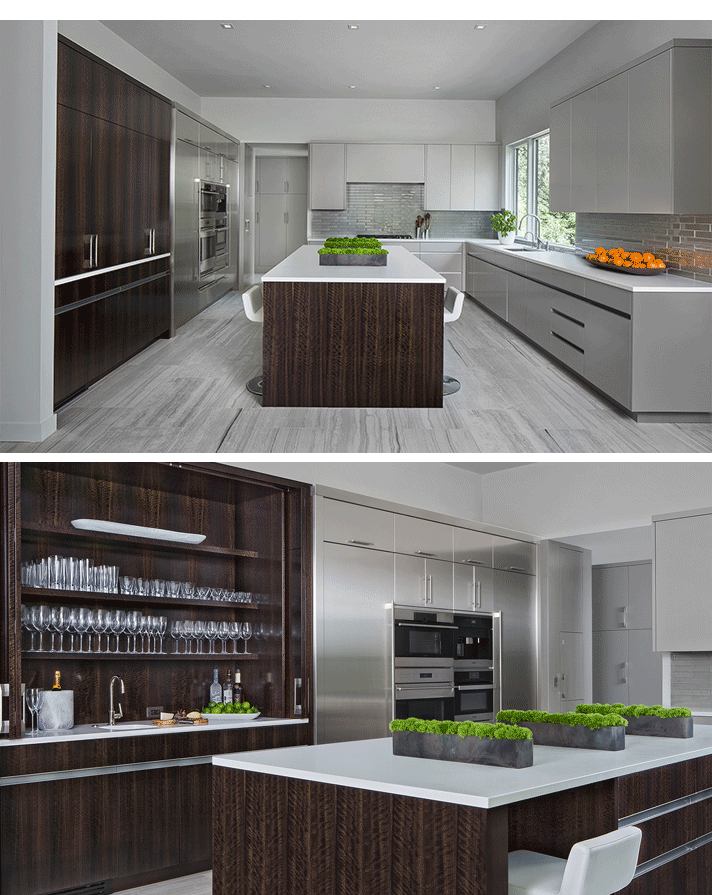 Designer ANN-MARIE ANTON, PRINCIPAL AT IT'S PERSONAL DESIGN IN GROSSE POINTE WOODS, created a sleek wine bar area for a client who likes to entertain in a comfortable, casual way. "Their floor plan is VERY open, with no separate area for a bar. Because this is their main kitchen, we did not want the bar exposed when not in use, so we used a contrasting lacquered eucalyptus wood to give the space some warmth and personality when the doors are closed. It just feels like a continuation of the kitchen. We added a built-in icemaker to the cabinetry for convenience."
Anton sees a trend toward using full-height pocket doors in designated areas of the kitchen. They can be a great way to create space for baking, setting up a bar, or enclosing appliances for a clean, uncluttered look.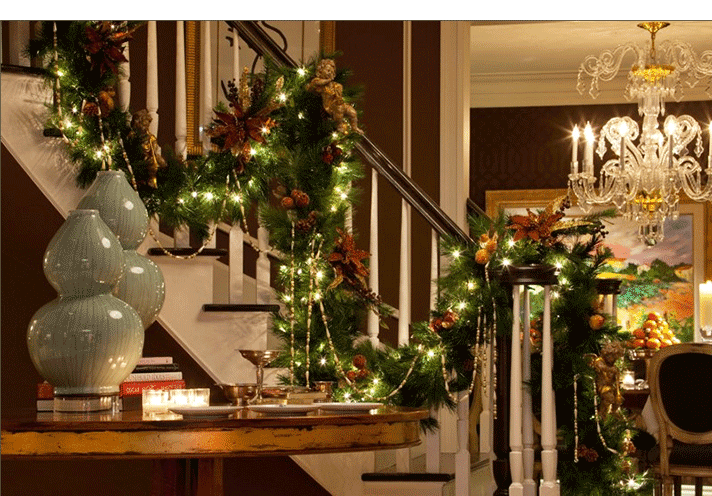 For lush holiday décor that will last through the season, PAUL FEITEN, PRINCIPAL DESIGNER AT PAUL FEITEN DESIGN IN BLOOMFIELD HILLS chooses a mix of woodsy elements and shiny metals in unexpected color combinations. "In my own home, I like to use orange and brown for a more nature-inspired palette during the holidays," he explains. "I started with the fullest, thickest faux garland I could find. This happens to be five pieces, which are numbered and stored carefully in bins so they will look great for many years. Don't skimp on this – it must be long and lush – it is the 'drippiness' of the garland that makes it look so luxurious. You don't want the garland gripping the stairway in a choke hold!" Loose strands of beads accent the greenery, and Feiten adds rich brown bows and sprigs of faux sugared fruit to complete the look.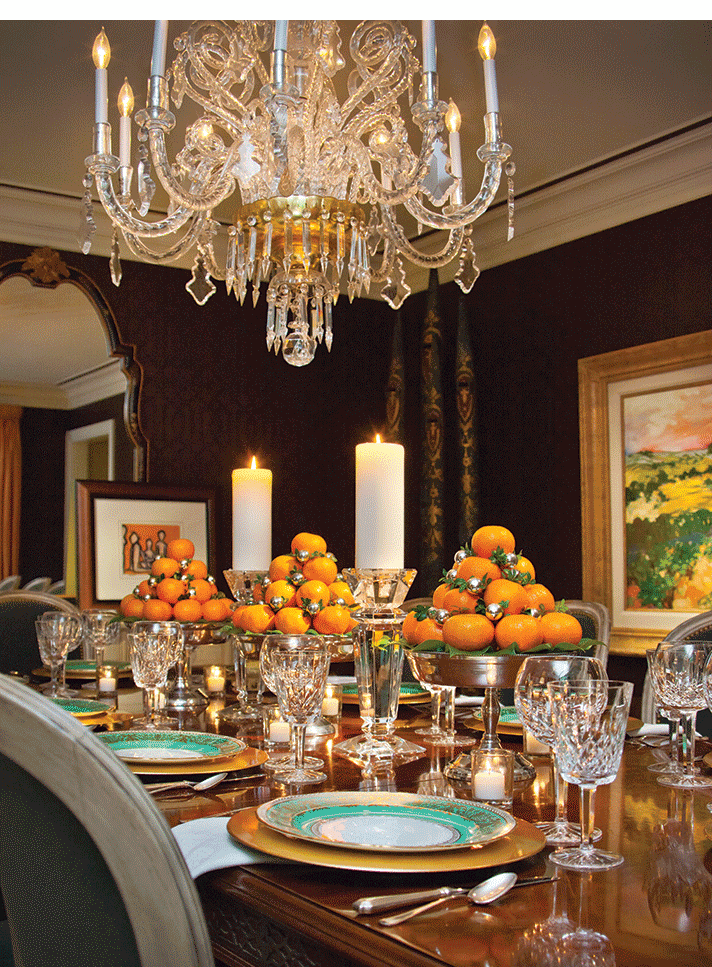 A trio of footed compotes hold casual stacks of tangerines on the dining table. "Citrus will outlast flowers, and I tuck in boxwood cuttings, which also last a long time. Small gold ornaments add shine and sparkle," Feiten says. "The orange color is a great accent in my dining room, and it is a memorable departure from the standard red and green. They are easy to put together, and add an unexpected touch."